Instead of serving as security guards, many Syrian youth who respond to online ads posted by private security companies are finding out the positions they are filling are actually in service of foreign powers supporting the Syrian regime.
Private security companies have proliferated in Syria in recent years, authorised by Syrian President Bashar al-Assad's Legislative Decree No. 55 of 2013.
The decree enabled the licensing of private security companies and provided a mechanism through which foreign powers -- foremost Russia and Iran -- could legally establish an armed presence in Syria.
Ostensibly "guarding" various facilities, many private security companies operate as militias, taking orders from Syrian regime allies.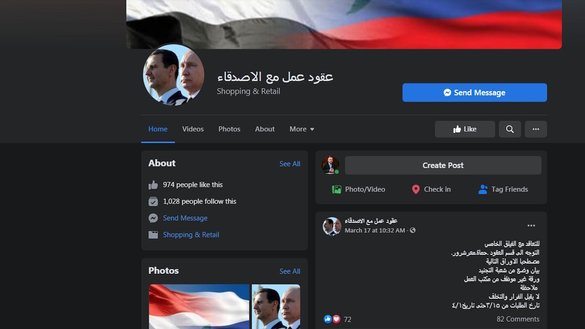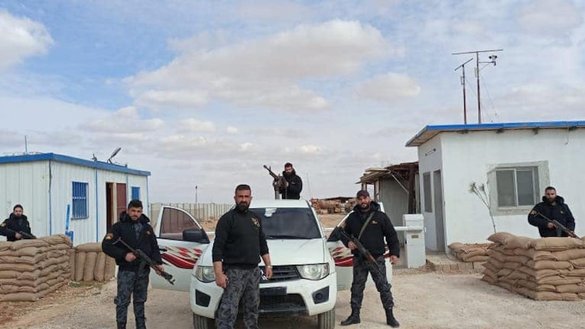 These companies have been steadily growing in size and influence, according to local observers, and have been advertising themselves on a wide scale online and via social media pages to recruit youth to work in the "security field".
Vague, misleading job ads
Russia and Iran have been recruiting militiamen via advertising campaigns that invite Syrian youth to apply for jobs at private security companies, said Syrian journalist Mohammed al-Abdullah.
"Help wanted" ads posted on these companies' social media pages and websites are re-posted and circulated on various social media platforms, al-Abdullah said.
These ads generally give a list of job specifications, along with a list of required documents, he said, but often do not give any indication that the companies are affiliated with any party to the conflict.
While some job ads are vague and misleading in nature, others are more direct.
Some are posted directly by the militias affiliated with Russia, including a widely circulated announcement, posted March 17, for contract work with the Russia-backed 5th Corps militia.
Another ad, posted March 22, seeks to hire personnel to work in the al-Sukhnah area of the Homs desert, offering new hires security cards to protect them from harassment by Syrian regime forces for failure to report for compulsory military service.
"Iran advertises for all work in its ranks through security companies, while recruitment for its militias takes place directly on the ground," al-Abdullah said.
This is in contrast to the Russians, who openly advertise through security companies and militias, he said.
Work with 'Russian friends'
According to Sweida activist Nizar Bou Ali, job ads targeting Syrian youth are regularly posted on social media pages with names like "Contract work with our friends" or "An opportunity to work with Russian friends".
The job title and work specifications are not published, he said, and are only hinted at along with some of the requirements -- such as age, health status and required documents, he said.
Some ads are even being circulated for "security" work in Libya, he said, offering enticing monthly salaries.
Bou Ali said that a number of Syrian youth -- including one of his own relatives -- had been attracted by an advertisement offering well-paid work in Libya, because of the lack of jobs and their deteriorating financial situations.
"They contacted the advertising party, and they were directed to head to the [Russian-controlled] Hmeimim base and bring their official documents, and there they underwent a quick medical examination," he said.
"They signed renewable three-month work contracts, stating that ... the work entails protecting oil installations, and they were told not to divulge secrets or take photographs," he said.
But upon arrival in Libya, he added, "they saw the situation was totally different from advertised and were forced to take part in ongoing combat operations".
Syrian youths-turned-mercenaries have been sent to Libya for over a year to buttress the forces of Libya's Field Marshal Khalifa Haftar, who is backed by Moscow.
Contracts for mercenaries
An examination of the job ads reveals that "sectarian terms are used in advertising for companies aligned or affiliated with the Islamic Revolutionary Guard Corps", said Syrian lawyer Bashir al-Bassam.
Other companies "openly promote and side with the Russian intervention [in the Syria war], while still others promote the regime in an extremist sectarian manner", he said.
From a legal standpoint, he said, such practices violate the terms that authorise these companies to operate.
Many of the ads emphasise that incumbents will be spared punishment for desertion or for failure to perform compulsory military service, he pointed out.
"How can any regime license companies that engage in sectarian incitement and participate in military operations?" al-Bassam asked.
The most serious issue is allowing Russian companies to offer employment contracts for mercenaries fighting outside Syria, which violates Syrian laws, and international laws in general, he said.