KYIV -- A huge buildup of Russian troops and war materiel on the Ukrainian border is raising serious international concern of a major military escalation, while in Central Asia the moves are stoking fears that Russian aggression could soon appear on their doorstep.
Reports suggest the number of Russian troops at the border with the former Soviet republic is now greater than at any time since 2014, when war in eastern Ukraine first broke out and Russia illegally seized Crimea.
The buildup of Russian troops coincides with an intensification of fighting between the Ukrainian army and Russian-backed separatists.
The Ukrainian military on Thursday (April 8) announced that another of its soldiers had been killed, bringing to 25 the number of troops killed since the start of the year, compared with 50 in all of 2020.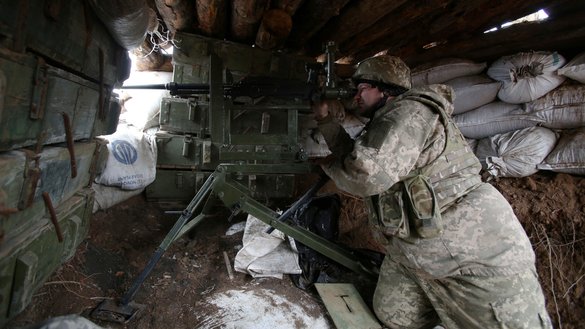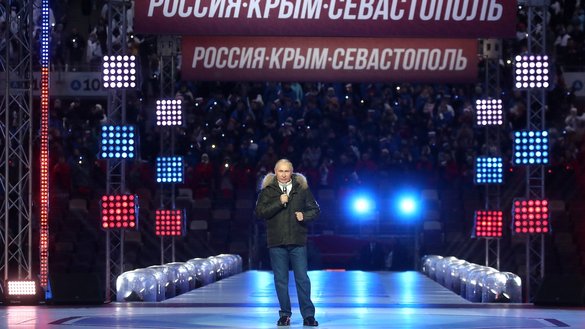 The long-running conflict in Ukraine's mainly Russian-speaking east has claimed more than 13,000 lives since 2014.
Clashes in the conflict subsided last year as a new ceasefire agreement took hold, but fighting, mainly involving artillery and mortar fire, has picked up again since the start of the year.
Ukrainian President Volodymyr Zelenskyy earlier this week urged NATO to speed up his country's request for membership in the alliance, saying that is the only way to end the conflict.
Kyiv's allies have issued a series of statements warning Russia against taking further action and seeking explanations for its troop build-up.
The Kremlin has not denied the troop movements.
Videos on social media show significant numbers of Russian military vehicles and armour driving or being freighted into the area.
"We call on Russia to make their intentions more clear as to what they're doing with this array of forces along the border," Pentagon spokesman John Kirby Kirby said Tuesday.
German Chancellor Angela Merkel on Thursday also called on Moscow to reduce its troops buildup.
"NATO firmly supports Ukraine's sovereignty and territorial integrity. We remain committed to our close partnership," said NATO Secretary General Jens Stoltenberg.
'Unpredictable neighbour'
Many in Central Asia are watching the events in Ukraine with serious concern.
President Vladimir Putin's regime "is conducting a destructive foreign policy that includes an active hybrid war", said Arman Shorayev, a former member of Kazakhstan's National Council for Public Trust.
"Putin understands only the language of force in achieving his strategic goals," he said. "That's why, in reviewing the events in Ukraine, I don't rule out that Kazakhstan theoretically could have a similar experience with such an unpredictable neighbour."
"Putin has a low popularity rating among Russians, and he needs to score political points by attacking weaker countries," Shorayev said.
"That's why Kazakhstan has to be ready for everything and to maximally develop its own defence industry," he said.
Over the past year, Kazakhstan has made significant efforts to counter extremism and bolster its defence capability, including introducing computer technology to build an effective "digital army".
This year, Kazakhstan has staged military exercises and plans to hold more.
Russian politicians regularly remind Kazakhs of their vulnerability to their giant northern neighbour and even encourage pro-Kremlin sentiment in Kazakhstan.
In one example, an irredentist Russian organisation known as the National Liberation Movement (NLM) opened an office in Nur-Sultan and is appealing to Kazakhs to join it.
Yevgeny Fyodorov, a deputy in the Russian State Duma who has previously said that part of Kazakhstan's land should be returned to Russia if the Kazakhs do not acknowledge it as a gift, leads the NLM.
A warning for Central Asia
"Central Asian countries should pay attention to what is happening in Donbas and Crimea," said Michael Andersen, a Danish journalist based in Kyiv who has covered events in post-Soviet countries for more than 20 years.
"Putin certainly doesn't want the former USSR republics, as he sees them as his property, to get closer to the West," he said.
"Putin couldn't accept that the Ukrainian people would build democracy following Maidan [the anti-Kremlin movement in Ukraine], because he feared that Russians would get the same idea, and he ruined that," Andersen said.
"We have seen many times that Putin and Russia's state-controlled media outlets have been playing around in Central Asia promoting their political agenda and using lots of manipulation and lies," he said. "And this is what Putin had been doing in Georgia and Ukraine before waging war."
"Central Asian countries should be careful, open their eyes and see what is really going on and what Putin's regime is offering," he said. "It is a step back to what people refused to have 30 years ago, so why would they want it now?"
"As we see from the experience of Ukraine, Russia's hybrid aggression can absolutely take military form," said Murat Konokbayev of Bishkek, a former Kyrgyz diplomat.
"The Central Asian countries have to learn from others' experience and draw the right conclusions," he said.
"Kyrgyzstan is relatively far from Russia, in contrast to neighbouring Kazakhstan, but Kyrgyzstan is more vulnerable to possible Russian aggression," Konokbayev said.
"We have long been under their thumb... Kremlin 'agents' who control the political processes of our country are permanently stationed in Bishkek," he said. "In addition, the Kremlin has levers for pressuring several influential members of the ruling elite in Bishkek."
"Those members can make decisions favourable to Moscow," Konokbayev said. "We see what Russia is capable of doing to countries that come out from under its influence. It would be naive to imagine that such things can't happen to us."
[Kanat Altynbayev in Almaty contributed to this report.]