ALMATY -- The Eurasian Economic Union (EEU)'s latest effort to include Azerbaijan in the bloc shows that Moscow is trying to expand its geopolitical influence at the expense of other nations at a time when the Kremlin is under heightened scrutiny and sanctions for its malign activity around the world.
EEU member states are discussing the possible participation of Azerbaijan in a meeting of the EEU inter-governmental meeting to be held in Kazan, Russia, at the end of April, RBC.ru reported April 14, citing anonymous diplomatic sources.
Azerbaijan and Armenia, an EEU member, fought a six-week war starting last September.
"Russia is working to create a 'great Eurasian partnership'," said Yelena Kuzmina of the Russian Academy of Sciences Centre for Post-Soviet Studies. "Azerbaijan is a key link."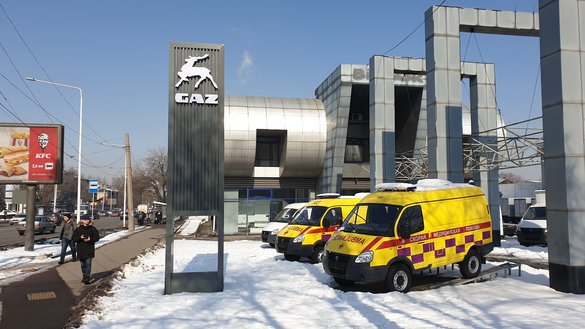 "This is a very important issue ... from the point of view of Russia's strategic interests," she said.
The discussion comes in light of recent incidents indicating that the rules of the union are not the same for everyone and that the Russian market is often inaccessible to exporters -- including those from EEU member states.
Harsh measures by Russia's oversight agencies aimed at protecting the country's domestic market are inflicting losses on producers of countries in the EEU, which is premised on free trade.
In March, the EEU's executive body itself acknowledged that actions by Russian authorities limiting imports of tomatoes and peppers were illegitimate.
At Kazakhstan's initiative, the board of the Eurasian Economic Commission -- that body -- examined the ban Russia imposed last year on imports of Kazakh agricultural products and ruled that the measure by Russia's oversight bodies "is unlawful and is deemed to be a barrier", according to Kazakhstan's Ministry of Trade and Integration.
On December 16, the Russian Federal Service for Veterinary and Phytosanitary Surveillance, known as Rosselkhoznadzor, banned imports of tomatoes and peppers from Pavlodar province in Kazakhstan for allegedly being infected by tomato brown rugose fruit virus, which can cause severe fruit loss in the tomato plant.
It slammed Aktobe and Almaty provinces with the same restriction in January.
However, the tomatoes and peppers barred by Russia were virus free, according to tests that Kazakhstan conducted, including some done in the Netherlands.
"At our initiative, the matter was examined more than once by the EEU bodies in January and February of this year. All our partners, except for Russia, backed us up," said Zhanel Kushukova, Kazakhstan's vice minister of trade and integration.
"On top of that, the [Russian] ban on imports of Kazakh products has continued to stand."
Kazakh businesses have lost more than 200 million KZT ($480,000) since the start of the ban, according to Kushukova.
Russian barriers
Rosselkhoznadzor has continued to erect barriers against Kazakh exporters.
On March 3, Rosselkhoznadzor department officers for Orenburg province, on the Russian-Kazakh border, stopped three freight trucks carrying 60 tonnes of potatoes from Kazakhstan and inspected them.
Although the drivers showed phytosanitary certificates issued by the Kazakh Ministry of Agriculture, the inspectors alleged that the potatoes came from Germany instead of Kazakhstan and destroyed the entire shipment.
"The violations that were uncovered are systematic, so to prevent sanctioned produce from being imported into Russia, Rosselkhoznadzor reserves the right to institute temporary limits on imports of potatoes that originate from the Republic of Kazakhstan," Rosselkhoznadzor stated on its website.
Russia has deployed similar tactics against Belarus, another one of its neighbours and another member of the EEU.
On March 9, Rosselkhoznadzor workers halted a van transporting apples from Belarus.
Once again, despite a phytosanitary certificate issued by the Belarusian state inspection service, Russian inspectors alleged that all 18 tonnes of Belarusian apples had Polish "roots" and destroyed them.
This time, in its statement on the incident, Rosselkhoznadzor accused Belarusian exporters of "repeated breaches" and threatened them with prohibitions.
A political tool for Russian influence
Such conflicts are the result of artificial trade barriers and the protectionist policies implemented by Russia, observers say.
EEU member states are raising grievances mainly against Moscow, said Dosym Satpayev, director of the Almaty-based Risk Assessment Group consultancy.
"Belarus frequently accuses Russia of protectionist actions and of violating the union's labour laws," Satpayev said. "When Minsk decided to join an economic union with Moscow, it hoped that it would receive preferences when importing energy as part of the common market for gas, oil and petroleum products, but that didn't happen."
Moscow had no intention of creating favourable conditions for multilateral trade within the EEU because for Russia the union is a geopolitical undertaking, not an economic one, and it is aimed at strengthening Russia's influence, according to Satpayev.
The EEU should not be considered an example of regional economic integration because the principles set out on paper do not work in practice, said Mirlan Kudaibergenov, a lecturer in economic theory at the Academy of Law, Business and Education in Jalal-Abad, Kyrgyzstan.
Anti-Russia sanctions are intensifying, and Russia is solving its economic problems through import substitution, he said, adding that it protects its market not only from other countries in general but even from EEU partners, he said.
"Russia's watchdogs are using different kinds of leverage to avoid letting in our products, most often food products," Kudaibergenov said. "They generally find some sort of discrepancies in the certificates and send the freight back to Kyrgyzstan. Our exporters incur huge losses from this."
Kyrgyzstan's accession to the EEU was patently unprofitable for Kyrgyzstan, according to Kudaibergenov. Before joining the body, Kyrgyzstan traded actively with China, which greatly boosted the Kyrgyz economy.
"Russian analysts predicted that, after joining the EEU, Kyrgyzstan would begin to enjoy profitable trade with Kazakhstan and Russia, but that didn't come to pass," he said.