BISHKEK -- Banned terrorist organisations are switching tactics as a result of the coronavirus pandemic and subsequent lockdowns, urging followers to focus on carrying out their idea of "jihad" in their home countries.
With international travel restrictions in place, calls to travel to combat zones in the Middle East have dropped noticeably, said Ikbaljan Mirsaitov, a religious studies scholar from Bishkek.
However, the content of radical ideas has intensified on social networks, he said.
"The situation that was occurring until 2019 in Iraq and Syria has shifted to the internet," Mirsaitov said, citing the year that the international coalition took back the "Islamic State" (IS)'s last scrap of territory in Syria. "Promotion of the values of brutality and violence has begun."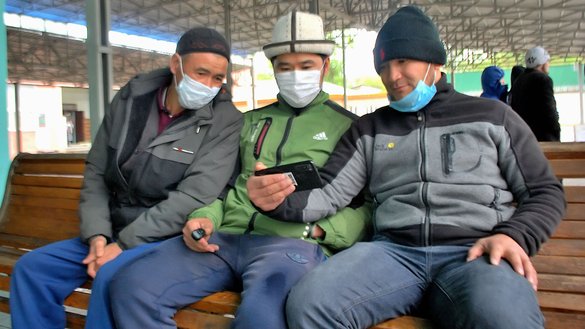 "Recruitment is happening, but that's not all. Other values are being cultivated, such as defying the authorities and official religious leadership. They [terrorists] are urging radical actions against non-Muslims," Mirsaitov said.
Recruiters are now using social networks to demand subversion in the users' own countries, "where you live", he said.
Radical preachers gain ground
As terrorist propaganda becomes increasingly decentralised, local radical preachers are emerging as the latest iteration of the terrorist recruiting problem.
Unlike in the past, banned terrorist groups no longer have a single communication centre, said Mirsaitov.
For example, when the Uzbek government in 2019 announced plans to repatriate women and children who had ended up in camps or prisons in Syria and Iraq, cacophony ensued.
Some groups threatened to blow up the plane if Uzbekistan tried to remove these citizens, while others were urging Central Asian governments to bring back the women and children, Mirsaitov said.
"There was a communication breakdown among them," Mirsaitov said.
Against this backdrop, representatives of local religious organisations are gaining popularity, using the most popular social networks in Central Asia, such as WhatsApp, YouTube and Telegram, he said.
They face no language barrier, and they know the local culture, he added.
"Unfortunately, among the local preachers there are so-called chala mullahs, mullahs who are not fully literate and do not always interpret the Koran correctly," said Mirsaitov.
"Some of them advocate for conflict with non-Muslims, and there are young people who are willing to engage in those conflicts."
For example, the interpretation of "jihad" is a subject of dispute and has sparked massive discussion online, he said.
"Of course, the official religious leadership explains jihad taking state policy into account, while internet imams... interpret the concept of jihad to serve their own interests," he said.
"Unfortunately, in these disputes, internet preachers win. A process to create and develop society-wide opposition specifically to the official religious leadership is taking place online."
Such discussions are occurring openly on Facebook, Twitter and other social networks. But there are also closed groups online that an average person needs permission to enter, he said.
"These groups are a forum for more-radical propaganda efforts."
"The number of visitors and participants in these groups rose during the lockdown. This increase can be attributed first and foremost to young people," Mirsaitov said.
Online recruitment
Internet users in Tajikistan and Uzbekistan favour Facebook over all other social networks as a news source, according to a 2020 study published by the Institute for War and Peace Reporting in Central Asia and the Central Asian Bureau for Analytical Reporting.
Residents of Kazakhstan and Kyrgyzstan turn to Instagram much more often to get their news, while in Uzbekistan, 60% of respondents reported always using Telegram as a news source.
WhatsApp is the main way Kyrgyz and Kazakhs share news, and residents of Tajikistan prefer Telegram and Viber.
The technology to lure eyeballs to radical websites is simple. Preacher-bloggers post videos on a YouTube channel showing members of other religions insulting or ridiculing universal values, according to Mirsaitov.
They then track visitors' comments and choose users who are good candidates for further indoctrination. If someone subscribes to the channel, the preacher-bloggers later send him or her links to other videos and gradually manipulate the person's way of thinking, he said.
Meanwhile, the danger of closed groups lies not just in their radical appeals but also in their function as sites for initial vetting of budding terrorists, Mirsaitov noted.
"Recruits will carry out terrorist acts and speak out against the unity of society," he said. "At the moment there aren't a lot of these people in our country, but they do exist and are active, and they are expanding their ranks. Of course, right now they're not openly speaking out, but in their closed circles they're actively working and forming plans to destabilise the country."
About 700,000 Kyrgyz live in poverty, according to the World Bank. The implementation of lockdown measures further exacerbated what was already a difficult economic situation nationwide.
Unemployment, pervasive government corruption and poverty engender resentment, especially among youth, toward social injustice. All the economic reverses from the lockdown benefit terrorist groups, said Mirsaitov.
In order to combat online recruitment, the population needs to be better informed about extremism and terrorism, with state institutions and civil society taking part in this effort, he said.