ALMATY -- Russian authorities have threatened to deport illegal migrants who came from Commonwealth of Independent States (CIS) member states in a fresh sign of enmity toward migrants. They called on them to leave "amicably" before June 15.
The move comes paradoxically as Russia grapples with a chronic shortage of labour in industries such as construction and agriculture, which typically rely on migrants to do some of the hardest and worst paid work.
Many of the migrants hail from Central Asia, with more than 332,000 illegal migrants from Uzbekistan residing in Russia, RIA Novosti reported, citing statistics given by Deputy Interior Minister Aleksandr Gorovoy.
Russia has about 247,000 illegal migrants from Tajikistan, 152,000 from Ukraine, 120,000 from Azerbaijan, 115,000 from Kyrgyzstan, 61,000 from Armenia, 56,000 from Moldova and 49,000 from Kazakhstan, the media outlet said.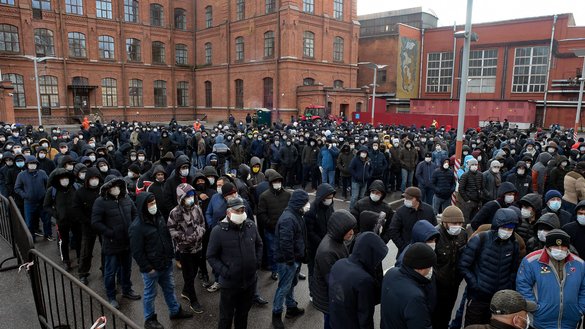 "If we do not remove these people by June 15 ... they will be punishable by deportation and the closing of borders," Gorovoy said at an April 16 meeting of the CIS's Interparliamentary Assembly of Member Nations.
In mid-December, President Vladimir Putin extended temporary residence permits for migrants in Russia until June 15, amid the coronavirus pandemic.
At the same time, however, it has become more difficult for migrants to obtain legal documentation, as Russian authorities continue to introduce new barriers.
In December, the Federation Council approved a law requiring those wishing to obtain a work permit or temporary or permanent residence permit to pass an exam testing their Russian language, history and basic legal knowledge.
And in April, the Russian government reduced the length of validity of the certificates that the successful candidates receive -- from five years to three.
Shortage of migrant labour
As Moscow threatens deportations, observers have noted the irony that Russian officials are at the same time bemoaning a shortage of migrant labour.
"The number of migrants in Russia has significantly decreased over the past year, and now there are not even enough to complete ambitious projects," Russian presidential spokesman Dmitry Peskov complained April 8.
"I can only state the reality that we've actually come to have very few migrants over the past year,'' Peskov said. "And we really, really don't have enough of these migrants to implement our ambitious plans."
The construction industry has been hit particularly hard by the labour shortage.
"We must build significantly more than we are building now," said Peskov. "But doing that requires workers. There are fewer of them because of the pandemic."
Russia needs migrants because they take jobs in industries such as construction, doing work Russians do not want to do, said Usman Baratov of Moscow, president of Vatandosh (Compatriot), an Uzbek diaspora organisation.
The Russian economy only benefits from this infusion of labour, he said, but "the authorities' continued indifference to violations of migrants' labour rights will cause them to gradually leave Russia".
Escaping poverty, violence
Last year, as hundreds of thousands of migrant workers lost their jobs and livelihoods, Russian authorities aggravated their situation and complicated their return.
Police persecuted migrants for "violations of quarantine", "late registration" and "no work permits". Police illegally detained migrants, sending them to facilities where they were kept in "appalling conditions", said human rights activists.
Jumgalbek Mamishev, who returned to Kyrgyzstan from Russia in August on a charter flight, with assistance from his country's embassy, said his last months in Russia were like a "nightmare".
"I suffered because I lost my job and lacked money for rent, but most of all I was afraid of problems with the police," he said.
With help from the Kyrgyz diaspora in Moscow, Mamishev found a temporary apartment where he lived with some of his compatriots before his departure.
He has no plans to travel to Russia soon, he said, because he does not think that the situation there has completely stabilised.
Even though activists regularly flag violations of migrant workers' rights, the Russian government does not try to solve them, Baratov said.
"People who do hard work are paid very little or not paid at all -- many have to put up with this because they are working under the table," he said.
New opportunities at home
There were about six million migrants in Russia as of December, according to the Russian Interior Ministry (MVD).
This figure is markedly lower than the usual numbers, which normally range between nine and 11 million people.
After returning home from Russia, many Kyrgyz migrants are opening small businesses and starting to work for themselves, said Gulnara Derbisheva, director of the NGO Insan-Leilek.
Derbisheva hails from Isfana, Batken province, Kyrgyzstan.
"In our region, for example, some former migrants have organised construction crews and are recruiting Uzbek and Tajik citizens living in the border regions," she said. "Others started garages and fix cars."
Many migrants return from Russia because of their negative experience there and no longer want to go back, she said.
"We have conducted seminars for them so that they can properly use the money they earned in Russia -- they studied entrepreneurship and got firmly onto their feet and have never again depended on work in Russia," Derbisheva said.