ALMATY -- Russia has set in motion plans to create a financial entity that will enable it to set the rules for the Eurasian Economic Union (EEU) common financial market and deepen its hegemony within the bloc, observers in Kazakhstan warn.
During an April 15 meeting of their Advisory Board for Monetary Policy, the central banks of EEU member states discussed an agreement regarding the creation of a supranational body to regulate the financial markets.
The single regulatory body concept is embedded in the original agreement to form the EEU, which took effect January 1, 2015. It calls on EEU states to standardise the laws on financial markets to create a single regulatory body in 2025 that will be based in Almaty.
The creation of the new entity will have far-reaching economic and political consequences for Kazakhstan and other EEU members, Kazakh analysts warn.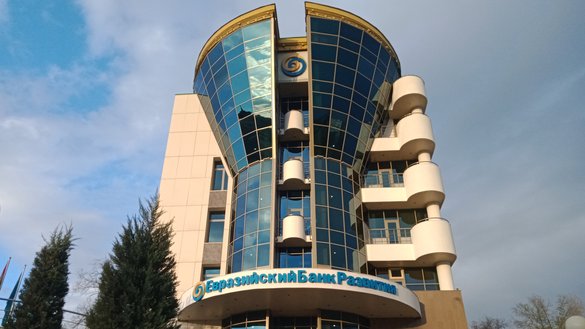 "As soon as we join our financial markets into a single market, the strongest, largest state will set the rules on it," said Almaty based economist Arman Beisembayev.
"In the EEU that's Russia, and that means that its influence in this union will grow even more," he said.
To combat high inflation in Russia, the Russian Central Bank is beginning to remove money from the economy so prices on goods will not rise, and it is stopping the printing of rubles, he noted.
"Inflation rises when people buy a lot of goods. To prevent this from happening, the Central Bank is using different methods to start 'draining' cash from the market and stopping its printing of new bills," Beisembayev added.
But the National Bank of Kazakhstan has a different approach.
"It is printing lots of tenge," he said. "If we fall under the influence of a single regulator, we will no longer be able to do that. In other words, Russia will decide how much money we'll be able to print in our own country, and when."
'Controlled by Russia'
The situation will worsen in terms of members' autonomy if the EEU creates a single currency, Beisembayev said.
In a September 2019 interview with Rossiyskaya Gazeta, Eurasian Development Bank (EDB) board chairman Andrey Belyaninov pushed for the EEU to make the ruble its sole currency.
Russia and Kazakhstan established the EDB in January 2006 to expand their trade and economic ties. Armenia and Tajikistan joined in 2009, followed by Belarus in 2010 and Kyrgyzstan in 2011. The bank is headquartered in Almaty.
The EEU should take its lead from the EDB when creating a single regulatory authority, said Belyaninov.
"In my view, it's the prototype of the future central bank of our EEU, only without the right to issue money," Belyaninov said.
The Kazakh government has pushed back against any potential changes.
"The statements by the EDB's leadership do not correspond to reality and contradict the agreements adopted within the [EEU]," the National Bank of Kazakhstan said in response to Belyaninov's comments.
No matter what the National Bank of Kazakhstan says, a single currency for the EEU will emerge, Beisembayev said.
"Our stock markets and customs policies are joined, the body will begin to create a single financial market, and there will be a single regulator," he said.
"It's logical that a single currency will be created on that basis, and Russia will get the most benefit from this because the printing presses will be in Russia."
"It's Russia that will decide whether to give us money," he added. "If it thinks we have too much, we won't be able to print this currency ourselves. We'll be completely controlled by Russia."
A rejection of the dollar?
Russia claims that a single regulatory authority would not take away the ability of EEU member states to make independent monetary policy, said Andrey Chebotarev, a Nur-Sultan based financial industry analyst.
"When the members of the Eurasian Economic Commission [the EEU's executive body] came to Nur-Sultan a year ago, I went to some of their meetings and talked to them about creating a single financial market," he said.
"The representatives of the commission said that a single financial market entailed having a single regulatory authority ... but the central bank of each individual EEU member state would issue money and set lending and deposit rates in each country," Chebotarev said.
A single financial market is one way to enhance integration in the union, which would include moving away from paying for goods in US dollars, he said.
"After all, to this day, 50% of payments between Kazakhstan and Russia are made in dollars," he noted. "A single financial market should lessen the influence of the US currency in this part of the world.
However, it is impossible to limit the use of the dollar in Central Asia, said Beisembayev.
"There are five countries in the EEU, and it seems that Uzbekistan is next in line to join, but it most likely won't get tangled up in it because the Uzbeks are smarter than we [Kazakhs] are," he said.
"None of our states is self-reliant, and they aren't self-sufficient in such a way as to be able to reject various foreign goods that are bought for dollars and euros," Beisembayev said.
"In addition, in Kazakhstan and Russia's case, the main goods for sale on the global market are oil and metals, which are sold there for dollars," he added. "Any discussions of rejecting US currency end there."