NUR-SULTAN -- Kazakhstan on Monday (April 26) rolled out its own homegrown coronavirus vaccine, with its healthcare minister receiving the jab on live television.
The move represents a triumph for Kazakhstan's pharmaceutical industry and a step away from dependence on the Russian Sputnik V vaccine.
It places Kazakhstan alongside the far more populous United States, United Kingdom, Russia and China as countries that are manufacturing COVID-19 vaccines. Other countries are working on their own vaccines as well.
Kazakhstan so far is adhering to a schedule that Kazakh Chief Sanitary Doctor Yerlan Kiyasov cited to the Brussels-based New Europe website in February.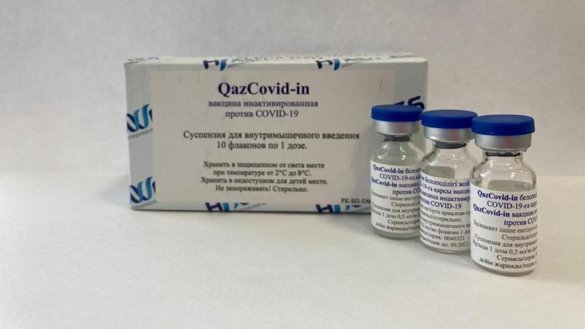 "Vaccination by the domestic vaccine QazCovid-in ... is planned from April this year," said Kiyasov in February.
Trials under way
QazCovid-in, also known as QazVac, is a two-shot vaccine that is undergoing phase III trials.
Workers have distributed 50,000 doses of the vaccine developed by the state-backed Research Institute for Biological Safety Problems across the country, said the state broadcaster Khabar.
Healthcare Minister Alexey Tsoy told Khabar he felt well after receiving his shot and said the government was negotiating with partners in Turkey to produce future batches of the vaccine.
In a tweet last Friday, Kazakh President Kassym-Jomart Tokayev hailed the former Soviet republic's achievement in becoming "one of the few states" to develop and produce a national vaccine.
Dubious Russian vaccine
For many Kazakh doctors and Healthcare Ministry officials, reducing dependence on the Sputnik V vaccine will come as a relief.
The Russian coronavirus vaccine is "contraindicated for people from the COVID-19 infection risk group", Kazakh Vice Minister of Healthcare Marat Shoranov said in an online briefing last September.
The vaccine could present a risk for pregnant women, breastfeeding mothers, sufferers of chronic illnesses, and individuals younger than 18 and older than 60, he said then.
Russian efforts to promote Sputnik V as equally effective as or more effective than Western alternatives -- without providing accurate, verified data -- have shaken public confidence in the vaccine.
Scientists and observers around the world first shook their heads in consternation when the Kremlin on November 11 said Sputnik V was 92% effective -- two days after Pfizer and BioNTech announced their vaccine had greater than 90% efficacy.
Less than a week later, American biotechnology company Moderna, which developed its COVID-19 vaccine with the US National Institutes of Health, said that early results showed its candidate was 94.5% effective.
In another seeming bit of one-upmanship, the Russians on November 24 raised the reported effectiveness of Sputnik V to 95%.