ASHGABAT - Turkmenistan's COVID-19 vaccination campaign is running into a serious obstacle: "terrible side effects" from the vaccine supplied by China.
Turkmens are caught in a worrisome bind -- facing a pandemic but having only imperfect tools to combat it. So far, they have only Russian and Chinese vaccines as options.
Some who received the coronavirus vaccine supplied by China experienced "terrible side effects" after their first dose, said Aigyul M., an infectious disease physician in Choganly village, near Ashgabat.
She spoke out even though a memorandum from the Ministry of Health and Medical Industry prohibits healthcare workers from publicly voicing their opinions regarding the coronavirus pandemic and the vaccination of the population.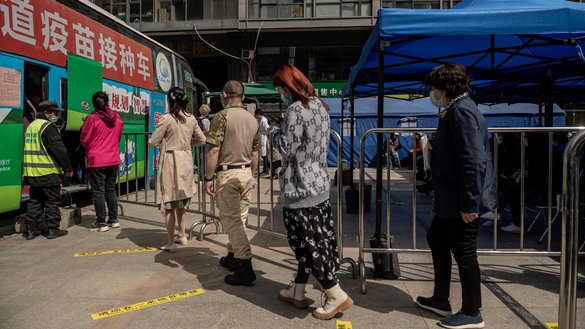 "I know I'm taking a huge risk, but I can't stay silent when people are suffering terrible side effects after getting the Chinese coronavirus vaccine and nearly dying," said Aigyul, using a pseudonym.
The doctor said she independently studied all the cases she was aware of in which recipients fell ill after receiving the vaccine and created a list of side effects.
Most frequently, she said, recipients experienced severe nausea, vomiting and diarrhoea. Some needed to call for emergency medical assistance and even ended up in intensive care.
"Nearly all those vaccinated experienced intense headaches and muscle pain, and some of them had a fever and chills, an allergic reaction on the skin and mucous membrane" or other symptoms, Aigyul said.
These include a runny nose, cough and oedema.
"Only a few people out of those who were vaccinated said they didn't experience any side effects," she said.
A shipment of the Chinese vaccine arrived in Turkmenabat by plane from Beijing on March 6, Turkmen.news reported.
Observers say the Chinese government probably delivered the vaccine for free rather than selling it as part of its ongoing "vaccine diplomacy" strategy.
The Chinese ambassador to Turkmenistan was present to greet the plane, according to the emigre news site Chronicles of Turkmenistan. Ambassadors do not, as a rule, meet commercial deliveries. In addition, a Turkmen official present at the airport expressed gratitude to China for helping Turkmenistan fight the pandemic, another sign that the vaccine likely was a gift.
Official Turkmen media outlets did not report on the arrival of the cargo or on the quantity or name of the vaccine.
Critics see such "aid" as part of Beijing's campaign to reshape the pandemic narrative away from its early outbreak in Wuhan and belated acknowledgment of the crisis to a story of the country's success and "heroic deeds" in stopping the virus spread.
As of March, China had exported 40 million doses of its coronavirus vaccines around the world, mostly to developing countries, the Financial Times reported.
The supply of vaccines to countries unable to secure more expensive vaccines or those in greater demand is a key element of Beijing's attempt to rewrite history.
But China's vaccine diplomacy efforts will be only as effective as the quality of the product it is offering.
'Subpar' and in short supply
Under the vaccination plan laid out in Ashgabat and other large cities, the small batches of vaccine from China and Russia are to be given first to healthcare workers, workers with public-facing jobs, police officers and public transportation drivers.
Citizens over the age of 70 also are eligible to receive the vaccine.
Many Turkmens want to be vaccinated because they are tired of the mask mandate and want to be protected from coronavirus, Aigyul said.
The high mortality rate, noticeable albeit unreported, has sowed fear among the public.
"A lot of people have lost relatives and others close to them. They have seen the agony they died in, so everyone has been waiting for a vaccine to save them," she said. "But it has turned out to be subpar."
Vera K. of Ashgabat, 72, is one of the Turkmens who received the Chinese vaccine for free based on her age.
"For three days I was so turned inside out I needed to call an ambulance," she said.
At first she attributed her symptoms to her existing cancer, she said, but after her emergency hospitalisation, she learned that acquaintances had suffered nausea and vomiting after receiving the Chinese vaccine.
"If we'd had a choice, we never would have agreed to get this vaccine, but we didn't have a choice," she said. "It was either die from the coronavirus or go through this agony."
Doctors have said Turkmens are receiving the Vero Cell vaccine, which is made by Sinopharm and has a 79.34% efficacy rate, according to the developers.
The Chinese COVID-19 vaccines have a low efficacy rate, Gao Fu, director of the Chinese Centre for Disease Control and Prevention, acknowledged this month.
The low efficacy rates of the Chinese vaccines -- between 49% and 79% -- are far below the more than 90% rate for vaccines produced by Pfizer and Moderna.
The suppliers from China have "embellished" the advantages of their product and deliberately kept silent about its shortcomings, Turkmen doctors say.
If the vaccine they had was of high quality, "the pragmatic Chinese would have sold it to other countries", Aigyul said, referring to a Chinese commitment to supply the vaccine to 69 developing nations for free.