The audio file of an interview with Iranian foreign minister Javad Zarif, leaked to media outlets on Sunday (April 25), has sparked global reactions across the political spectrum and stirred controversy, conspiracy theories and opinions.
The 190-minute file, from a video interview conducted February 24, emerged while Zarif was on a visit to Iraq, ahead of the third round of talks in Vienna aimed at reviving an international agreement on Iran's nuclear programme.
During the interview -- part of an oral history project that aimed to reveal more about President Hassan Rouhani's government -- Iran's foreign minister repeatedly emphasises that certain remarks are off the record.
In a previous interview, Zarif had said he has no role in decisions regarding foreign policy. He reiterates his stance in the leaked audio file.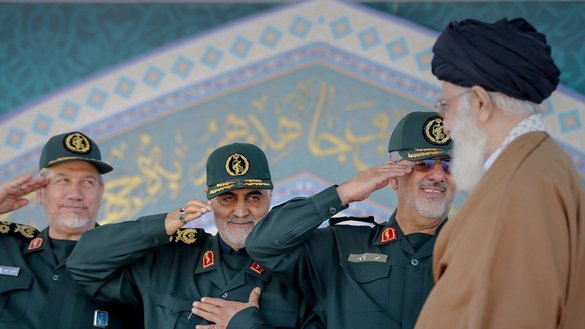 He says he was stabbed in the back amid talks that resulted in the 2015 nuclear deal, known as the Joint Comprehensive Plan of Action (JCPOA), adding that many hardliners do not want normalisation of US-Iran relations.
Stating that former president Mahmoud Ahmedinejad disliked him and wanted him out as Iran's Ambassador to the United Nations, Zarif said "higher powers" (implying supreme leader Ali Khamenei) wanted him to keep the job.
Zarif said he knew he would be "a victim, not a hero" when he begrudgingly accepted Rouhani's invitation to become foreign minister.
In the interview, he repeatedly stressed that the regime in Tehran prioritises the regional presence and policies of the Islamic Revolutionary Guard Corps (IRGC).
He says these policies, designed and decided upon by the late IRGC Quds Force commander Qassem Soleimani, were constantly favoured over diplomacy during Soleimani's tenure.
Soleimani jeopardised diplomacy
Zarif said Soleimani would not compromise for diplomacy, even if IRGC stances were damaging to Iran's diplomacy and foreign policy "by 200%".
Several months after diplomatic resolutions were reached, in light of Iran's talks with world powers, former US Secretary of State John Kerry informed him that the number of Iran Air flights to Syria had increased six-fold, he said.
Zarif said he had not been aware of this fact.
He said his team had been green-lighted to buy new Boeing and Airbus planes to help Iran's depleted commercial fleet, but the abrupt increase in the number of flights to Syria using Iran Air jeopardised this purchase.
This is because without telling anyone, aside from Iran Air's executive director, Soleimani had decided Iran Air was "safer than Mahan Air" for IRGC flights to Syria.
Undeclared flights via state-owned Iran Air and sanctioned carrier Mahan Air have raised questions about both airlines' questionable activity on behalf of the Iranian regime in recent years. The carriers have been accused of transporting weapons and fighters to conflict zones throughout the region.
Zarif said Soleimani's move jeopardised diplomatic relations and killed the possibility of further plane purchases.
The foreign minister said he met with Soleimani once a week, but the meetings were not held to discuss the country's affairs or to interact. Rather, he said, Soleimani would list his regional policies and preferences, in order of priority.
Spending on IRGC 'not worth it'
Zarif criticised hardliners who favour alienating the United States and its massive army, stressing that Iran's power is not in missiles or military equipment, and it is a plain fact that it cannot rely on military strength.
The Islamic Republic's point of strength, he said, should be the support of its people, "which is equal to national security".
He noted that Tehran's foreign policy always has been decided and dictated based on a "bipolar, Cold war-era" approach, implying that the IRGC's regional presence has consistently trumped diplomacy.
Iran "has spent more than it should have" for the IRGC's regional presence, he said, later noting that "it was not worth it".
Zarif said neither Rouhani, his cabinet members, or virtually anyone other than high-ranking IRGC officials, knew about the January 8, 2020 downing of Ukrainian International Airlines Flight 752.
The day after the incident, he said, he was pressured to tweet about it and deny the IRGC had targeted it, but he refused to do so.
When he asked IRGC officials to let the Rouhani cabinet know the truth so they could perhaps find a solution, he added, they "glared at me as though I were blaspheming".
China, Russia's detrimental roles
Stressing the necessity of Tehran's continued relations with Russia and China, while engaging with the West, including the United States, Zarif said China and Russia are not on Iran's side and have relations with Tehran for their own interests.
Zarif said part of the reason China and Russia would prefer Tehran's bitter relations with the United States is that they would rather see Iran as a "priority" (problem) for the United States, so they would move further down on Washington's list of priorities.
He described Moscow's role in Iran's negotiations with the West as detrimental, to the point that Russian foreign minister Sergey Lavrov tried to jeopardise diplomatic resolutions in 2015.
Zarif said Lavrov had secretly gone to talk with Kerry, but Zarif arrived unannounced to meet with his US counterpart and found the two together.
Before Lavrov left for Moscow that night, he told Zarif and Kerry that Iran and the United States would not be able to come to terms regarding a certain issue.
In reaction, Zarif said, he told Lavrov the matter is "none of your [expletive] business".
Interview angers hardliners
Zarif's remarks in the leaked audio, particularly regarding Soleimani and the IRGC, have angered hardliners inside Iran, some of whom have accused him of treason.
Lawmakers from Iran's parliament (Majles), the majority of whom are conservative, are calling for an investigation into the leaked audio file and demanding that Zarif be punished for "insulting Soleimani".
A few attacked Zarif further, saying he seems unaware of the regime's red lines, while many prominent conservatives accused him of being "Westernised".
Ultra-hardline daily Kayhan, whose editor-in-chief Zarif mentioned in the interview, harshly criticised the foreign minister. (During the 2021 talks to revive the JCPOA, a Kayhan editorial called for Zarif to be replaced.)
Kayhan on Monday ran a scathing editorial about Zarif in which it implied the audio file had been leaked intentionally.
A spokesperson for the conservative Islamic Coalition Party criticised Zarif and pointed out that audio leaked to expatriate media outlets is not a small gaffe.
Meanwhile, reformists and moderates accused leakers of trying to disrupt the upcoming talks in Vienna, and labeled it a smear campaign against Zarif.
Critics of the Islamic Republic say since Zarif is part of the system, he is not allowed to criticise it, and if he takes issues with some sections of the regime, he should resign.
Zarif, Foreign Ministry react
On Tuesday, Zarif posted a short clip on Instagram, without directly mentioning the interview. In an apparent reference to the oral history project, he said: "We should think about God and the people, we shouldn't worry about history".
Also on Tuesday, Rouhani reacted to the leaked interview for the first time, ordering his intelligence ministry to identify the leakers. The government said the file has been "stolen".
Iran's Foreign Ministry had previously described the leaked audio file as "selective" and "cut off".
The ministry said it would publish the interview, which it claimed was "seven hours" long, in its entirety, if relevant organisations agree, and stressed that Zarif allegedly praised Soleimani in other, unpublished, parts of it.
At the end of the interview, the interviewer asks Zarif to say something for the future, for history, suggesting he may be future president or vice president, or he may be sitting at home in his pyjamas.
In response, Zarif suggests another possibility is him being elsewhere -- in striped overalls -- implying imprisonment.