ALMATY -- Central Asian states should unite in to face shared regional security challenges and promote economic growth, but Russia and the Eurasian Economic Union (EEU) stand in the way, say analysts.
Were it not for Russia, the Central Asian republics could have embarked on this path many years ago, some say.
Countries in the region have tried to create regional integration platforms such as the Central Asian Co-operation Organisation (CACO) since the 1990s, according to Shairbek Dzhuraev of Bishkek, co-founder and president of the Crossroads Central Asia NGO.
"But these efforts ended with Russia's entry [into CACO] in 2004, and ... the CACO was disbanded altogether [in 2006]," said Dzhuraev.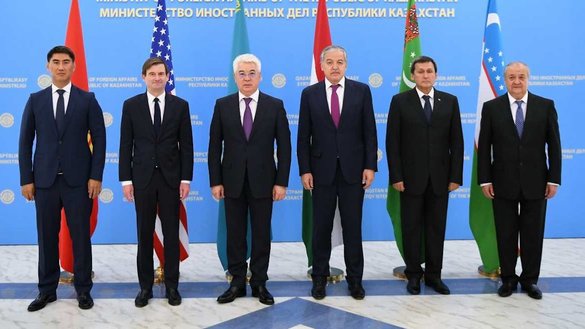 "Essentially, the Russian Federation's entry killed this organisation and created a new one -- the [EEU], which is co-ordinated by Moscow."
Small countries such as Kyrgyzstan had no choice but to join the EEU, since refusal entailed consequences such as borders closed to trade and corresponding economic losses, he said.
Additionally, Kyrgyz migrant workers in Russia would have found themselves in even direr conditions than before, he added.
Shifting perceptions
In Kazakhstan, government officials in the past have left dreams of Central Asian co-operation and criticism of the EEU to independent analysts.
But in April 2018, the Kazakhstan Institute for Strategic Studies (KISS) published an article indicating that the government's foreign policy priorities were starting to change.
"Today the [EEU] is under unprecedented pressure because pragmatic considerations, the market and the principles of free trade are significantly weaker. Geopolitics often prevails," the article noted.
The disillusionment of Kazakh authorities likely stems from the increased frequency of claims and counter-claims among EEU members.
Harsh measures by Russia's oversight agencies to protect their domestic market are inflicting losses on exporters from other EEU countries, even though the bloc ostensibly promotes free trade.
For example, in March, the EEU's executive body itself acknowledged that Russian authorities' curtailment last December of imports of Kazakh tomatoes and peppers was illegitimate.
"In these conditions, the best path can be seen in co-operation among the countries of Central Asia ... New dynamics in relations with Uzbekistan have taken shape since 2017, demonstrating pragmatism and increasing openness," stated the KISS article.
The year 2018 saw a significant shift in relations among the countries of Central Asia, said the analysis.
On March 15 that year, four Central Asian presidents and the chief of Turkmenistan's parliament convened in Astana, marking the first Central Asian summit since 2009.
"The region's prospects lie in the formation of a varied field of geo-economic projects, which would make it possible to better defend and promote national positions in negotiations with other countries," said the article.
Without Russia
The shift comes as the EEU increasingly looks like a vehicle for Russia's geopolitical machinations.
EEU member states are raising grievances mainly against Moscow, Dosym Satpayev, director of the Almaty-based Risk Assessment Group consultancy, said earlier this month.
Moscow had no intention of creating favourable conditions for trade within the EEU because for Russia the union is a geopolitical undertaking, not an economic one, and it is aimed at strengthening Russia's influence, according to Satpayev.
With the EEU failing to integrate the region, the countries of Central Asia have to develop effective economic co-operation, say observers.
Central Asia has strong integration potential underpinned by many factors, according to Farhad Tolipov, director of the Tashkent-based research institute Caravan of Knowledge.
"Our countries are linked by economic, transport, energy and border ties, as a single system," he said. "In addition, our peoples have much in common in terms of history, ethnicity, religion and culture."
Small countries, such as those in Central Asia, should unite in order to collectively face shared regional security challenges, said Tolipov, all the more when "we are neighbours to two great powers with geopolitical claims on Central Asia."
Central Asia has its own large market, which will allow the region's economy to develop, said Daulet Akhmetov, a Nur-Sultan supplier of construction materials.
"We need to open internal borders to the movement of labour and goods, grow our industries and create a free trade zone in the region -- this is the only way we can become stronger economically and talk as equals with [bigger] powers," Akhmetov said.