BISHKEK -- This year, Muslims in Kyrgyzstan are observing the month of Ramadan a little differently, following guidance from religious leaders to abide by specific rules and restrictions designed to stem the spread of COVID-19.
Mosques now have special markings to help worshippers socially distance, and mosque workers require visitors to wear masks and apply hand sanitiser before entering.
In addition, the Spiritual Administration of Muslims in Kyrgyzstan (DUMK) is urging Muslims to perform Friday prayers at home rather than at the mosques.
Central Asian states have had to fight considerable poverty on top of the deadly coronavirus over the past year.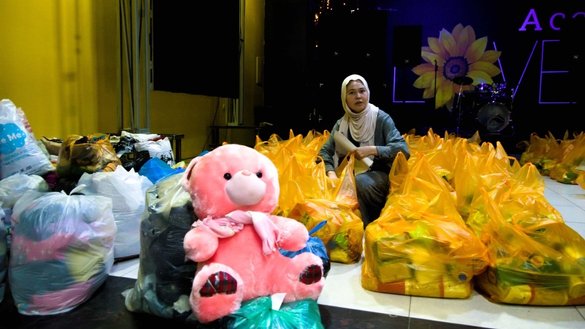 Neighbouring powers Russia and China, which could have helped during one of the most difficult times for the region, instead made things worse, observers say, particularly for Kyrgyzstan.
Despite declaring their "friendship and brotherhood" with Central Asian countries, Russia and China made decisions that exacerbated problems in the region.
Last spring, the mass return of migrant workers from Russia intensified unemployment in Kyrgyzstan. The migrants had been unable to stay in Russia after lockdowns forced by the pandemic cost thousands of them their jobs. Many also lost money after Russian airlines cancelled flights and refused to refund tickets.
China, meanwhile, responded in a less than friendly manner when Kyrgyzstan requested deferred repayment of a Chinese loan as its economy weakened.
The deteriorating economic conditions are especially palpable this Ramadan, with some mosques and private donors launching local initiatives to help the needy in their homes amid the coronavirus restrictions.
Such aid can be instrumental in preventing the desperate and impoverished from turning to extremism.
Every day during Ramadan, the Kelechek mosque in Bishkek distributes between 60 and 70 packages of plov and other iftar foods to Muslims who are fasting and to the needy.
"This effort costs an average of 15,000-25,000 KGS (about $200–$350) per day," said Erkinbek Talgatbek-uulu, the mosque's imam.
Before the pandemic, donors funded iftar meals held at the mosque, he said.
The editorial board of Ummah, Kyrgyzstan's monthly Muslim affairs magazine, has also organised the collection and distribution of food and other items to the needy in their homes.
Ummah employees have volunteered to deliver the aid parcels along designated routes in Bishkek during the holy month.