ALMATY -- As Kazakhstan's mass vaccination campaign picks up pace, with an array of vaccines on offer, Kazakhs are eschewing Chinese-designed vaccines in favour of other options, medical professionals and Kazakh citizens say.
The government began to administer vaccines to the general public in early April, after an initial phase targeting high priority groups that began February 1.
As of May 8, however, only about 567,000 people, or 3% of Kazakhstan's population, have received the second dose of their vaccines, according to the Ministry of Healthcare.
Now, Kazakhs have QazVac, a vaccine developed by Kazakh scientists and produced in Almaty province.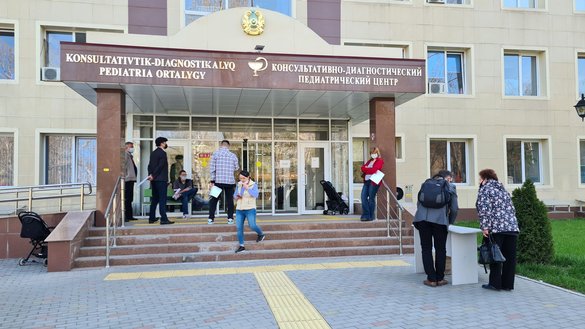 Few takers for Hayat-Vax
The Samruk-Kazyna sovereign wealth fund on April 24 announced it had purchased one million doses of Hayat-Vax -- enough for 500,000 people -- for its employees and their family members, but the vaccine had only a few takers.
On May 5, authorities made Hayat-Vax available at healthcare facilities in Nur-Sultan. But to date, only nine Kazakhs have chosen it, said Saltanat Bekseitova, a department head at Clinic No. 13 in Nur-Sultan.
"People distrust the Chinese vaccine and are showing a preference for the Kazakh one," Bekseitova said.
Pavel Korobeinikov, a computer equipment repair specialist in Nur-Sultan, said while he agrees vaccines are necessary to stop the pandemic, he would never take a Chinese vaccine.
"I have no idea what sort of vaccine it is or what it's really made of, no matter what Chinese scientists or bureaucrats have said," Korobeinikov said. "I simply don't trust them."
Rising anti-China sentiment
Kazakhstan could have managed with its own vaccine and not spent money on foreign ones, said Azamat Bekbai, a taxi driver from Almaty who received the homegrown QazVac vaccine.
Hayat-Vax has no chance of taking off in Kazakhstan due to rising anti-China sentiment among the population, he said.
"Why should our people take the vaccine of a state that persecutes and murders our Kazakhs and other Muslim brothers and sisters?" Bekbai asked, referring to China's imprisonment and abuse of millions of Muslims in Xinjiang as part of internationally condemned crimes against humanity.
"To hell with the Chinese vaccine. We need to announce a boycott against it."
Other Central Asian countries also show scepticism towards Chinese-made vaccines.
Kyrgyzstan started its mass vaccination campaign in late March, after China provided the country with enough doses to vaccinate 75,000 recipients.
But Kyrgyzstan is showing widespread scepticism about the Chinese vaccine.
In March, Kyrgyz Ministry of Health spokeswoman Burul Asykbekova acknowledged that some doctors were refusing to be vaccinated with Sinopharm, Radio Free Europe/Radio Liberty's Kyrgyz service reported.
Meanwhile, in Turkmenistan, some recipients report experiencing "terrible side effects" from the vaccine supplied by China, including severe nausea, vomiting and diarrhoea, with some cases requiring emergency medical assistance.