ALMATY -- Normally Russia's annual Victory Day parade is a lavish commemoration of the defeat of Nazi Germany in World War II attended by an assortment of world leaders.
But this year exposed a harsh reality for Russian President Vladimir Putin.
Tajik President Emomali Rahmon was the only foreign leader on the podium this year, a measure of Putin's growing isolation.
The European Union (EU) and the United States on March 2 imposed sanctions on Russia for the poisoning and jailing of opposition leader Alexei Navalny.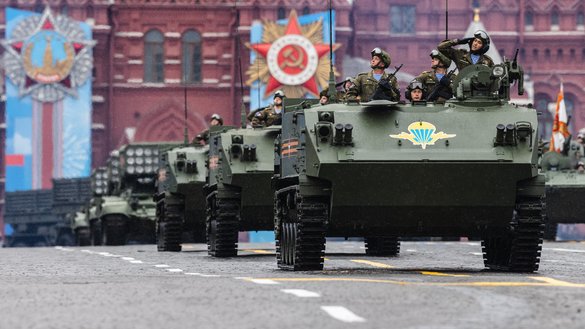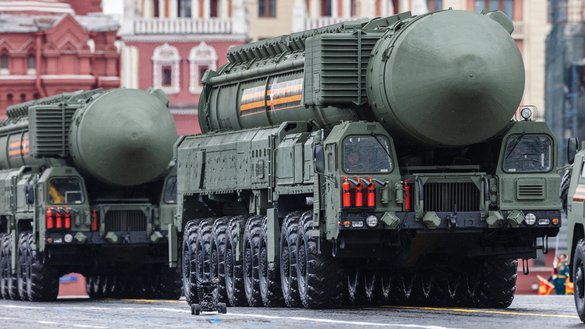 Moscow was behind his nearly fatal poisoning last August and must release Navalny, who was arrested January 17 upon his return to Moscow after treatment in Germany, US officials have said.
The United States on April 15 also announced sanctions and the expulsion of 10 Russian diplomats in retaliation for the Kremlin's interference in US elections, a massive cyber attack and other hostile activity.
Earlier this month, after their first in-person meeting in more than two years, G7 leaders called out Russia for what they said was the "irresponsible and destabilising behaviour" of massing troops on the Ukrainian border, "malicious cyber-activity", disinformation and malign intelligence activity.
In April, Russia deployed more than 100,000 troops near the border with Ukraine, sparking concerns in other regions such as Central Asia.
Ignoring the pandemic
Like last year, the ongoing pandemic and its numerous victims are not stopping Russian authorities from taking advantage of the symbolic holiday for political purposes.
According to official statistics, there have been 4,905,059 cases of coronavirus infections and 114,331 fatalities in Russia as of Wednesday. However, those figures are generally considered to be dramatic understatements, RFE/RL reported that day.
The true size of the pandemic in Russia may never be known, according to Aleksei Raksha, who was sacked from his health demographer job at Rosstat last July after disputing Russian methodology for counting COVID-19 deaths.
"It is simply a fact that we do not know how many infections we have had," Raksha told RFE/RL.
"It is all just guesswork. I think that in Russia, no less than one-third of the population has had the virus…. In Moscow and St. Petersburg, the figure is closer to 40 percent. That is my estimate."
More than 47 million Russians have been infected by the coronavirus since the start of the pandemic, if his estimate proves accurate.
The government prioritised its political goals over managing the COVID-19 emergency in the first half of 2020, according to Raksha, citing the referendum last year.
"They are lying to us as if we are morons and suckers," he said.
May 9 in Central Asia
For the younger generation in Central Asia, annual military parades are a reminder of the larger power that makes key political decisions in their countries.
Putin is seeking to revive a semblance of the Soviet Union and its control over former Soviet republics, said Shukhrat Muradov, who owns a tea house and guesthouse in Samarkand, Uzbekistan.
"With these parades, he is rattling his sabre and showing us that Russia is stronger than ever, and that our countries should think long and hard before doing anything that is contrary to Russia's interests," Muradov said.
Moscow has already brought certain former Soviet countries together into economic and military alliances and is interested in luring Uzbekistan into them, he said, referring to the Eurasian Economic Union and the Collective Security Treaty Organisation.
"However, experience shows that these unions do not give their members what Russia promised them when they joined," Muradov said.
"They have nothing for us."