NUR-SULTAN -- Kazakhstan's ban this week on the sale of agricultural land to foreigners highlights the country's growing unease with Chinese territorial encroachment and investment schemes.
The law banning the lease and sale of land to foreigners makes permanent a freeze imposed in 2016 after nationwide protests against controversial land code amendments rocked the regime and stoked anti-China sentiment.
The rallies that year arose from authorities' proposal to amend the land code to extend leases on land for foreigners -- a move that they said would make projects more attractive to investors, but which deepened fears that Chinese buyers would purchase massive amounts of Kazakh farmland.
Creating opportunities for Kazakh entrepreneurs
President Kassym-Jomart Tokayev signed the new law on Thursday (May 13) as opposition groups readied for fresh demonstrations in support of the ban in protest of Chinese investment projects.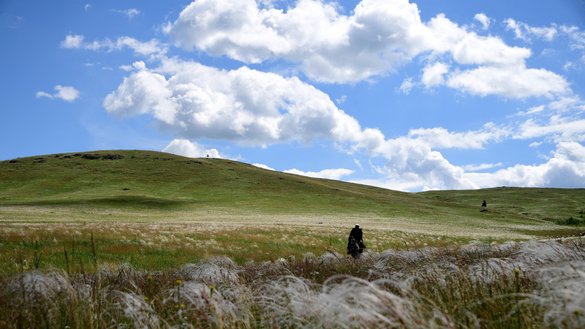 The new law "has ruled out all opportunities and loopholes for the acquisition and lease of agricultural land by foreigners", Tokayev adviser Erlan Karin wrote on Telegram Wednesday.
"The prohibition on the sale and lease of land to foreigners is the foundation of a political consensus between the government and society, which we had to lay down as a top priority and as soon as possible," said Aydos Sarym, a member of both the Kazakh parliament and the Kazakh Commission on Land Reform. He voted for the bill.
"It is urgent for us to achieve accord in which society gains confidence and calm," he said.
He dismissed concerns that the law would cause the farming sector to lose important inflows of investment.
"We must work out rules of the game that hold up for 20 years -- rules that farmers and investors can understand," Sarym said. "In this case, with the necessary level of mutual trust, we can devise a working agricultural market and the harnessing of our farmland by our own Kazakh entrepreneurs will be more efficient."
Opposition activist Zhanbolat Mamay in a Facebook post Thursday called the new law a "victory" but urged farmland activists to gather in Almaty on Saturday anyway.
"We will warn the authorities that we will never rent our land out to foreigners! We must protest against the construction [in Kazakhstan] of 56 Chinese factories!" Mamay wrote.
Chinese deals stoke resentment
China's behaviour in Kazakhstan has aroused concerns and resentment, even as Beijing portrays itself as an economic partner.
Kazakhstan's government has sought investments from neighbouring China, with the Kazakh Foreign Ministry billing the Central Asian country as the "buckle" in Beijing's trillion-dollar Belt and Road Initiative (BRI).
The mood on the ground is far different. Kazakhs are concerned that the project could enable China to purchase farmland or to sign favourable, long-term leases that amount to ownership.
The much-touted BRI could potentially lead to Central Asian countries being heavily indebted to Beijing, analysts warn.
The BRI "is ultimately a vehicle for China's geopolitical ambitions", according to an April 2019 report by the Centre for a New American Security, a think-tank based in Washington.
"Liabilities for host countries -- loss of control, opacity, debt, dual-use potential, and corruption -- are often strategic assets for Beijing," the report said.
In addition, recent Chinese pronouncements have made Beijing's acceptance of Kazakh sovereignty look questionable at best.
"Chinese and Kazakh armed forces are resolutely dealing with the 'three evil forces' and oppose the outbreak of a 'colour revolution' in the region," Chinese Ambassador to Kazakhstan Zhang Xiao said in interview with Kazakh media on August 1.
Beijing regularly uses the term "three evil forces" to refer to terrorism, extremism and separatism.
The reference to a "colour revolution" to many Kazakhs looked like China broaching the idea of sending its forces into Kazakhstan.
The Kazakh Foreign Ministry summoned Zhang in April 2020 to lodge a protest after an article on a Chinese website, Sohu.com, questioned Kazakhstan's sovereignty over its own territory, asserting that the land was historically part of China and that "Kazakhstan was a vassal of the Qing Dynasty".
Beijing's territorial claims only reinforce Sinophobic sentiments in Central Asia, Mars Abayev of Bishkek, an Orbita.kg correspondent, said last November.
Those statements, plus one actual loss of Central Asian territory to China, have given Kazakhs reason to worry.
In 2011, Tajikistan ceded more than 1,100 sq. km of land to China, angering many Tajiks and not going unnoticed in the rest of Central Asia. Tajikistan ceded the land after falling behind on some debts.
Xinjiang's lessons
China's oppression of Muslims in the Xinjiang region has compounded Kazakh fury at Beijing.
"The protests against land reform in Kazakhstan basically were fed by anti-Chinese sentiments," said Serikjan Bilash, a Kazakh human rights activist residing in Istanbul.
"Kazakhs don't want the Chinese to come to their country -- the Chinese, who persecute our compatriots [ethnic Kazakhs] and members of other Muslim minorities in Xinjiang, violating their basic human rights, sending them to re-education camps where they are held under terrible conditions and are tortured," he said.
"We must achieve not only a legal ban on the sale and lease of land to foreigners but also on Chinese economic expansion, including the launch of new Chinese businesses in Kazakhstan," he added.
Beijing has imprisoned more than one million Uighurs and other Turkic Muslims, including ethnic Kazakhs and Kyrgyz, in as many as 400 facilities that include "political education" camps, pretrial detention centres and prisons.
Even residents of Kazakhstan who were visiting relatives in Xinjiang have ended up in detention camps.
At least 1.5 million ethnic Kazakhs live in the region, representing the second-largest Turkic group there after the Uighurs.
After first denying the existence of the detention centres in Xinjiang, Beijing later justified them as "re-education" camps designed to stamp out terrorism and improve employment opportunities.
Independent investigations and interviews with former prisoners, however, recount physical and mental torture, brainwashing, systematic rape and sexual abuse, forced sterilisation, and other horrors.
[Kanat Altynbayev in Almaty contributed to this report.]