KHUJAND -- Tajik authorities are working to rectify the failure of a Chinese company that displaced dozens of families in Khujand.
[Part 1 of this feature, published Thursday (May 20), described the hardships afflicting the families who lost their homes.]
Some 32 families who initially heard they would have to relocate for only one year have now been displaced for six after Chinese company Husnoro-1 pulled out of a "Chinatown" development project on the banks of the Syr Darya River.
Workers demolished their houses, along with an office of the local association of the deaf, in 2015.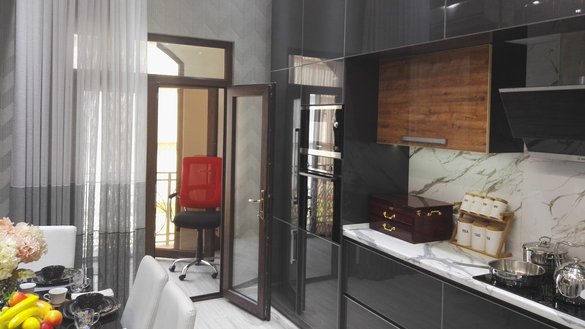 In February 2019, then-Mayor Maruf Mukhammadzoda told journalists that workers would construct a multi-storey building in the 18th micro-district of Khujand for the 32 families who lost their cherished houses to demolition.
Authorities also planned to allocate new premises for an office of the association of the deaf.
City hall announced last August the completion of that apartment building, which stands within 3km of the city centre on the right bank of the Syr Darya River.
The multi-storey building was operational and ready to accommodate the families, Mayor Firdavs Sharifzoda said in March.
"Despite city hall's limited options, in a rather short period -- in less than two years -- we constructed a building with comfortable living conditions right near the road, in a very convenient and desirable location," said Mamur Yusufzoda, a spokesman for the mayor.
Relief comes for some
Most of the Tajiks who lost their homes are still waiting for a remedy, but some are now living in the just-completed building.
"The first families have already moved in," said Yusufzoda, without disclosing the number of families. "Certain problems arose during allocation of the floors, but we settled them by lot. For the most part, the people are happy."
The high-rise project for the displaced residents cost the city 23 million TJS ($2 million), according to sources at city hall.
"We understand what to expect in situations like these, that it won't be possible to satisfy expectations completely," said Sadullo Takhirov, chairman of the Rahmon Nabiyev Street mahalla (neighbourhood) council.
"But the authorities did everything they could to compensate [the displaced residents] not just for their expenses but also for the suffering they went through because of the untrustworthy investor," said Takhirov.
"Right now we're catching our breath -- this bitter and prolonged story ultimately had a happy ending. But it taught us to not trust just anyone or dubious companies," Takhirov said.
"Without a doubt, the guilt lies with the Chinese company that at first gave hope to our citizens and then snatched that hope away. We're talking about a partner's unreliability, and perhaps fraud. So there's good reason to be on our guard," he said.
'Just swindlers'
More permanent accommodation could be coming soon for more of the displaced riverbank residents.
In 2020, a Tajik company named Elita Sokhtmon began constructing a 12-storey building on the land adjoining the ruins of the demolished houses.
When pulling out of its project, the Chinese company cited high groundwater levels and a need to install deep reinforced concrete pilings and a drainage system.
"Everything people say about it being impossible to build because of groundwater is nonsense," said Alsu Khotamova, the office manager of Elita Sokhtmon.
"With new technologies, construction today happens in the seas and oceans. It's just a matter of installing a standard drainage system, stable pilings, and durable structural components and building materials," she said.
Elita Sokhtmon is building a housing complex that consists of a few multi-storey buildings and exists in practically the same conditions as those of the failed Chinatown site, according to Khotamova.
"Evidently the people who promised to build the neighborhood here didn't have experience in construction. Or they were just swindlers," she said.
The housing that Elita Sokhtmon is building is not only comfortable but fully affordable for the middle class, she said.
For example, an apartment that looks out onto the river costs $800 (9,126 TJS) per square metre, while the apartments on the other side cost $600 (6,844 TJS) per square metre, she said.
"Our company has funding," she said. "We can't build five or six buildings at once, but we'll build two or three at a time if city hall signs a construction contract with us."
Distrust
The "Chinatown" fiasco is not the only incident that has aroused distrust of Chinese companies.
The Tajik government has asked foreign companies to adopt the International Financial Reporting Standards and "guarantee complete transparency", Tajik industry minister Sherali Kabir said in February in an apparent reference to Chinese companies.
Chinese businesses have proven themselves unreliable in a project to build five industrial facilities, mainly in mining, in the Istiklol industrial zone 35km from Khujand.
The first facility, a lead plant with an annual capacity of 50,000 tonnes launched in 2017, completely wound down production last year because it depended on Chinese specialists who were stuck in China during the COVID-19 pandemic.
Meanwhile, talks are no longer continuing on the construction of smelters to produce electric batteries, copper and zinc, some of which were supposed to become operational in 2020-2021.
In addition, Chinese business circles have long promised to renovate the Adrasman mining and processing plant, which is near Khujand and could potentially process 600,000 tonnes of ore per year.
However, they have made no effort to accomplish this.