ALMATY -- Russia's refusal to compensate Kazakhstan for environmental damage stemming from rocket launches from the Baikonur cosmodrome is pushing Kazakh lawmakers to find ways to force Moscow to pay.
Russia has leased the cosmodrome, the world's largest space launch facility, along with the nearby city of the same name, from Kazakhstan since 1994. It still launches military rockets there.
Deputies of the lower house of parliament (Mazhilis) on May 12 discussed environmental risks resulting from Russia's use of the Baikonur cosmodrome in the southern province of Kyzylorda.
Over the past 20 years, Roscosmos, the Russian space agency, has conducted 110 Proton-M rocket launches, 11 of which resulted in accidents.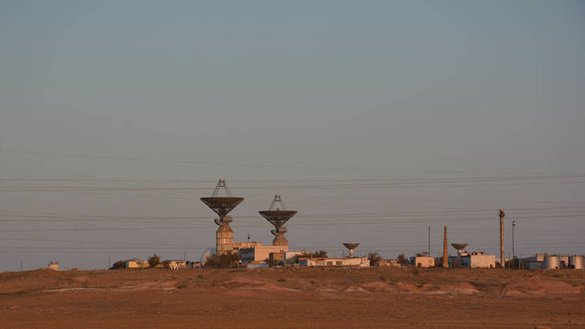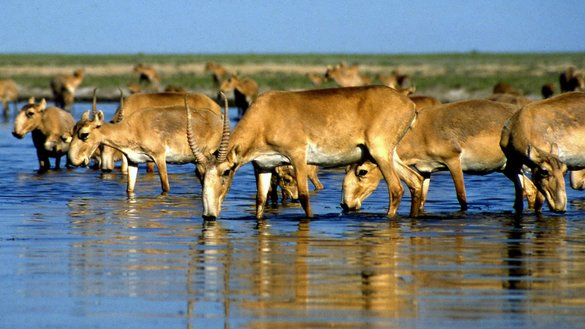 These rockets use heptyl fuel, a highly toxic Class 1 hazardous material that is banned by Western countries.
Previous accidents have spilled dozens of tonnes of heptyl on the ground, polluting soil, water and plants.
This year, Russia plans to launch three more rockets of this class from Baikonur.
Demand for compensation
In coming weeks, Kazakh lawmakers plan to set out regulations for Russia and demand that the Kremlin issue compensation for the environmental havoc it continues to cause in Kazakhstan.
In theory, the Kremlin guarantees compensation for environmental damage, but in practice, it uses bureaucratic delays to avoid making payments, deputy foreign minister Marat Syzdykov said during the May 12 parliamentary session.
"For example, after the accident that occurred in 2018, Russia did not pay for any material damage," Syzdykov said, referring to the malfunction of a Russian Soyuz-FG launch vehicle that spilled 22 tonnes of rocket fuel.
Russia also did not pay Kazakhstan after the explosion of a Proton-M launch vehicle that lifted off from Baikonur in July 2013, carrying 600 tonnes of heptyl, nitrogen tetroxide and kerosene.
Environmental harm from the explosion cost more than 13 billion KZT (about $86 million at the exchange rate for that period), Kazakhstan's Ministry of the Environment and Water Resources estimated at the time.
But Russia refused to pay.
Residents of areas where Russian rocket debris falls are demanding compensation for the environmental damage, Mazhilis chairman Nurlan Nigmatulin said at the May 12 parliamentary session.
"Why do our citizens have to suffer from this bureaucracy?" Nigmatulin asked.
He called on Minister of Digital Development, Innovation and Aerospace Industry Bagdat Musin to develop a document "that will clearly outline the conditions for Russia's compensation for damage".
Dangerous rockets
There is a real threat that Russian rockets may veer off course and fall on apartment buildings, said Karaganda Ecological Museum development director Dmitry Kalmykov.
"We must take preventive measures and must evacuate residents of nearby areas away from the dangerous area," Kalmykov said. "Otherwise, there may be massive destruction and numerous casualties."
Heptyl not only affects the immediate location where a rocket falls but also endangers people within a 100-metre radius, he noted.
In addition to spewing tonnes of heptyl into the atmosphere, Roscosmos buries toxic waste on land leased from Kazakhstan, said Marat Dauletbayev, chairman of Baikonur Eco Monitoring, an environmental NGO.
"In the area, cancers and [untimely] deaths are widespread, including among children and infants," he said. "Many children are born with physical disabilities."
The mass die-off of critically endangered saiga antelopes in Kazakhstan in 2015 might be linked to Russia's aerospace activities at Baikonur, according to Mazhilis deputy Askarbek Uisimbayev.
By the beginning of June 2015, more than 132,000 saigas had died in Kazakhstan, a catastrophic loss for an animal population estimated to number 256,000 in 2014.
"It was a real disaster because saiga antelopes are sacred animals for Kazakhs," Uisimbayev said.
Soviet legacy of environmental destruction
The high-handed Russian disregard for the environment is familiar to Kazakhs who lived through the Soviet era.
From 1949 to 1989, Moscow conducted almost 460 nuclear tests in Semipalatinsk (now Semey) with rampant disregard for public health.
A joint Japanese-Kazakh study found elevated rates of various cancers, birth defects and cardiovascular ailments among the local population around Semipalatinsk, according to a 2016 EurasiaNet report.
Presently, Russia is trying to pressure Kazakhstan into buying a Russian nuclear power plant. Those efforts outrage Kazakhs who are familiar with the Chernobyl disaster of 1986, when a power surge and resulting fire at a Russian-designed nuclear reactor in Ukraine spewed radiation throughout Europe.
Doctors directly linked 30 deaths to the explosion. But thousands more are feared to have died in the years that followed from radiation poisoning across Ukraine as well as in neighbouring Russia and Belarus.