ALMATY -- Kazakhstan has been fighting back against extremist recruiters who have been trying to exploit the public's increased reliance on the internet during the coronavirus pandemic to attract new members.
With many Kazakhs forced to work and study online, extremists have sought exploit this arena for their propaganda and recruitment efforts, say analysts
"There is in fact an uptick in recruiters' activity," said Japal Doliyev, director of the government's office for preventing online extremism.
His office works under the Ministry of Information and Social Development's Committee on Religious Affairs (KDR).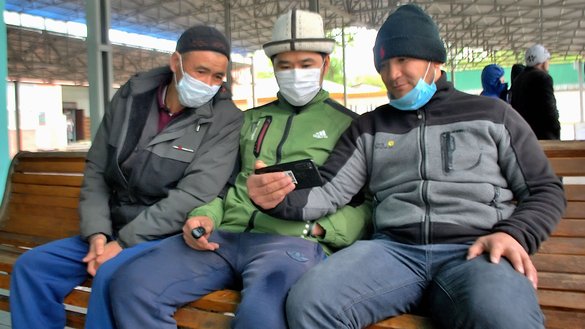 "We're aware of this, and we're doing work to counteract it to protect young people from destructive religious propaganda," Doliyev said.
The Spiritual Administration of Muslims of Kazakhstan (DUMK) is deeply involved in this matter and is engaged in educational initiatives to combat it via websites such as Muftyat.kz, Azan.kz, Kazislam.kz, Muslim.kz and Sunna.kz, he added.
"We have a pool of theology experts who regularly appear in the media, and have regional and national outreach groups that are educating people" on a range of topics, including religious tolerance, he said.
The outreach groups include theologians, religious scholars, imams, psychologists, historians and public opinion leaders, according to Doliyev.
"They've been carrying out their work online for a year because of lockdown restrictions," Doliyev said.
Media literacy and critical thinking are a good defence against extremist propaganda, as they help the young identify untrustworthy websites and social media accounts, he said.
Switching tactics
"Destructive religious movements are allocating substantial resources to the internet," said Janna Kantarbayeva, a senior lecturer at Al-Farabi Kazakh National University's department of religious and cultural studies.
"They're training certain personnel and renting studios to record high-quality videos and other content," she told Informburo.kz in April of the extremists.
"Also, they're constantly analysing the data on what kinds of responses and reactions their posts and videos are getting."
"Members of extremist organisations are actively taking advantage of all the tools social networks make available to them," she said.
Kyrgyz analysts have raised concerns that banned extremist organisations are switching tactics as a result of the pandemic and associated lockdowns.
With international travel restrictions in place, the number of extremist messages urging youth to travel to combat zones in the Middle East has fallen noticeably, religious scholar Ikbaljan Mirsaitov of Bishkek said in April.
But an increasing number of posts promote radical ideology on social media, he said.
"Recruitment is happening, but that's not all," he said then. "Other values are being cultivated, such as defying the authorities and official religious leadership. They [terrorists] are urging radical actions against non-Muslims."
Recruiters are now using social media to demand subversion in the users' own countries, said Mirsaitov.
The extremists have one advantage, according to Asel Igubayeva, who in late 2013 followed her husband to Syria, taking along a young child.
She returned to Kazakhstan in May 2019 as part of Operation Jusan (Bitter Wormwood) and now lives in Pavlodar, where she operates an Instagram account that she uses to recount her unfortunate experience.
She now has two children. Her husband was killed in Syria.
When Igubayeva and her husband began studying Islam, she said, they did not encounter any Russian-speaking theologians who gave correct information about the religion.
"We believed the sheikhs and their sermons -- they were charismatic and eloquent," she said. "They lured us in with picturesque stories about the companions of the Prophet Muhammad."
"That's their big advantage, so [listeners] are won over by them faster than by theologians who speak in hadiths and ayahs," Igubayeva said.
Recruiters have effective tactics, she added. They start with simple, innocent topics -- what haram and halal are, how to dress, why you need to renounce holidays -- and then they carefully begin promoting the sheikhs' lectures."
"Only after that do conversations about the 'holy' war [jihad] begin," she said.
"By the time they start talking about killing kafirs [infidels], you're already so bogged down in this swamp that you can't see the toxicity," Igubayeva said.
Russian reverberations
Kazakhstan's efforts to combat terrorism, including the extremist ideology that fuels it, come amid counterproductive actions by Moscow.
Rooting out terrorism at the local level is ineffective when large countries have policies that include state terrorism, said Arat Narmanbetov, a retired National Security Committee (KNB) officer who lives in Almaty.
The Geneva Declaration on Terrorism of 1987 defines and outlines state terrorism, he said, pointing out that "99% of Russia's actions" fall within the declaration's scope.
He pointed to the annexation of Crimea in 2014 and to Russia's dispatch of troops to the Ukrainian border and Crimea throughout April.
He also cited the 2018 poisoning in England of Sergei and Yulia Skripal, the 2020 poisoning in Siberia of Russian opposition leader Aleksei Navalny, the 2021 trial and conviction of Navalny on trumped-up charges and the continuing supply of weapons to Syria.
Extremist recruiters are familiar with the Geneva Declaration, he said, adding that they can easily recite all these events and convince prospective recruits that they are actually fighting state terrorism.
Since Kazakhstan is tied to Russia through the Eurasian Economic Union, Russia's actions cast a shadow on Kazakhstan, he added, thus making it a target of propagandists.
"Terrorism is such a widespread and multifaceted phenomenon that if you fight only the 'bearded ones', you won't crush it," Narmanbetov said.