MOSCOW -- Central Asians are expressing concern over their behemoth neighbours Russia and China collaborating to build new nuclear power plants, as past nuclear disasters in the region serve as a cautionary tale.
Russian President Vladimir Putin and Chinese President Xi Jinping last week launched via videoconference work on two Russian-built nuclear power plants in China.
The heads of state on May 19 initiated work on pouring concrete into new units of the Tianwan and Xudabao nuclear power plants.
Built jointly with Russia, the Tianwan plant has been operating since 2007, while the Xudabao station is still under construction.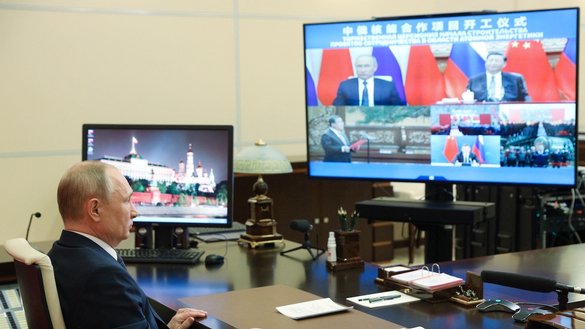 Describing the nuclear reactors as "powerful" and "modern", Putin said that they "meet all safety requirements and the highest environmental standards".
The new units will be functional by 2026-2028 and Russia and China are prepared to further develop nuclear power plants through joint construction, he said.
A threat to the environment, people's lives
In addition to amassing resource wealth, Russia has sought influence and closer diplomatic ties via its nuclear power stations, particularly in Central Asia, Africa and Europe.
But on the heels of the 35th anniversary of the Chernobyl catastrophe in Ukraine, many Central Asians are dubious about Russia's safety and environmental claims.
"Not one country can guarantee the 100% safety of nuclear facilities," said Dmitry Kalmykov, development director of the Karaganda Ecological Museum in Kazakhstan.
"A nuclear power station, even with all its protection mechanisms, is not a safe way to produce energy," he said.
Kalmykov worked on the post-accident cleanup crew at Chernobyl.
"Whatever consequences can follow a nuclear power station accident, I saw them personally."
"History shows that nuclear accidents can happen -- they are a real threat not only to the environment but to the public's health and lives," said Nurlan Shamshiyev, a geography instructor at Zhusup Balasagin Kyrgyz National University in Bishkek.
On a short-term basis, nuclear power plants are less harmful to the environment than are conventional oil- and coal-burning plants, he said. "But a nuclear facility produces radioactive waste that it has to isolate and store in accordance with high safety standards for many years."
"It might seem that the construction of a nuclear power station in China is not our business, but China is a neighbour," Shamshiyev said.
"If an accident happens, for example, with a radiation leak, not only the Chinese could be affected. So could we, residents of the countries bordering China."
Mukhtor Yuldashev, a realtor in Tashkent, said he opposes having Russia build a nuclear power plant in Uzbekistan, as well as in China.
In 2018, Putin and Uzbek President Shavkat Mirziyoyev launched a project to build a nuclear power plant in Uzbekistan. Discussions of financing are still under way, with construction expected to start in 2022.
"Why do we need these permanent sources of danger?" he said. "I don't believe the Russian authorities when they say that nuclear power plants are safe. Even high-tech Japan had Fukushima [the nuclear disaster in 2011]."
"To this day, we are incapable of guaranteeing the safety of a nuclear power station or of dealing effectively with the terrible consequences of a [nuclear] emergency," he said.
'No risks' and no strings attached
The anniversary of the Chernobyl disaster re-opened old wounds for the people of Kazakhstan, which for more than 40 years hosted the Soviet Union's primary nuclear weapons testing site.
The Semipalatinsk nuclear testing site in northeast Kazakhstan operated from 1949 to 1991, when the Soviet Union collapsed.
But the ramifications from the site -- including dire consequences for the environment and for the health of local residents -- are still being felt and will continue to be for many years to come.
Moscow's continued lobbying underscores the Kremlin's attempt to shore up its influence and undercut sovereignty in the resource-rich Central Asian state, analysts say.
Russia has been pressuring Kazakhstan to build a nuclear power plant near Ulken, Almaty province, despite sharp opposition from the local population and the Kazakh government.
Construction of the plant will cost at least $5 billion, which Russia has offered to lend Kazakhstan in "good faith".
Kazakh President Kassym Jomart-Tokayev rejected the idea for the plant last October. Yet Russian ambitions persist.
Kazakhstan "needs clean energy" and "an efficient energy solution is nuclear power plants", Russian ambassador to Kazakhstan Alexey Borodavkin said in a February 10 interview with pro-Kremlin Kazakh newspaper Komsomolskaya Pravda v Kazakhstane.
Russian state-owned nuclear power producer Rosatom "is willing to undertake this project, and it has guaranteed that the plant will be safe and environmentally friendly", he added, stressing that there are "no risks".
Massive cleanup costs
If history is any lesson, the risks are long lasting and expensive to mitigate.
Central Asia served as a key source of uranium in the former Soviet Union, which left behind a host of security and environmental issues.
Tajikistan, for example, has expressed concern about the presence of enough left-over uranium at its tailing dumps to enable the manufacture of "dirty bombs".
The European Bank for Reconstruction and Development (EBRD) in April 2019 announced an €85 million grant to clean up Soviet-era uranium sites at seven facilities in Kyrgyzstan, Tajikistan and Uzbekistan.
In December 2019, Kyrgyzstan enacted a law banning prospecting for and processing uranium and thorium deposits.
The purpose of the law is to "protect the health of the population, land, water bodies, flora and fauna, and ensure the rights of citizens to a favourable environment for life, work and leisure, as well as radiation and environmental safety in Kyrgyzstan".
In January 2020, the US Defence Threat Reduction Agency (DTRA) and the National Guard of Kazakhstan completed construction of a training centre in eastern Kazakhstan aimed at ensuring the physical protection of nuclear facilities abandoned after the collapse of the Soviet Union.
The joint mission to reduce the threat of nuclear proliferation was first implemented in December 1993 through an agreement between the two governments.
Kazakhstan has appealed to the global community to prevent the misuse of nuclear energy.
[Kanat Altynbayev in Almaty contributed to this report.]