The world's largest e-commerce platform, Amazon, is for the first time offering access to merchants from countries in Central Asia.
Since May 24, manufacturers from Kazakhstan, Kyrgyzstan, Uzbekistan, Tajikistan and Turkmenistan have been able to register directly on Amazon and sell their goods. They did not have this access to the marketplace before.
Although customers from these countries could previously register on Amazon and purchase goods, not all sellers delivered to Central Asia.
Kazakh authorities have been working since November to bring Amazon to the Central Asian market. In a May 24 Facebook post, Minister of Trade and Integration Bakhyt Sultanov announced the successful completion of the talks.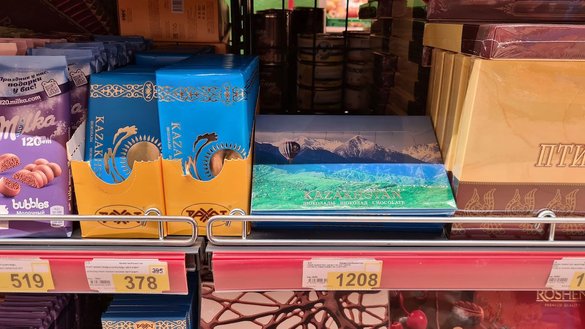 "At last, as of May 20, our country has joined the list of 'authorised' countries on one of the world's largest e-commerce platforms," Sultanov said. "A nice bonus was that we were able to hitch our Central Asian neighbours to our wagon."
"This is very important for us," he said, noting that the US-based company is one of the most popular platforms and heralding the future "expansion of e-commerce and outlook for exporting Kazakh goods".
'Great business potential'
Amazon's arrival in Central Asia will enhance the region's global trade, observers say, noting that this is good news for entrepreneurs seeking opportunities to trade more actively with other countries.
It offers regional entrepreneurs the opportunity to live up to their potential in global trade, said Smartgov Consulting CEO Aziza Umarova, of Tashkent.
"It's an honest, open market, where our businesspeople need only speak English and demonstrate a creative approach to business," Umarova said.
"Our region has great business potential," she added.
Central Asia has much to offer to the global marketplace, including unique goods that are identified with the region.
Uzbekistan is famous for handmade rugs, artistic embroidery and ceramics.
Collectors order new issues of Kazakh banknotes or commemorative coins, or seek out Kazakh sweets, such as a popular local chocolate called Kazakhstan, Karakum candy, among other offerings and souvenirs.
Artisans from Shymkent make "interesting handcrafted silver jewelry in the Kazakh national tradition" that would be sought after on the global market, Kazpost director Saken Sarsenov told Forbes.kz in November 2018.
Kazakhstan needs to set its sights on the global market and expand its trade, deepening its ties with developed countries, said Daulet Akhmetov, a supplier of building materials from Nur-Sultan.
According to Akhmetov, the Russian-dominated Eurasian Economic Union "saddles us with rules that hem us in and create artificial barriers".
"We need a real market where we'd be able to understand our strengths and weaknesses, make mistakes and come out on top, and step up our game," he said.
High hopes in Kyrgyzstan
Kyrgyz economists and entrepreneurs said access to Amazon will give local businesses the opportunity to rise to a new level of development.
Kyrgyzstan will undoubtedly interest buyers with products that reflect its culture and creativity, such as felt items, ornaments and wooden musical instruments, including the komuz, said economist Elmira Surachiyeva of Bishkek.
"On top of that, we can compete in the real economy in sectors like light industry," Suranchiyeva said. "Our businesses produce very high-quality, competitive clothing that is in high demand abroad."
Some Kyrgyz fashion brands have outlets in Moscow and successfully compete with Russian manufacturers, she said, noting that "Kyrgyz products hold their own against many well-known brands".
Some observers have noted the social factor, pointing to Amazon's influence on the standard of living in Central Asia.
In addition to promoting the development of e-commerce in Kyrgyzstan, Amazon's arrival will improve the socioeconomic situation, Kyrgyz entrepreneur Tilek Toktonaliyev said in a February 2020 interview with Migranty.org.
"Young people can switch to internet commerce instead of going into labour migration," he said.
"You don't need to be a programmer; you don't need to develop Web applications or programmes. You just need to understand the mechanisms, try to trade on the world market and earn money while sitting in your home."
Russia's Wildberries
Russian players also are trying to penetrate Central Asia, but with less success.
In a February Facebook post, for example, Kazakh trade minister Sultanov detailed the difficulties of working with Wildberries, a Russian trading site.
The Russian government initially required Kazakh entrepreneurs to create a company in Russia and to pay taxes in Russia, he explained.
As a result, the Kazakhs were paying taxes in both Kazakhstan and Russia, he said.
Kazakh customers also had negative experiences with Wildberries.
Last year, 190 Wildberries customers complained to the Kazakh Trade and Integration Ministry's Committee on Consumer Protection.
They said the site did not issue refunds -- a total of 7 million KZT ($16,375) -- for items they returned, Deputy Minister of Trade and Integration Asel Zhanasova told Interfax in a December interview.
Later, after the Kazakh agency intervened, Wildberries refunded most of the money.