BOKHTAR - Buyers from Kazakhstan, Georgia, Lithuania, Serbia, Pakistan and Afghanistan are expressing interest in purchasing agricultural goods produced by farmers of Khatlon province, Tajikistan.
In order to expand trade and exports, on May 25, USAID, in co-operation with the Export Promotion Agency and the Khatlon government, hosted the Bactria Food 2021 Trade Forum in Bokhtar city, Khatlon's administrative center.
Roughly 200 producers from various regions of Tajikistan and 15 entrepreneurs from neighboring countries and several European countries took the opportunity to establish partnerships, the forum said.
Participants learned about Khatlon's agricultural production potential and capacity to export produce, taking part in break-out groups and a trade fair for agricultural and livestock products and the food processing industry.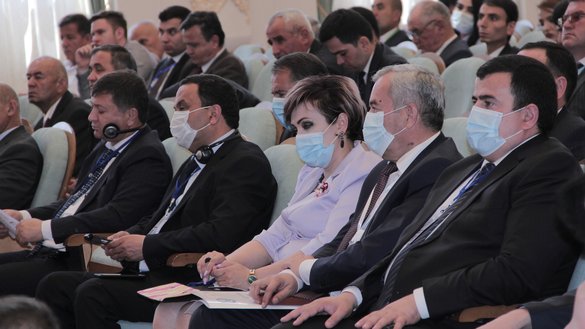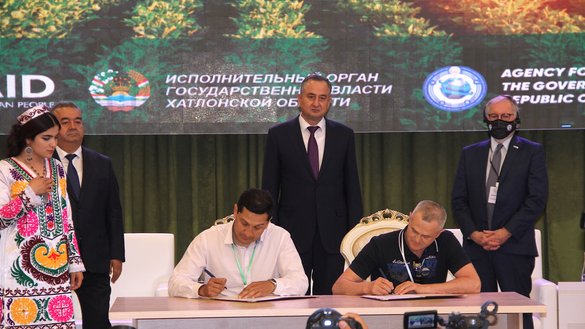 Several export agreements were inked during the forum, and international contacts were established.
First Deputy Prime Minister Davlatali Said and Khatlon Chairman Kurbon Hakimzoda welcomed forum participants and told them about the region's potential for agricultural production and prospects for expanded production.
The government is seeking "to create a wide network of small but versatile production facilities for processing fruits, vegetables, meat and milk", he said.
This is intended to reduce the country's dependence on imports and develop its export potential, he added.
Said highlighted a project to create four logistics centers on the border with Uzbekistan and Afghanistan, which should significantly improve Khatlon's export capabilities .
Producing competitive products
The topography of Khatlon province, Tajikistan's largest, comprises farm-friendly plains, and the Vaksh River waters the region.
In the Soviet era, more than 80% of Khatlon's irrigated farmland was devoted to cotton. Over the past two decades, Khatlon farmers have cultivated fruit and vegetables.
In 2020, the region produced 277,000 tonnes of cotton, 986,000 tonnes of vegetables, 520,000 tonnes of melons, 220,000 tonnes of fruit, 19,000 tonnes of grapes, and 6,000 tonnes of lemons, according to the Khatlon administration.
Khatlon accounted for 51% of Tajikistan's agricultural output in 2020.
Although Khatlon is an agricultural powerhouse, it has not made a strong effort to export its produce, and local farms have had to cope with significant waste.
"We used to discard about a third of the fruits and vegetables produced in the region because of weak private sector and business development," said Sabohatullo Muzaffarov, director of the Khatlon office for USAID Agribusiness Competitiveness Activity in Tajikistan.
Because there was limited access to export information and to business contacts outside the country, as well as logistical problems, "the market could not absorb excess production", Muzaffarov said.
"Our goal is to get society moving, to promote the diversification of agricultural production, and to teach farmers to produce competitive products," he said.
Boosting Khatlon's exports
Only 17% of agricultural and industrial products exported from Khatlon go abroad through customs checkpoints in the province, Said noted.
Most Khatlon products leave the country through Sughd province, with exporters ignoring the significant discounts that Khatlon's railway lines offer.
The situation is evidence of weak business ties between agricultural producers and consumers abroad, according to Said.
"We expect that this forum will help agricultural producers establish good contacts with buyers in order to more widely use the region's export capabilities," Said said.
Hakimzoda stressed the need to attract investments to build up Khatlon's farming and food processing industries, and to create storage facilities and greenhouses to supply the country with fresh produce year-round.
"The region's unique climate allows us to produce unique-tasting fruit, vegetables, melons, lemons, and grapes," he said.
"We mainly use organic fertilisers and get environmentally pure produce, which has become one of the customer's main demands today."
"We must use this our advantage ," he added, noting that "we expect that Bactria Food 2021 will become an annual event".
"By helping firms become more competitive at the regional level, USAID helps develop a more diverse and competitive private sector and achieves development through exports," Keith Simmons, USAID acting mission director in Tajikistan, told forum participants.
"Improving regional trade expands economic development, strengthens cross-border linkages, and ultimately leads to greater stability in the region," Simmons said, according to a USAID statement.
'Significant' trade agreements
Forum participants signed five trade agreements, worth $3.9 million, which include deals to export dried fruits, onions, grapes, watermelons, lemons and other horticultural products to Lithuania, Georgia, Russia, Turkey and Pakistan.
"The amount is small by regional standards, but it is significant for starting to build new relations," local analyst Rajabi Mirzo said.
Officials from Khatlon and Surkhandarya (Surxondaryo) province, Uzbekistan, signed a memorandum of co-operation.
Despite the disruption in trade caused by the coronavirus pandemic, Tajik exporters who receive USAID assistance saw a 40% increase in sales last year, according to USAID.
One beneficiary of USAID help is the Tajik company Avalin.
Last year, it sent 80 tonnes of watermelons to Lithuania and Russia from Qubodiyon district, in partnership with several local farmers and the company Abrikos K from Asht district.
USAID paid the costs of hosting a specialist on growing watermelons according to European Union standards, and assumed half the costs of possible transportation risks.
This year Avalin decided not only to grow independently but also export.
"With the help of the Uzbek specialist whom we invited to Khatlon province, we decided to grow watermelon on dry lands," Avalin deputy general director Najib Khamrayev said, sharing the results of the experiment.
"Local authorities allocated several hectares of such land. On land that was not suitable for sowing, on a hillside, [we] planted watermelons, put in drip irrigation and grew a good harvest," he said.
At the forum in Bokhtar, he said, he struck a €600,000 agreement with the Lithuanian firm Jotagris to export watermelons to Lithuania.
"We intend to step up the export of watermelons to the Baltic states," he said. "Because our partner wants large volumes ... With USAID's assistance, we not only found a good partner but also a large promising market."
USAID has been operating in Tajikistan since 1994. The agency assists in the development of agriculture and industry, resolution of social issues, including job creation, and the development of medicine and education.