ALMATY -- Migrant workers from Central Asia are raising concerns that a Russian government initiative for prison labour could result in even worse working conditions.
Amendments to the Russian Criminal-Procedural Code that took effect in January allow prisoners to work at various enterprises outside correctional institutions amid a major labour shortage.
In the past, prisoners could work only within prison facilities.
On May 20, Federal Penitentiary Service (FSIN) Director Alexander Kalashnikov proposed the creation of correctional centres for convicts at large construction sites that lack a sufficient workforce and usually employ migrant workers.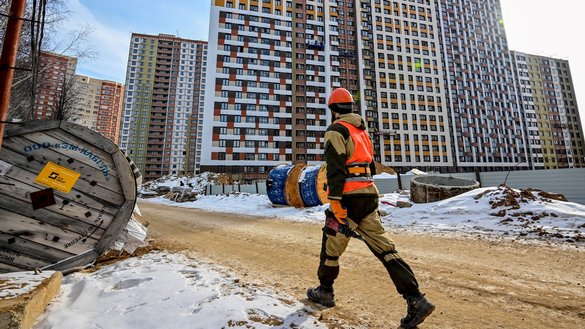 Out of 482,000 inmates in Russian prisons, approximately 188,000 have the "right" to punishment such as forced labour, he said.
"This will not be a GULAG," Kalashnikov said, referring to an acronym for the Soviet government agency that was in charge of forced labour camps.
The 20 million inmates -- common criminals and political prisoners -- of such camps built cities, canals and factories; mined gold and uranium; and opened up harsh terrain, with at least 1.7 million of them dying.
"It will be absolutely new decent conditions, because the person will now work in a dormitory or rent an apartment, if desired -- with his family, and receive a decent salary," Kalashnikov said.
Kalashnikov justified the initiative by citing Sergei Nosov, the governor of Magadan province, who complained that Magadan authorities have to pay for charter flights enabling migrant gold miners to go home during breaks.
Prisoners, if they live where they work, could become a more profitable alternative to migrant workers, Kalashnikov said.
The initiative has the backing of other officials.
Russian Minister of Justice Konstantin Chuychenko said May 24 that he supports the idea of replacing migrant workers with prisoners and that authorities are negotiating agreements with businesses.
"The idea of ​​replacing migrant labour, I think, is the right one, because it is possible to create correctional centres at large construction sites and large facilities," he said in Khabarovsk. "Those who are serving prison sentences are qualified to do this work."
Russian disdain
The initiative shows how much disdain the Russian authorities have for Central Asian migrants, according to Ulan Omorov, a migrant worker from Tokmok, Chui province, Kyrgyzstan.
"The Russian government, through its TV channels and newspapers, has for many years presented us as a threat to the local community, regularly raising the problem of crime among migrant workers from Central Asia," said Omorov, a supermarket worker.
"Now they want to replace us with real criminals. They contradict themselves," he said.
Frequent local news stories about the alleged crimes of migrant workers have sharpened local negativity toward them in recent years, said Khabib Abdullayev, a native of Tashkent who drives a truck in Magadan city.
At the same time, Russians often mistake ethnic Asian Russians for migrant workers, he said.
"For example, when locals talked on social media about a recently imprisoned killer last fall, some commentators called him a migrant worker, even though he came from nearby Chukotka," Abdullayev said, referring to another part of Russia.
Prisoners will not be able to fully replace Central Asian migrant workers in areas such as housing construction and repair, which require substantial experience to do well, predicted Abdullayev.
"My compatriots have worked in this area for many years, and they know their business like the back of their hand,'' he said.
"Is it possible to be confident that a prisoner who has never been to a construction site will immediately become a good builder?"
Worsening working conditions
Last year, as hundreds of thousands of migrant workers lost their jobs and livelihoods, Russian authorities exacerbated their situation and complicated their attempts to return.
Police persecuted migrants for "violations of quarantine", "late registration" and "no work permits". Police illegally detained migrants, sending them to facilities where they were kept in "appalling conditions", said human rights activists.
The arrival of Russian prisoners at workplaces is likely to mean fewer jobs for migrants, according to Asel Karymshakova, director of Community Integration, a Bishkek NGO that advises Kyrgyz migrant workers in Russia.
The new policy is another blow to migrants, who are already suffering from the consequences of the pandemic, she said. Many lost their jobs in Russia and returned home empty-handed.
Workers accustomed to waiting tables or tending bar have been forced to look for other jobs, Karymshakova said.
A coming migrant-fueled crime wave predicted by Russian disinformation sources never came to pass, she added.
"The Russian government assumed crime would increase during the pandemic. On the contrary ... the number of crimes fell," Karymshakova said.
In reality, the migrants themselves are becoming crime victims, she said, adding that her association recently received complaints from 49 deceived migrants who ended up working in slave-like conditions in Russia.