ALMATY -- The Kazakh government earlier this month split with Russia after Moscow announced that the Eurasian Economic Union (EEU) was working on a "unified response" to Western sanctions.
Moscow has been the subject of western sanctions since the annexation of Ukraine's Crimea in 2014. In following years, Russia has been hit with additional sanctions for the poisoning and jailing of opposition leader Alexei Navalny, the Kremlin's interference in US elections, a massive cyber-attack and other hostile activity.
Belarus, a member of the EEU, was hit with Western sanctions last month after it diverted a European flight and arrested a dissident on board.
"The topic of retaliatory measures against the hostile sanctions placed by third countries on the EEU countries has been put on the agenda, is being examined and will be examined," Russian Deputy Foreign Minister Alexander Pankin said June 3 on the sidelines of the St. Petersburg International Economic Forum, according to Tengri News.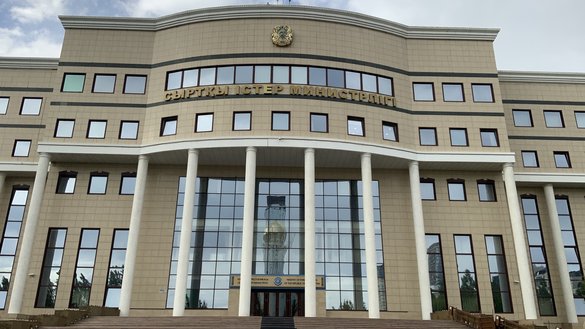 The EEU is working out a "unified response" to Western sanctions, he claimed.
That did not sit will with EEU member Kazakhstan, and the Foreign Ministry on June 5 issued an official statement saying that Kazakhstan would not hold talks on any "unified measures" by the EEU in response to sanctions by other states.
"In accordance with the agreement on the Eurasian Economic Union signed on May 29, 2014, the purpose of creating the alliance is to guarantee freedom of movement of goods, services, capital and labour, and to create conditions for the stable development of the member states' economies in order to increase their populations' prosperity," the statement said.
"We routinely point out that it is inappropriate to vest the bodies concerned with Eurasian integration with functions that exceed its mandate, and we oppose the politicisation of the alliance," it said.
"In the context of a discussion on initiatives that fall outside the scope of the agreement on the EEU, including the use of retaliatory measures against sanctions by third countries, we are operating on the premise that the West's sanctions are grounded first and foremost in political motives and are directed at individual states, not at the EEU as a whole," the statement said.
False demonstration of strength
At this point, EEU member countries in Central Asia are divided into two groups: those that pretend to be friendly with Russia, and those that openly refuse to support Russia, said economist Arman Beisembayev of Almaty.
"Russia is trying hard to demonstrate that it has supporters and strength, which in fact it does not have," he said.
"This is an attempt by the Kremlin to be important when it is actually insignificant," he said. "Russia's contribution to global GDP is only 1.5%, yet it is trying to push back against the United States, which accounts for 20% of global GDP."
Russia is demanding a seat at the table of G7 countries, whose leaders, headed by the United States -- the world's largest economy -- set trends in global policy and the economy, Beisembayev said.
To do this, Russia is trying with all its might to portray itself as a formidable state, yet in fact everyone understands that the Russian, Kazakh, Uzbek, Kyrgyz and Armenian economies depend on the United States, he said.
"If the EEU region was isolated and prohibited from importing or exporting goods, the standard of living in the [EEU] would worsen tenfold because we would all go bust," he said. "As much as Russia is putting up a front, it won't be able to shun Western technologies and innovations."
Regarding Kazakhstan's decision to shun Moscow's insistence that the EEU was taking a unified stance against the United States and Europe, Beisembayev said Putin views Kazakhstan as lost territory formerly belonging to Russia, so he is not interested in Kazakhstan's position in the matter.
"But we need to stand firm and say we don't support Russia's position in relations with the United States and the European Union."
Rejecting a 'Soviet Union 2.0'
Pankin's brash assertion is part of a political game aimed at gauging reactions, say Central Asian observers.
Silence in reaction to such remarks implies consent, said Andrey Chebotarev, a Nur-Sultan-based financial analyst.
"I think [Pankin] was dazzled by the large forum since it was the first public online event since the coronavirus pandemic started, and he wanted to grab the audience's attention," he said.
Of course, no retaliatory sanctions against the United States are going to come from either the EEU or Kazakhstan alone, said Chebotarev.
"As things stand right now, I don't think a single country in the EEU, with the possible exception of Belarus, would agree with Russia on introducing these kinds of sanctions because they have large trade volume with the European Union and the United States," he said.
"Kazakh President Kassym-Jomart Tokayev has already said repeatedly that the EEU is an economic union, not a political one," Chebotarev said.
Statements such as Pankin's "inject a political character into Eurasian integration, which Tokayev's administration is not happy with -- we don't want to form a Soviet Union 2.0", he added.
If Kazakhstan allows itself to be drawn into a sanctions war against the West, it would see degradation in its relations with the United States, the European Union and the United Kingdom, said Gaziz Abishev, a Nur-Sultan-based political correspondent.
Moscow and Minsk are totally incapable of accepting the rules of conduct on the international stage while Kazakhstan follows those rules to the letter, he said on Telegram.
"The Kazakh Foreign Ministry came out with an unequivocal commentary: Kazakhstan opposes politicising Eurasian integration, the Western sanctions are directed at individual countries and not at the EEU as a whole, and ... Nur-Sultan is not conducting any talks on 'unified measures'," Abishev wrote.