KABUL -- The US military will not allow terrorist groups such as al-Qaeda and the "Islamic State" (IS) to regroup in Afghanistan and Syria, the top US commander in the Middle East said last week.
With US and NATO forces withdrawing all troops from Afghanistan by September 11, the US military plans to keep up the pressure on IS and al-Qaeda from outside of the country, US Central Command (CENTCOM) commander Gen. Kenneth "Frank" McKenzie told Military Times Friday (June 11).
"Left unmolested ... they are certainly going to rebuild, restrengthen themselves," he said.
"Right now what we're planning to do after we withdraw is keep pressure on al-Qaeda and IS," McKenzie said.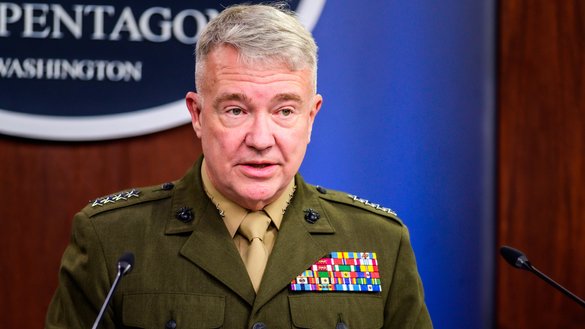 "We know, with a high degree of certainty, that al-Qaeda and IS .... both have aspirations to attack the United States."
"What has prevented these attacks from being developed, both from Afghanistan and from Syria as well over the last few years, is the pressure that's been put on these groups."
The Syrian Democratic Forces (SDF) and the Afghan National Defence and Security Forces (ANDSF) are working to keep up the pressure, he said.
If -- and only if -- those entities present "actionable threats against the United States", the US military is prepared to "go in" and "take action" if the ANDSF are unable to do it alone.
"That will be the limit of our kinetic actions in Afghanistan," he said.
Over the horizon
Although the US military will not have boots on the ground in Afghanistan, it will continue "to support the Afghan military from just over the horizon", McKenzie said.
"We're still going to support them with funding. We're going to try very hard to support the Afghan air force over the horizon," he said.
"One of the great advantages for the Afghans is their air force ... which is doing a lot of good work for them over the past few months," he said.
US forces will continue to support the ANDSF through "remote advising", McKenzie said, adding that training Afghan troops elsewhere in the region is "under consideration" as are ways to bring Afghan aircraft out of the country for repairs.
Ultimately, it is up to the ANDSF to defend the country from a Taliban insurgency and other terrorist threats, McKenzie said.
"[It is] on their shoulders now to stand or fall, and I think they have a fighting chance to do it," he said.
The ANDSF "are going to be tested" in the upcoming period, but they are up to the challenge, he said.
"For the last year or so, and even before coronavirus, our numbers were down in Afghanistan significantly from what they've been in the past," McKenzie said.
"So, the Afghans are actually doing the vast majority of the fighting themselves without us being there with them, so not much is going to change in that regard."
"We will continue to support them, just not in the way we are supporting them now," he added.
US Defence Secretary Lloyd Austin also told a US congressional committee last week that the US armed forces have already started conducting surveillance missions over Afghanistan from outside the country or from "over the horizon" in military parlance.
"A lot of our combat aircraft or our missions are being conducted from platforms in the Gulf," he said. "So, we have the capability.
"What we were looking for is the ability to shorten the legs going forward by stationing some capability in neighbouring countries," he added. "That is still a work in progress."
Future threats
China and Russia are stepping up efforts in Afghanistan and looking for a way to fill what they perceive to be a power vacuum in the country after NATO's withdrawal, McKenzie said.
But both regimes are looking at Afghanistan for their own geopolitical interests.
Beijing wants a foothold in Afghanistan to access the rich mineral deposits in the country, he noted. The Kremlin, meanwhile, has concerns about the spread of terror north through Central Asia.
"None of them have been particularly supportive of us while we've been [in Afghanistan], and if we leave, I think they will try to move in to fill what they perceive to be a vacuum," McKenzie said.
"They may find that to be harder than they think, though, to actually accomplish."