ALMATY/TASHKENT -- The Kremlin's crackdown on Russian opposition leader Alexei Navalny and his Anti-Corruption Foundation (FBK) is drawing rebuke and ridicule in Central Asia.
A Moscow court on June 9 ruled to designate Navalny's regional offices and the FBK as "extremist", barring them from working in Russia.
Prosecutors in April had requested that Navalny's organisations be labeled "extremist", saying the group was plotting an uprising with support from the West.
FBK routinely publishes investigations into alleged graft and corruption by officials at all levels of government.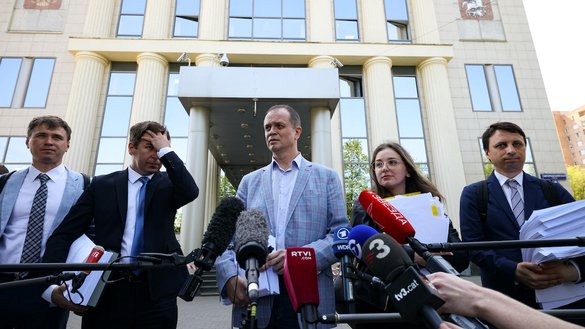 Earlier this year, it published a two-hour documentary investigation on YouTube detailing a sprawling luxury property allegedly belonging to President Vladimir Putin.
The investigation claims the Black Sea property cost $1.35 billion and was paid for "with the largest bribe ever".
The report was published January 19, two days after Navalny returned to Russia from Germany for the first time since he was poisoned with the Novichok nerve agent in Siberia in August.
The video -- viewed over 117 million times -- and Navalny's arrest, spurred unprecedented nationwide protests.
Navalny's network of regional offices in the past has also helped organise a Smart Voting strategy that urged voters to cast ballots for candidates most likely to defeat Kremlin-linked candidates.
By labelling the FBK "extremist", it is effectively banned from participating in parliamentary elections in September, in which Putin's increasingly unpopular United Russia party is expected to struggle.
'Completely absurd'
The charges and the court's decision are "completely absurd", said Arat Narmanbetov, a retired National Security Committee (KNB) officer who lives in Almaty.
After an unsuccessful attempt to poison Navalny, the Kremlin is now pursuing his organisations that fight corruption in the country, he said.
By designation the FBK as "extremist", Russia's Prosecutor-General has equated it with the "Islamic State" (IS), which Narmanbetov described as "true extremists, inveterate head choppers".
"What's more, the corrupt officials, including some Russian government employees ... are not recognised as extremists, though I believe they are worse than terrorists," he said.
The Moscow court's decision is politically motivated, as the judges issued a ruling in line with the Kremlin's views, said Kamoliddin Rabbimov, an Uzbek political analyst living in France.
"An FBK information campaign, which Navalny led, drastically undermined Russians' trust in Vladimir Putin," he said, noting in particular the YouTube report on the president's alleged "bribery palace".
"This and other actions by Navalny's foundation have contributed to a substantial legitimacy crisis for Putin's authority," Rabbimov said.
"Thus, the Kremlin has no path other than to use the law to prohibit the actions of an independent foundation that is truly fighting corruption and authoritarianism in Russia."
'Tightening the screws'
The Prosecutor-General's move was not unexpected, said Kuanysh Satayev, a Shymkent-based civil society activist.
"They are tightening the screws in Russia -- they classified the opposition media outlet Meduza... as a foreign agent; they squeezed a project created by Vedomosti journalists out of the media space; they poisoned Navalny, then tried him [in court], and now his supporters are accused of extremism," he said.
These actions are representative of Russian authorities' opposition to dissent in any form, and it has become more severe than a year ago, Satayev said.
The FBK are extremists "only from the point of view of a regime that crushes opposition and those who think differently from the country's ruler", he said. "And since the criminal articles on extremism in Russia are very vague, they can be interpreted any which way."
The punitive machine in Russia will "continue to chop up undesirables until it either self-destructs or is replaced by another regime", said Satayev.
Putin's supporters, without anyone's help, are destroying the country, said Rustam Abiboyev, an information technology specialist from Almaty.
"Imagine that the world is a big shared residence and there is a crazy neighbour who won't leave this or that resident alone. And two other strong residents get this psycho under control so he does not harm others," he said.
"This is what the European Union and the United States are doing, which, through civilised measures in the form of sanctions, are keeping Russia in check and showing it its place," he said.
"But Russia still can't let go of its unhealthy ambitions based on the Soviet past," Abiboyev said.
In fact, Russia does not have any achievements of its own -- only nuclear weapons, and it got those after the collapse of the Soviet Union, he said.