ALMATY -- Kazakhstan is becoming an increasingly attractive destination for migrants from neighbouring countries because of improving living and working conditions.
Most migrants who stay and work in Kazakhstan are benefiting from greater demand for their services and commanding higher wages compared to last year.
In the first quarter of this year, the Kazakh government issued or extended 70,634 permits, the Kazakh Ministry of Internal Affairs reported.
"There's a severe labour shortage now because all the laborers have gone home to Uzbekistan and Tajikistan," said Aman Seitkaliyev, the owner of a company that manages migrant construction crews in Almaty.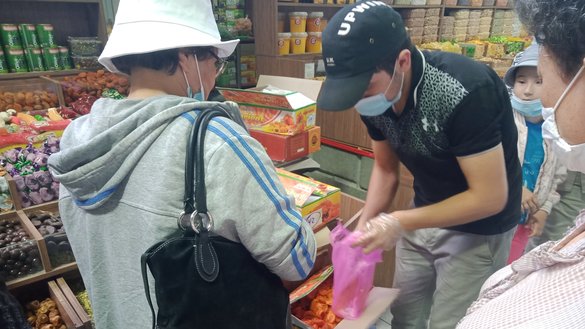 "This year the price for their services has risen by an average of 30% because of the [pandemic] border closure," he said.
"Last year in the spring-summer and summer-fall seasons I paid typical builders between 100,000-110,000 KZT ($233-$257) [per month], but this year I have paid a minimum of 150,000 KZT ($350)", Seitkaliyev said.
"If a worker knows how to do multiple things -- like lay tile, weld metal structures and so on -- they're considered a specialist and they can earn 300,000 KZT ($700) [per month]," he added.
More migrant workers are choosing Kazakhstan instead of Russia these days, according to Seitkaliyev.
"In the past they [Central Asian migrant workers] were eager to go to Russia, but now why do that? If they have arms and legs, they're being given jobs in Kazakhstan," Seitkaliyev said.
Bakhodir Usmanov, 45, an Uzbek citizen originally from the village of Tashlak, has been working in Kazakhstan since 2016.
Last year, he brought his wife and children to Kazakhstan, where he works renovating apartments in Nur-Sultan.
"My wife and I are Uzbek citizens but we live in Kazakhstan because here I get work all the time; I only used to go to see my family in the winter. But that was no good and I had to bring them here," he said.
"For migrant workers, the most important thing is to register with the migration police so you don't have legal problems and so you can get medical treatment in an emergency," Usmanov said.
Usmanov and his two brothers first came in Kazakhstan in 2010, joining a crew of Uzbek workers who were building summer houses near Almaty.
"The other guys and I then decided to go to Russia. First we worked in Omsk, also in construction, and at the same time we learned to do trim work, and then we headed to Krasnoyarsk," he said.
At the time it was profitable to work in Russia, but they had to endure a lot of hardship, including poor treatment by the police, apartment owners who sometimes paid less than promised and substandard living conditions.
It is now better to work in large Kazakh cities than in Russia, he said.
"First of all, it's cheaper for people to come here to work than to go to Russia. Second, salaries in Kazakhstan are higher this year. ... In the past the employers set the working and salary conditions, but now it's the builders who do that," Usmanov said.
'We're happy and they're happy'
Ekaterina Savchenko of Almaty has four builders from Uzbekistan working on her summer home.
"To bring them here we personally paid for their plane tickets, which cost a total of 600,000 KZT ($1,400). We pay taxes for them as foreign labour, we pay their insurance and we got new passports made for them," she said.
One of those workers is Shukhrat Oripov, 52, of Kokand.
"I build houses for private clients. There are four of us in the crew," he said. "We like the people we work with. They always try to help us, they bring us the materials on schedule, when we get sick they provide free care and they feed us three meals a day at their own expense."
"We've never gone to Russia and we don't want to. Here our take-home pay is 200,000 KZT ($467) [per month], which we earn honestly. We're happy and they're happy," Shukhrat said.
A seasonal labourer from Uzbekistan or Tajikistan currently earns 6,500 KZT ($15) per day, plus transportation and lunch, in Almaty province, said Sergey Emelyanov, who owns raspberry patches in Almaty.
"Last year it was possible to hire a laborer for 4,000 KZT ($9) a day without paying for food or transportation," he said.
"The raspberry and strawberry crops are picked over the entire season -- April to October -- depending on the variety, and you need to do it every other day, so we really need workers," he said.
Prejudice in Russia
The conditions for migrants in Kazakhstan stand in contrast to those in Russia, where law enforcement and authorities treat Central Asian workers with disdain and prejudice.
Although President Vladimir Putin last December extended temporary residence permits for migrants in Russia until June 15, it has become more difficult for migrants to obtain legal documentation as Russian authorities continue to introduce new barriers.
In December, the Federation Council approved a law requiring those wishing to obtain a work permit or temporary or permanent residence permit to pass an exam testing their Russian language, history and basic legal knowledge.
And in April, the Russian government reduced the length of the validity of the certificates that successful candidates receive -- from five years to three.
The Russian government has gone even further and decided to replace migrant workers by prison labour -- a move that drew ire in Central Asia and fear that the initiative could result in even worse working conditions.