Well before its military intervention in the Syrian war in 2015 to shore up the regime of Bashar al-Assad, Russia had begun implementing a soft power plan to "occupy" Syria and milk its economy through a process of cultural reorientation.
A key part of this plan was the promotion of Russian language instruction on a wide scale in Syrian schools in regime-controlled areas.
Russian language and literature departments opened in a number of Syrian universities, and Russian was introduced to primary and secondary school curricula as one of the foreign language options, when before only English and French were offered.
Russian language learning has been heavily promoted in Syria, former Aleppo University history professor Haider Zeidan said, noting that high school students see it as a ticket to leave the war-torn country and pursue their education in Russia, and thereby dodge military conscription.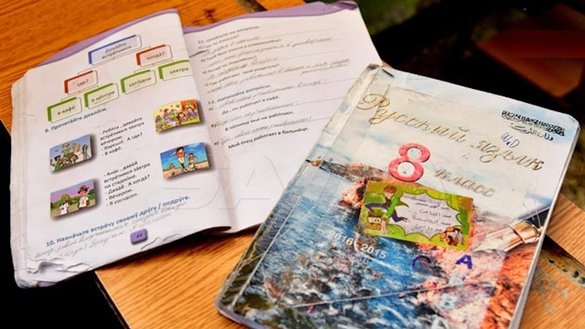 While this incentive will entice some to learn the language, the widespread teaching of Russian "will have negative repercussions for the labour market in Syria", he added, as it may affect graduates' ability to find work.
This is because Russian is not one of the languages required by local or international companies, he said, so potential job opportunities "will be limited to Russian companies or those that deal with them".
According to Syrian journalist Mohammed al-Abdullah, the Russian Cultural Centre in Damascus has been arranging and supervising language instruction courses both directly and through institutes that are co-operating with it.
Students choosing a foreign language to study now face a real dilemma, he said, as learning Russian will limit them to pursuing their studies in Russia.
"Russia is trying to make Syria, or at least part of it, a Russian colony par excellence that is not in step with the environment surrounding Syria and neighbouring countries," he said.
This policy will in turn ensure Russia's interests in Syria are safeguarded, most notably the Middle Eastern country's natural resources and the reconstruction projects that the war has brought about.
Russia views Syria's natural resources as a major prize and has set its sights on securing major reconstruction contracts.
No surprise
Moscow's push for Russian language and culture should come as no surprise to citizens in Central Asia.
This year marks the 30th anniversary of the Soviet Union's collapse, yet Russia continues to implement cultural and educational projects across the region in an effort to promote its interests and influence in the region.
This "soft power" strategy -- using culture and political ideas for influence -- is an essential part of its foreign policy strategy adopted in 2016, which includes popularising Russian language and culture in Central Asia.
Most recently, Moscow's reinvigorated push to implement a number of soft power educational projects in Kyrgyzstan is sounding alarm bells among concerned locals and observers.
Moscow exerts various forms of pressure, including economic, to preserve the status of Russian wherever possible in the former Soviet Union. It made its wishes clear repeatedly to Sadyr Japarov during his meteoric rise from prison inmate to president last year.
In February, he went to Russia on his first foreign trip as president. Unsurprisingly, it led to commitments to boost Russian-language education in Kyrgyzstan.
Subsequently, the two governments agreed to open 44 Russian-language boarding schools across Kyrgyzstan, including the largest cities, Bishkek and Osh, Bishkek media reported in March.
Parents across Kyrgyzstan have expressed concern over how Moscow's efforts have undermined Kyrgyz language and identity.
"Our government needs to pursue a policy of ethnic self-identification for our youth, to instill our own values in future generations," said one Bishkek resident, Nazira Kuluyeva.
Observers also point to the fact that Russian schools often don't match up to other institutions.
"My parents said that KRSU [Kyrgyz-Russian Slavic University] was prestigious in the 1990s, but then the university's level of education sank," said Azamat Asakeyev, a student at the American University of Central Asia (AUCA). "Corruption among teachers flourished there. Then there was a scandal related to sexual harassment by a teacher."
"I don't think that I would be in much demand at leading international corporations if I had a diploma from that university," he added.