ALMATY -- A new security document signed into law in Kazakhstan outlines various threats ahead, many of which come from Russia.
The National Security Strategy document, which Kazakh President Kassym-Jomart Tokayev signed on June 21, focuses on countering potential threats that may emerge over the next five years.
"First among them, the continuation of the coronavirus pandemic and other biosafety threats. Second, technological changes that are radically transforming the economy, labour relations, society, the information space and communications," the presidential press office said in a statement.
"Third, crises in foreign markets, which affect finance and economics," it added.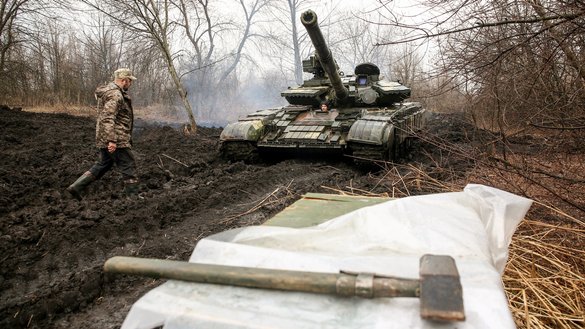 "Fourth, the further escalation of global and regional tensions is having a negative impact."
"Many of the world's developed countries are revising their national security policies based on new international and domestic realities," the release noted.
Kazakhstan's Security Council, under the leadership of former president Nursultan Nazarbayev, approved the document before Tokayev signed it.
Although Russia was not explicitly mentioned in the new security document for political reasons, it is implicitly clear Russia is the source of Kazakhstan's various concerns about sovereignty and territorial integrity.
In February, when the strategy was still under discussion, Nazarbayev cited the country's security priorities at a session of the country's Security Council.
"First is Kazakhstan's sovereignty. Second is integrity. Third are unity and political stability. Fourth are citizens' well-being and social justice," said Nazarbayev, according to 24.kz.
"The purpose of the National Security Strategy consists of preserving these values and strengthening Kazakh independence," he said, according to 24.kz.
Russian threats
Kazakhstan of late has encountered inflammatory statements by Russian politicians questioning the country's sovereignty and territorial integrity.
Appearing on Kremlin-backed Channel One on December 10, Vyacheslav Nikonov, a TV presenter and chairman of the State Duma Committee on Education and Science, directly undercut Kazakhstan's sovereignty.
"Kazakhstan simply did not exist," he said during his programme, "Bolshaya Igra" (The Great Game). "Northern Kazakhstan was not settled at all [before the Russians arrived]. The territory of Kazakhstan is a big gift from Russia and the Soviet Union."
Several days later, another member of the State Duma, Yevgeny Fyodorov, said on the Belrusinfo YouTube channel that Kazakhstan "should be grateful for the gift" -- namely, the country's territory.
"Russia needs to say, since you aren't acknowledging this as a gift, give it back because you took it unlawfully," Fyodorov said.
These statements may have been inspired by Russian President Vladimir Putin.
"Former Soviet republics should return to Russia the 'gifts from the Russian people,'" Putin said in June 2020 on state-run TV channel Russia-1.
Kazakhstan filed a diplomatic protest in response to Nikonov's remarks, emphasising, "Increasingly frequent provocative insinuations by some Russian politicians regarding Kazakhstan are seriously harming our states' friendly relations."
Kazakhstan is also facing misinformation emanating from Russian media, which has included fake news that the coronavirus pandemic stemmed from a US biolab in Almaty.
The story is a lie, affirmed the Kazakh website Factcheck.kz, which exposes fake information.
Such disinformation attempts -- aimed at creating an imaginary US threat -- are intended to limit manoeuvring by Kazakhstan, which is pursuing a multi-polar foreign policy, according to Yuri Poyta, head of the Asia-Pacific Section of the Centre for Army, Conversion and Disarmament Studies in Kyiv, Ukraine.
"There will be more disinformation campaigns in the future, so Kazakhstan needs to develop effective countermeasures," Poyta said.
Kazakhstan is constantly analysing the potential Russian threat to its sovereignty, despite the declared friendly relations, and these concerns have intensified since Crimea's annexation in 2014, said Ruslan Nazarov, an international relations analyst from Nur-Sultan.
"Kazakhstan is taking measures to protect its national security -- this can be seen in the updated fifth military doctrine, which it adopted in 2017 and for the first time included a definition of 'hybrid warfare,'" Nazarov said.
"The current National Security Strategy accounts for the threats of recent years and the challenges for the near future," he said.
Russia's geopolitical adventures
The Putin regime increasingly poses a threat to Kazakhstan's national security, said Dosym Satpayev, director of the Almaty-based Risk Assessment Group consultancy.
"Next door we have a ... state resembling the Soviet Union from the time of [Nikita] Khrushchev, with his shoe in hand, which is knocking loudly and threatening to teach the whole world a lesson", Satpayev wrote on Facebook on June 4.
"This carries increased risks right from the start for our republic and other post-Soviet players who may become victims of the Kremlin's next geopolitical adventures with unpredictable consequences."
Satpayev cited an article that he wrote in 2018 in which he predicted that Kremlin ideologues would drag their partners in the Russian-dominated Eurasian Economic Union (EEU) and the Collective Security Treaty Organisation (CSTO) military bloc into Russia's conflicts so it could more easily endure its "geopolitical isolation".
This Russian position is at odds with Kazakhstan's military doctrine, which reflects a multi-polar foreign policy, he said.
Recent comments by Russian Deputy Foreign Minister Alexander Pankin that the EEU was working on a "unified response" to Western sanctions also contradict Kazakhstan's economic interests, he added.
"If we are a truly sovereign state, then we ought to determine our foreign policy, including in regards to international economic engagement," said Satpayev.