DUSHANBE -- Tajikistan and Uzbekistan are ramping up joint economic ventures and co-operation as they prepare to reopen their shared border, which the countries sealed during the COVID-19 pandemic.
Uzbek President Shavkat Mirziyoyev during an official visit to Tajikistan in early June signed a package of agreements.
It included 36 protocols and agreements encompassing many business sectors as well as co-operation in education, medicine and culture.
"I've tasked the heads of all the Uzbek districts and cities bordering Tajikistan to establish efficient co-operation ... we will guarantee co-operation at the level of the presidents, cabinets, regions, cities and districts," Mirziyoyev said at a news conference in Dushanbe on June 10.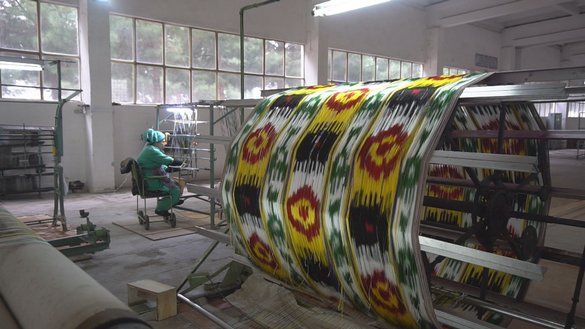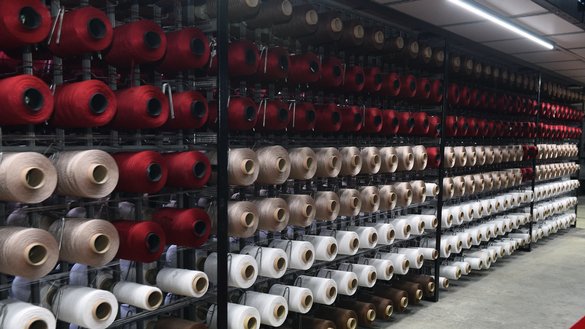 For his part, Tajik President Emomali Rahmon said, "We've offered our Uzbek friends the chance to create joint ventures under the auspices of businesses that operate in Tajikistan in light industry, the food industry, mining, and nonferrous metallurgy, as well as in free economic zones".
"This is a new level of relations that the populations of both countries have already experienced," said Nargis Shamsiyeva, a spokesperson for the Tajik Ministry of Industry and New Technologies.
Representatives of the business communities of the two countries have plans to embark on numerous other economic ventures, Shamsiyeva said.
In one example, Uzbek investors have committed to helping revitalise silk weaving at the Khujand Atlas (now the Atlasi Khujand) factory in Tajikistan, which is renowned for atlas, a fabric made from dense silk with natural dyes.
"Uzbek investors plan to send a large sum of money here, to the Atlasi Khujand company, to rehabilitate silk production with subsequent export to third countries," Anvar Nosirov, director of the Central Asian International Institute (Uzbekistan), said June 11.
Azimjon Gafurov, the owner of Atlasi Khujand, recently reached an agreement with the management of the Samarkand cocoon-reeling plant to create a joint venture to produce the silk needed for the fabric.
"We've had problems with raw materials for almost 20 years. The only working silk production plant in Sughd province, VT-Silk (a Vietnamese-Tajik joint venture), is not able to meet the needs of our production operations," he said.
"As a result, we have constant stoppages. We often need to furlough our labourers and specialists," he said.
The new partners in Uzbekistan are "prepared to support us", Gafurov added.
Internally sourcing the production of raw materials will help revive atlas production and permit the gradual ramping up of output, according to Gafurov.
"After the meeting between the two countries' presidents, genuine potential emerged to carry out our joint project with Uzbek partners," he said.
Their relationship between the two countries has improved dramatically since Mirziyoyev took office in 2016, so much so that they are hoping to conduct more than $1 billion in annual trade within two years. In 2020, Tajik-Uzbek trade exceeded $500 million, according to the Uzbek government.
If trade indeed reaches that level, Tajikistan will be doing far more trade with its neighbour than it did with Russia in 2020 -- a testament to improved regional ties and to reduced dependence on a former coloniser.
Energy co-operation
Another notable agreement is the construction of two hydro-electric power plants on Tajikistan's third longest river, the Zarafshan.
The plants will cost a total of $552 million -- $282 million for one and $270 million for the other, according to the Uzbek Ministry of Energy. Some of the funding will come from international financial organisations.
The two power plants, with capacity of 140 MW and 135 MW respectively, could generate a total of up to 1.4 billion kWh of electricity per year and significantly improve the energy supply of Samarkand province, one of Uzbekistan's industrial areas.
For Uzbekistan, which depends heavily on gas or coal plants for electricity, the new plants could provide a substantial economic benefit and help solve environmental problems.
Hydro-electric power plants on the Zarafshan River are convenient since they can be built less than 100km apart. They also form reservoirs that can help mitigate agricultural problems, such as potential droughts, that Uzbekistan may encounter from its position as a Zarafshan "downstream" country.
At the same time, Tajikistan, which has substantial mineral reserves in the Zarafshan mountains and a network of large mining companies, is also interested in having power stations near them.
"Just 10 years ago, it was unlikely we would have been able to imagine Uzbekistan partnering with Tajikistan to build hydro-electric facilities," said Nozir Yodgori, who worked for more than two decades in the Tajik energy holding company Barki Tojik.
"Our country has massive hydropower resources. Right now we're using only about 5% of their total volume, which is estimated at 527 billion kWh of electricity," Yodgori said.
"Uzbekistan and Tajikistan could jointly develop these resources, benefiting from each other's potential."
Transportation
The latest agreements come as Uzbekistan and Tajikistan prepare to open the checkpoints along their shared border, which they shuttered because of the coronavirus pandemic.
In the latest raft of agreements, officials agreed to modify regulations on travel between the two countries and the transit of goods through Uzbekistan.
"The transport corridors to the border with Uzbekistan that Tajikistan built far-sightedly with assistance from international donors should help the country avoid ending up isolated," said Maruf Makhkamov, a resident of Khujand.
"This especially applies to the movement of goods -- restricting it could greatly damage the economy," Makhkamov said.
High-level government discussions are under way on complete resumption of railway service, said Yakubi, the deputy chairman of Sughd province.
Under Karimov, the Uzbek government hindered rail travel between Uzbekistan and Tajikistan.
"We have diesel locomotives, and the Uzbeks have electric trains. So it's vital to electrify the Tajik railway, and Uzbekistan is willing to help us with that," he said.