ASHGABAT -- Afghanistan's Central Asian neighbours are keeping a close eye on the Taliban as the militant group increases its campaign of violence while international forces withdraw from the country.
The Taliban's actions have become not only unpredictable but also violate their obligations under a peace agreement signed in February 2020. They have continued their fight against Afghan forces and preserved their ties to terrorist groups, specifically al-Qaeda.
In recent weeks, Taliban violence has reached the borders of Afghanistan's three Central Asian neighbours: Tajikistan, Turkmenistan and Uzbekistan.
The Taliban on June 22 captured Sher Khan Bandar in Kunduz province, Afghanistan's main border crossing with Tajikistan, AFP reported.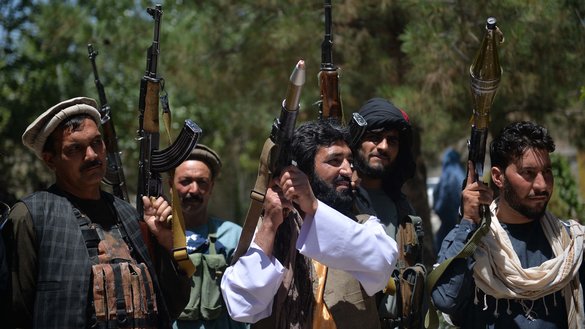 Taliban militants on June 25 took control of the Qaramqol and Ghormach settlements and briefly held the strategic city of Andkhoy, in Faryab province, situated about 32km from the border with Turkmenistan, Radio Free Europe/Radio Liberty (RFE/RL)'s Turkmen service reported.
Afghan forces expelled the Taliban from Andkhoy, Faryab provincial police spokesperson Abdul Karim Yoresh told RFE/RL's Turkmen service.
Taliban forces recently attacked Kaldar and Shortepa districts in Balkh province bordering Uzbekistan and Tajikistan, added RFE/RL.
These and other attacks across Afghanistan prompted the US military on June 29 to issue a warning that the Taliban would be hit with air strikes if their violence continues to escalate.
Eyeing the border
Turkmenistan is taking steps to protect its borders and its investment projects in Afghanistan, said Turkmen journalist and political scientist Dovlet Myradov.
"Militants from extremist groups operating in northern Afghanistan repeatedly said in the past that they recognise neither borders nor the sovereignty of another state," he said.
"Recent events in districts bordering Turkmenistan ... only intensified fears in Turkmenistan," he added.
"Distrust of the Taliban and fears are always present," he said.
Turkmen President Gurbanguly Berdymukhamedov on June 23 participated in the opening ceremony of an international airport in Kerki, about 60km from the Afghan border.
During the ceremony, he examined the Turkmen Air Force's latest acquisition -- an Italian-made Alenia C-27J NG Spartan military transport aircraft.
The aircraft "is designed to rapidly redeploy troops from one part of the Turkmen-Afghan border to another", Myradov said, adding that the air force already has three such planes.
Uzbekistan is also boosting its military preparedness, AKIpress reported June 25.
The Uzbek Defence Ministry is conducting unannounced checks of combat readiness in the Tashkent and south-western military districts, according to AKIpress.
Tactical exercises will take place on training grounds in Angren and Termez, on the border with Afghanistan, to exchange experience and to co-ordinate the activities of military units, AKIpress.
While military analysts have ruled out any real threat of Taliban incursions, a potential humanitarian crisis remains a possibility.
"Most of the Taliban are illiterate and obsessed with religious fanaticism, but they will not dare encroach on Turkmenistan's lands and assets because they know that any such attempt will be decisively cut short by our country's armed forces," said Rozygeldi, a Turkmen State Border Service (GPS) officer who provided only his first name.
"We do not expect a large flow of refugees, mainly ethnic Turkmens, from Afghanistan ... but Afghan border guards and police officers, whom the Taliban would severely punish, might seek safe haven on our territory," he said.
Rozygeldi noted the impact of local Afghan groups who are fighting the Taliban.
"Some villages in Jawzjan province, which has a concentrated Turkmen-Afghan population, are holding out for now thanks to their [public uprising groups]," he said, citing Turkmen GPS intelligence reports.
'No military solution'
Despite such preparations, Central Asian leaders oppose any military action on the border.
There is no military solution to the Afghan conflict, according to Uzbek Foreign Minister Abdulaziz Kamilov, reiterating that the Taliban must sit down for talks with the Afghan government.
"We have different visions here in the region ... We must know about the Afghan crisis that there is no military solution," he told Dennis Wholey on This is America and the World.
"It is necessary to have a regional and international common approach towards the peace process in Afghanistan," said Kamilov in the interview, posted on YouTube June 24.
Meanwhile, Tajik President Emomali Rahmon on June 23 conferred by phone with his Kazakh and Uzbek counterparts to discuss the latest developments in Afghanistan's northern provinces, ASIA-Plus reported June 24, citing Rahmon's official website.
The situation in Afghanistan contributes to rising tensions and undermines regional security, agreed Rahmon and Kazakh President Kassym-Jomart Tokayev.
They highlighted the need for continued close co-ordination between their countries' relevant agencies and the need to provide comprehensive assistance to the intra-Afghan peace process.
The same day, Rahmon discussed the military and political situation in Afghanistan with Uzbek President Shavkat Mirziyoyev.
They agreed to continue their efforts to support the intra-Afghan peace process and the establishment of peace and stability in Afghanistan.