BEIJING -- China's "defeat" of COVID-19 was centre stage late Monday (June 28) at a spectacular celebration of Communist Party history at Beijing's Bird's Nest stadium.
The extravagant show featured tightly choreographed set-pieces of Communist history, big-screen dedications to key leaders from Mao Zedong to President Xi Jinping, 100 trumpets, and a greeting from a group of Chinese astronauts currently in space.
However the show omitted uncomfortable chapters of China's turbulent recent history: famine, the purges of the Cultural Revolution, the crackdown on student protesters in Tiananmen Square, the pro-democracy rebellion in Hong Kong, and the arbitrary detention and human rights abuses of more than one million Uighurs and other Muslims in the Xinjiang region.
Instead, performers triumphantly punched fists in the air, danced and gave a theatrical retelling of party highlights.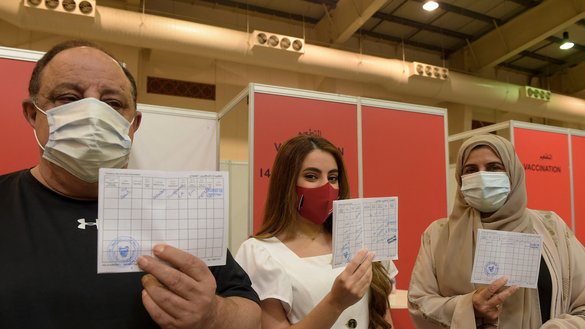 A special dedication was given to China's handling of the COVID-19 pandemic, with performers in personal protective equipment (PPE) and soldiers wearing masks.
A 'global public good'
Xi has carefully reframed the pandemic, which emerged in the central Chinese city of Wuhan, as a victory for party organisation and Chinese resilience under his watch.
Since the outbreak of the pandemic, the Chinese have been inundated with such propaganda and a state apparatus that tightly controls information, particularly over the internet, quickly squashes dissenting views.
Chinese diplomats have attempted to shape the narrative outside China as well by spreading disinformation on the origins of the virus and on the efficacy of Western-made vaccines and by promoting Chinese-made jabs as a better alternative.
China kicked off its vaccine diplomacy campaign last year, with Xi pledging to provide a shot that could be easily stored and transported to millions of recipients around the world, particularly to poor countries.
He called it a "global public good", a phrase repeated by other party leaders.
The supply of vaccines to countries unable to secure more-expensive vaccines or those in greater demand is a key element of Beijing's attempt to rewrite history.
More than 90 countries are using COVID-19 vaccines from China, but analysts say an explosion of infections in some of those places should serve as a cautionary warning.
Outbreaks amid Chinese vaccinations
China's vaccine diplomacy efforts are only as effective as the quality of the product it is offering, and evidence shows the quality is lacking.
In April, Gao Fu, head of the Chinese Centre for Disease Control and Prevention, admitted that the agency was "considering how to solve the problem that the efficacy of existing vaccines is not high", local media reported.
He said the current vaccines, including doses from Sinovac Biotech and Sinopharm, "don't have very high rates of protection", the BBC reported.
An examination of data from several countries that put their faith in Chinese-made vaccines confirms those concerns, The New York Times reported June 22.
For example, in the Seychelles, Chile, Bahrain and Mongolia, 50 to 68% of the populations have been fully inoculated, according to Our World in Data, a data tracking project.
But all four ranked among the top 10 countries with the worst COVID-19 outbreaks as of mid-June, and all four relied heavily on vaccinations made by Sinopharm and Sinovac, according to the newspaper's research.
"If the vaccines are sufficiently good, we should not see this pattern," said Jin Dongyan, a virologist at the University of Hong Kong. "The Chinese have a responsibility to remedy this."
The Sinopharm vaccine, developed with the Beijing Institute of Biological Products, has an efficacy rate of 78.1%, while the Sinovac jabs have an efficacy of 51%.
In comparison, American-German Pfizer-BioNTech and US-made Moderna vaccines have efficacy rates of 95% and 94%, respectively.
Troubling data
No vaccine fully prevents transmission, but the relatively low efficacy rates of Chinese shots have been identified as a possible cause of the recent outbreaks, The New York Times reported.
With all of the evidence, it is reasonable to assume the Sinopharm vaccine has minimal effect on curbing transmission, according to Nikolai Petrovsky, a professor at the Flinders University College of Medicine and Public Health in Adelaide, Australia.
A major risk with the Chinese jabs is that vaccine recipients may have few or no symptoms and still spread the virus to others, he told the newspaper.
The efficacy rates of Chinese shots could be low enough "to sustain some transmission, as well as create illness of a substantial amount in the highly vaccinated population, even though it keeps people largely out of the hospital", said William Schaffner, medical director of the National Foundation for Infectious Diseases at Vanderbilt University in Nashville, Tennessee, the United States.
But recent data are troubling.
In Indonesia, for example, more than 350 doctors and healthcare workers recently came down with COVID-19 despite being fully vaccinated with Sinovac, according to the risk mitigation team of the Indonesian Medical Association.
Between February and June 7, 61 doctors across the country died from the disease. Ten of them had taken the Chinese-made vaccine, according to the association.
Those numbers made Kenneth Mak, Singapore's director of medical services, note the difference in the quality of vaccines.
"It's not a problem associated with Pfizer," he said at a news conference June 18. "This is actually a problem associated with the Sinovac vaccine."
Elsewhere, there have been extensive reports of vaccines falling ill despite receiving the Chinese-made vaccines.
Bahrain and the United Arab Emirates (UAE) were the first two countries to approve the Sinopharm shot, even before the release of late-stage clinical trial data.
Bahrain said there would be a "return to normal life" with the rollout of its vaccination programme, but on May 29 the country registered a spike of more than 1,923 daily new COVID-19 cases per million people, according to Our World in Data.
While officials in Bahrain and the UAE have defended their vaccination programmes, they are also offering a booster shot -- a third dose – Pfizer vaccine being one of them.
As reported in May, as Kazakhstan's mass vaccination campaign picked up pace, with an array of vaccines on offer, Kazakhs eschewed Chinese-designed vaccines in favour of other options.
In April, Turkmenistan's COVID-19 vaccination campaign ran into a serious obstacle: "terrible side effects" from the vaccine supplied by China.