ALMATY -- Russian authorities are considering a requirement for migrants workers to sign a "loyalty agreement" upon their arrival -- the latest in a series of growing restrictions on those seeking to work in the country.
Under a proposed new federal law, part of the planning statement for Russia's 2019-2025 immigration policy, foreigners would be required to sign the agreement containing rules on their stay and legal ability to work, TASS reported June 26.
The agreement is supposed to ensure that new arrivals obey the rules of entry, residence and departure from Russia, according to the Interior Ministry (MVD).
By signing the "loyalty agreement", a migrant would confirm that he or she is aware of, among other things, the consequences of non-compliance with the established rules and agrees not to harm Russia.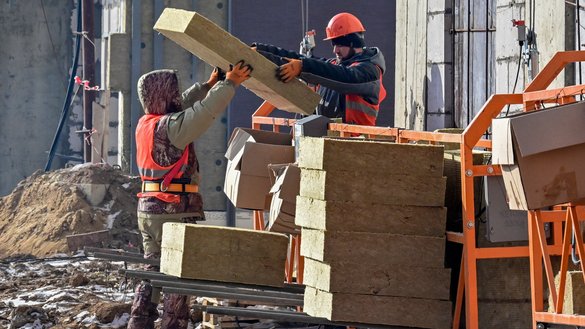 Additionally, the migrant would agree to pay all costs associated with potential deportation to his or her homeland for violating the agreement.
If the bill becomes law, migrants would have to sign the agreement whenever they receive an entry visa.
Those who enter Russia visa-free -- namely, citizens of member-states of the Russian-dominated Eurasian Economic Union -- would have to submit to fingerprinting in addition to signing the agreement.
The proposed law is among a series of increasingly demanding restrictions on migrants seeking to enter Russia.
On May 31, the Russian cabinet adopted a resolution requiring migrants to speak Russian and to know Russian history and Russian law.
Migrants must pass an exam to obtain a permit for even a temporary stay.
Meanwhile, the fingerprinting and photographing of migrant workers began on July 1, a requirement that applies only to citizens of Central Asia. Belarusians are exempt from these procedures.
In addition, migrant workers now must provide Russian migration authorities with a certificates indicating they are free of human immunodeficiency virus (HIV), drug addiction or infectious diseases, reported Current Time TV.
To obtain such certificates, migrants have to undergo examinations by a battery of doctors, including specialists in tuberculosis, venereal disease and drug addiction, among others.
'Worse and worse'
The new laws and requirements will give rise to a new round of corruption in Russia, predicted Valentina Chupik of Moscow, chairwoman of the NGO Utro Mira (Sunrise of the World).
"The current procedures have made it much more difficult for migrants to obtain legal status in Russia," she said.
She foresees no improvement in public health or in migrant workers' knowledge of Russian.
"Bribes settle everything here, and even a migrant who cannot read a single word in Russian can pass the exam if he has the money," Chupik said.
Russia's new laws will in fact hit only migrants' pocketbooks, because corruption will become even bigger than before, and they will not bring any positive results for the country, she noted.
"Who will think well of a country that makes your life so difficult?" asked Dushanbe native Tokhir Yusupov, who works as a taxi driver in Moscow.
"They [the Russian authorities] are simply taunting us, constantly establishing new, ever more stringent rules," he said.
"Every year it gets worse and worse -- how can one continue to live and work in Russia?!" Oibek Umarov, a Moscow construction site worker from Samarkand, Uzbekistan, said to Caravanserai.
"The government seems to be pushing for us to leave the country and never return."
Sputnik Light
Meanwhile, a measure enacted by Russian authorities has Central Asian migrants wondering if they are guinea pigs for Russia's coronavirus vaccines.
On June 26, Russian President Vladimir Putin instructed the government to arrange for the vaccination of foreigners -- ostensibly to protect migrant workers from COVID-19.
However, while vaccinations are free for Russian citizens, migrant workers' employers are supposed to pay 1,300 RUB ($17.50) for each migrant's vaccination, according to a statement by the Moscow mayor's office.
Compounding the insult, migrants will be receiving the weaker, single-component Sputnik Light vaccine.
Since June 27, Russian authorities have been vaccinating recipients with Sputnik Light. The Gamaleya National Centre of Epidemiology and Microbiology developed it to maintain the immunity of those who already contracted COVID-19.
Migrants are not eligible to receive the Sputnik V vaccine, which Moscow touts as one of the world's most effective.
"This is more evidence that the authorities treat us like second-class people," said Yusupov, the taxi driver. "How is this not racism?"
Only migrants with formal employment contracts are eligible for Sputnik Light, noted Chupik.
That restriction excludes millions of migrants who have only informal arrangements with their employers.
The rest will have to keep risking their health and lives, to say nothing of their continued inability to visit public places open only to those have received a vaccination or a negative polymerase chain reaction (PCR) test result, she noted.
"The vaccination campaign in Russia is ill-conceived and disorganised," she said.