ASHGABAT -- Vague details that surfaced with Turkmenistan's announcement last month that it had paid off its debts to China for a multi-billion-dollar gas pipeline and another gas project are the latest sign of China's efforts to conduct "debt-trap diplomacy".
China has invested billions in the development of Turkmenistan's gas industry, establishing itself as the country's number one destination for exports.
Beijing's key projects in the country are the Central Asia-China pipeline, which begins in eastern Turkmenistan and reaches China via Uzbekistan and Kazakhstan, and a multi-stage development project at Galkynysh, the world's second-largest gas field.
During a visit to the country in 2011, China Development Bank (CDB)'s then-president, Jiang Chaoliang, said that the bank had lent Turkmenistan $8.1 billion for the projects.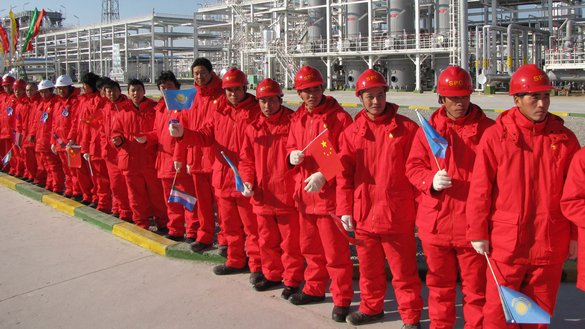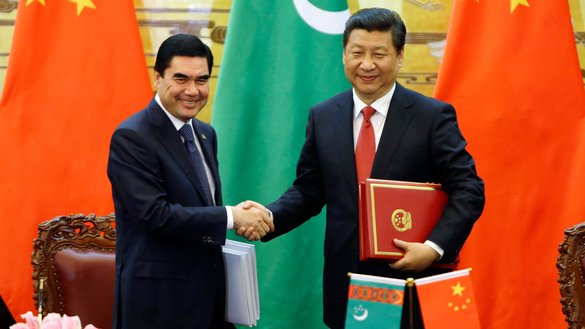 President Gurbanguly Berdymukhamedov said Turkmenistan had paid off loans provided by China for the pipeline and the first stage of Galkynysh's development "on time and in full", the state-run Neutral Turkmenistan newspaper reported June 12.
The same news report cited Turkmenistan's oil and gas chief Shakhym Abdurakhmanov as saying that the CDB had acknowledged Turkmenistan's full repayment of the debts in a note sent to Turkmenistan on June 8.
Neither Berdymukhamedov nor Abdurakhmanov made reference to the amount that had been repaid.
The lack of transparency is not unusual.
Secrecy surrounding the terms and conditions of Chinese loans has become par for the course, according to a multi-year data collection initiative undertaken by AidData, a research lab at William and Mary University in Virginia.
"China's contracts contain unusually broad confidentiality clauses, which prevent borrowers from revealing the terms or sometimes even the existence of the loans," AidData said March 31.
Confidentiality clauses were first introduced in 2008 and have become more secretive over time, the research shows.
Starting in 2014, every contract in the data set studied by AidData contained "far-reaching confidentiality clauses".
All CDB and 43% of Export-Import Bank of China (China Eximbank) contracts include such clauses, AidData reported.
"These confidentiality restrictions hide loans from the people who are bound to repay them via taxes," it said.
Opaque contracts
Without more information, it is impossible to know exactly how Turkmenistan repaid its loan to China.
One possibility, analysts say, is that Turkmenistan is not receiving earnings from its record exports to China. Rather, the sale of gas goes toward paying off multi-billion-dollar debts owed to Beijing.
Such a deal would come amid stagnant standard of living, worsening socioeconomic problems and a food shortage in Turkmenistan.
China is the world's largest official creditor, with a third of emerging and developing nations owing Beijing more than 5% of their gross domestic product (GDP).
Most of China's loans go to low and lower middle income countries, and many of them fall under the country's Belt and Road Initiative (BRI).
Chinese President Xi Jinping launched the BRI in 2013 to expand China's economic and political influence, with many of the infrastructure plans seen as helping deliver its goods globally.
China denies any ulterior motives to the vast investment project, but critics argue it uses the financial leverage arising from the scheme to boost its clout, in what they dub "debt-trap diplomacy" -- imposing harsh terms on loan recipients and writing contracts that allow it to seize strategic assets when debtor countries run into financial problems.
Beijing "encourages dependency using opaque contracts […] that mire nations in debt and undercut their sovereignty," Rex Tillerson, the US secretary of State at the time, said in 2018.
Concerned about China's predatory lending, the leaders of the world's wealthiest large democracies, at the G7 summit on June 12 adopted a rival plan to oppose the BRI and help build infrastructure in poorer nations.
The developing world needs more than $40 trillion in infrastructure, a gap "which has been exacerbated by the COVID-19 pandemic", the White House said in a statement.
The "Build Back Better World" (B3W) project will be global in scope and will provide a "values-driven, high-standard and transparent" alternative to the BRI, it said.
"B3W will collectively catalyse hundreds of billions of dollars of infrastructure investment for low- and middle-income countries in the coming years," it said.
Funding will emphasise the environment and climate, labour safeguards, transparency, and anti-corruption, it added, in implicit contrast to China's opaque funding.
Victims in Central Asia
Chinese debt bondage is also a genuine threat for Kyrgyzstan, analysts say.
As of March, Kyrgyzstan's foreign debt was $5 billion, with the largest share of it -- more than 40% -- belonging to China Eximbank, according to the Ministry of Finance.
In 2020, the pandemic dealt a major blow to Kyrgyzstan's GDP. The crash left Kyrgyzstan unable to meet its debts.
Last year, citing economic hardships stemming from the coronavirus pandemic, the Kyrgyz government repeatedly asked the Chinese authorities to ease the terms of the loans -- at least to extend payment deadlines.
Beijing ignored the requests for almost a year, agreeing finally in November to break the 2020 payment up over the next four years, but in return for this "concession", it tacked on a fee amounting to 2% of the loan.
"If we don't pay a portion [of the loans granted by China] on schedule, we'll lose many of our assets," Kyrgyz President Sadyr Japarov told the Kabar news agency February 13.
China lent money to Kyrgyzstan to build roads, energy infrastructure and factories -- with the stipulation that the contracts go to Chinese companies, including several that have been involved in scandals.
In early 2018, a power plant that a Chinese company had just modernised broke down, leaving Bishkek residents without heat in -20°C weather.
The construction of a 104km-long highway along the north shore of Lake Issyk-Kul has also encountered trouble.
The Chinese company Longhai Road and Bridge Corporation won a bid to construct the highway in late 2015. Construction was supposed to end in 2017, but it has dragged on for years. Workers complained in 2019 that the company had stopped paying their salaries.
Even now, about 20km of the highway remains unbuilt, and cracks are already appearing in the surface of the completed portion.
Tajikistan is another country at risk.
In spring of 2018, it relinquished the Upper Kumarg gold mine in Sughd province to China, with 50 tonnes of gold reserves, to settle a $330 million debt incurred to modernise the Dushanbe-2 power plant.
"Tajikistan has fallen into debt dependence on Beijing," Shokir Khakimov, a legal scholar from Dushanbe, told EurAsia Daily at the time. "So the authorities, realising that they can't pay their debts, agreed to China's proposal and transferred a gold mine to it."
Kazakhstan is taking steps to prevent a similar fate with a new law banning the sale of agricultural land to foreigners.
The law, which President Kassym-Jomart Tokayev signed on May 13, highlights the country's growing unease with Chinese territorial encroachment and investment schemes.