TASHKENT -- In recent weeks, Taliban violence has reached the Uzbek-Afghan border, raising concerns among residents of the Uzbek border region.
Uzbekistan's border with Afghanistan is 144km long and runs along the Amu Darya River.
The Hairatan friendship bridge, which the Soviet army used to leave Afghanistan in 1989, is a border crossing situated just 18km from Termez, capital of Surxondaryo (Surkhandarya) province.
Making the war even more vivid, dozens of Afghan troops fled into Uzbek territory in several incidents in June.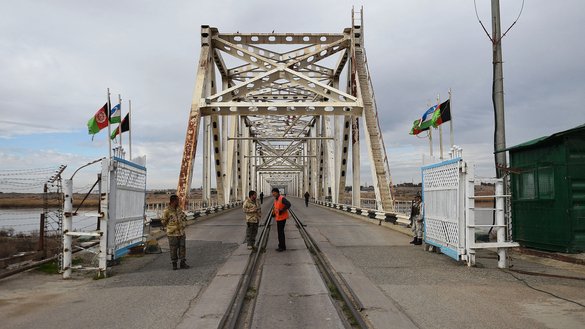 Dilnavoz Jabborova, 34, said she never thought that the sounds of war would be heard so near her house.
Her family cannot ignore what is happening across the border, said Jabborova, who lives in Termez district, Surxondaryo province.
"I've heard shots and screams. Every time I have to explain them away to calm the children," Jabborova said. "They get frightened."
"We can't be sure that they [the Taliban] won't cross the border, which is a 10- to 15-minute drive away from us. We must not forget the proverb: peace for your neighbour means peace for you," she said.
"We pray for peace in our country and for those who defend our motherland's borders."
At the dawn of independence (1991), Uzbekistan shut the border, said Muhiddin Begimkulov, 47, a teacher from Termez.
Islam Karimov, Uzbekistan's first president, kept the border closed.
Now, after the establishment of friendlier relations with Afghanistan, everything is changing, said Begimukulov.
"It's summer now, and I spend a lot of time outside. You constantly hear shots; we all hear them," he said.
"I believe that our president will not allow border violations."
Afghan President Ashraf Ghani arrived in Tashkent Thursday (July 15) to attend the multi-national summit, "Central and South Asia: Regional Connectivity, Challenges and Opportunities".
Ghani is expected to meet Uzbek president Shavkat Mirziyoyev during the visit to discuss the situation in Afghanistan.
The conflict in Afghanistan may lead to casualties, both in Uzbekistan and in Tajikistan, since these countries border Afghanistan, said Shahida Tulaganova, a London-based journalist.
"Everything must be done to restore the status quo on the border, to end the fighting. We don't know what the Taliban's further goals and actions will be," Tulaganova said.
Threat to peace
"Fighters in anti-Taliban units have frequently crossed the Uzbek border both in the past and the present," said Ravshan Nazarov, an instructor at the Tashkent branch of Plekhanov Russian University of Economics.
"There are many ethnic Uzbeks among them, and Uzbekistan should give them safe haven, of course -- not only to Uzbeks but also to refugees of any ethnicity -- Tajiks, Turkmens, Hazaras, and even anti-Taliban Pashtuns," he said.
"But this must be temporary ... the refugees must be relocated to [Afghan] areas controlled by anti-Taliban forces," he added.
The Taliban's emergence as the most aggressive force aimed at the southern borders of the CIS [Commonwealth of Independent States] portends nothing positive either, said Nazarov.
"We need to remember that all these years, the anti-Taliban resistance has relied on an [ethnic] Tajik-Uzbek alliance, and the Taliban have an extremely negative attitude toward any Tajiks or Uzbeks, whether Afghan or from the CIS," he said.
"Additionally, if they come to power in all of Afghanistan, a global war will begin over ... spheres of influence, in particular, control over drug trafficking, which is the most profitable 'business' in present-day Afghanistan," he added.
The Taliban's rise to power is a constant and uninterrupted threat to peace, and it is necessary to strengthen co-operation between Central Asian countries and any anti-Taliban forces, both in the region and beyond, said Nazarov.
However, some observers consider the Taliban a danger primarily to Afghanistan.
"I think Central Asian countries should not expect direct threats from the Taliban," said Kamoliddin Rabbimov, an Uzbek political analyst living in France.
"Over the 20 years of combat in Afghanistan, the Taliban's worldview has transformed significantly. There is no reason to think that, if they take power, the Taliban will try to stage aggressive military operations outside Afghanistan, including to the north," he said.
"The Taliban are strong in guerrilla warfare on their own territory. But on foreign soil, where they don't know the terrain and where the population does not support them, they have no chance of success," Rabbimov said.