BEIJING -- Beijing is keeping a close eye on its western neighbours as the Taliban's advances in Afghanistan threaten to destabilise the region and, in particular, Xinjiang region, China.
Taliban violence in recent weeks, which has included looting and burning civilians' houses, has reached the borders of Afghanistan's three Central Asian neighbours -- Tajikistan, Turkmenistan and Uzbekistan -- and all three are bolstering their militaries.
China also shares a short 76km-long border with Afghanistan, at high altitude and without a road crossing.
But the frontier is a concern because it runs alongside Xinjiang, and Beijing fears Afghanistan being used as a staging ground for Uighur separatists from the sensitive region.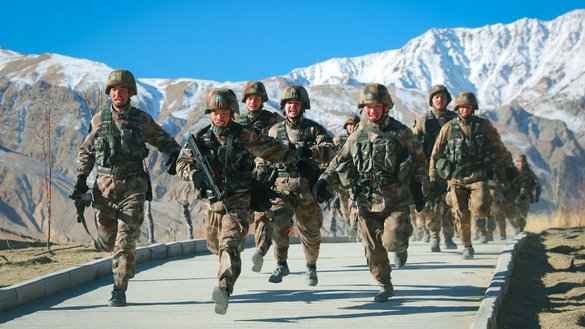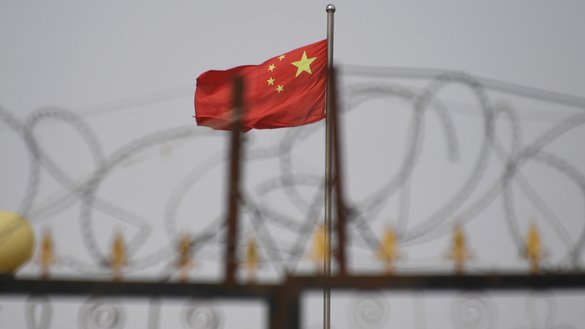 Beijing has unleashed a slew of draconian policies in recent years aimed at subduing and surveilling Xinjiang's majority Muslim population, including imprisoning more than one million Uighurs and other Turkic Muslims in as many as 400 facilities that include "political education" camps, pretrial detention centres and prisons.
Millions more live under a harsh system of surveillance and controls.
China's policies -- including forced sterilisation -- amount to genocide, say Uighur rights groups and lawmakers from the United States, the United Kingdom and other countries.
After initially denying the existence of the detention camps, the Chinese regime now describes them as "vocational training centres" aimed at stamping out terrorism and improving employment opportunities.
Certain crimes committed in Xinjiang by Chinese authorities have been particularly galling to Muslims around the world and certainly to hardline Islamists like the Taliban. They include the arbitrary detention of more than 1,000 imams and religious figures in the region, the destruction of about 16,000 mosques, and the systematic rape of Muslim women.
'Inherently discomforting'
Should instability take hold of Afghanistan after the withdrawal of all NATO coalition forces, China's crackdown on Xinjiang could intensify in the name of "national security", analysts say.
China abhors a power vacuum, especially on its borders, and maintaining stability after decades of war in Afghanistan will be Beijing's paramount consideration.
"For China, the risk does not come from who holds the power in Afghanistan but from the risk of persistent instability," Fan Hongda, a Middle East specialist at Shanghai International Studies University, told AFP.
Such concerns have led China to pursue an increasingly militaristic posture around the world that has worried neighbouring countries.
Atheistic CCP leaders in Beijing and the fundamentalist Taliban have little ideological common ground, but analysts say shared pragmatism could see mutual self-interest trump sensitive differences.
"China can deal with the Taliban ... but they still find the Taliban's religious agenda and motivations inherently discomforting," said Andrew Small, author of The China-Pakistan Axis.
"They have never been sure how willing or able the Taliban really are to enforce agreements on issues such as harbouring Uighur militants."
The Taliban's connections to Uighur militants go back more than two decades.
Of particular concern to China are the Taliban's ties with the East Turkestan Islamic Movement (ETIM) and its successor, the Turkestan Islamic Party (TIP).
Beijing has used the existence of the ETIM and TIP to justify its crackdown in Xinjiang, although no significant terrorist incidents have been reported in the region since 2017.
Still, Beijing's "one-size-fits-all" security measures in Xinjiang appear to treat all Uighurs and other Turkic Muslims as potential security threats.
The Taliban, meanwhile, have remained conspicuously neutral on China's mistreatment of Muslims, and appear to be ignorant of or deliberately oblivious of the indisputable evidence of Chinese crimes in Xinjiang.
The Taliban care about the plight of the Uighurs in Xinjiang and will seek to help their fellow Muslims through political dialogue with Beijing, Taliban spokesman Suhail Shaheen said in an interview with the Wall Street Journal published July 8.
"We do not know the details. But if we have the details, we will show our concern," he said. "If there are some problems with the Muslims [in China], of course we will talk with the Chinese government."
The Taliban's public equivocation likely is tied to the group's hopes for Beijing's political and financial support.
"If any country wants to explore our mines, they are welcome to," Shaheen said in a separate interview with AFP. "We will provide a good opportunity for investment."
Action against China
The Taliban's lukewarm tone comes as the United States stands against Beijing for its crimes against humanity.
Last Wednesday (July 14), the US Senate passed the Uyghur Forced Labour Prevention Act, which if signed into law would ban products imported from Xinjiang.
"The message to Beijing and any international company that profits from forced labour in Xinjiang is clear: no more," Senator Marco Rubio said in a statement.
"We will not turn a blind eye to the CCP's ongoing crimes against humanity, and we will not allow corporations a free pass to profit from those horrific abuses."
The United States already has taken action against China over Xinjiang, and Secretary of State Antony Blinken conferred in Washington July 6 with internment camp survivors.
The US government on July 9 announced sanctions against 14 companies based in China and involved in Chinese policy towards the Uighurs and other ethnic minorities in Xinjiang region.
Washington also recently banned imports of solar panel materials from a Chinese company and placed trade restrictions on four others for alleged use of forced labour in the region.
On July 8 European Union lawmakers called on the bloc's institutions and member states to skip the 2022 Beijing Winter Olympics unless China "demonstrates a verifiable improvement in the human rights situation in Hong Kong, the Xinjiang Uyghur Region, Tibet, Inner Mongolia and elsewhere in China".
On June 22, more than 40 countries voiced "grave concerns" at the United Nations Human Rights Council about China's actions in Xinjiang.
The statement cited reports of torture or cruel, inhumane and degrading treatment or punishment, forced sterilisation, sexual and gender-based violence, and forced separation of children from their parents.