DUSHANBE -- Tajikistan on Thursday (July 22) checked the combat readiness of its armed forces in the biggest such exercise in the country's history as the Taliban advances in Afghanistan, AFP reported.
The 230,000 members of the Central Asian country's security forces were alerted for the test at 2am on the order of President Emomali Rahmon.
Dushanbe also has relocated 20,000 troops to strengthen its force on the border with Afghanistan.
The Taliban in recent weeks have seized control of districts in northern Afghanistan, including the main Sher Khan Bandar border crossing with Tajikistan.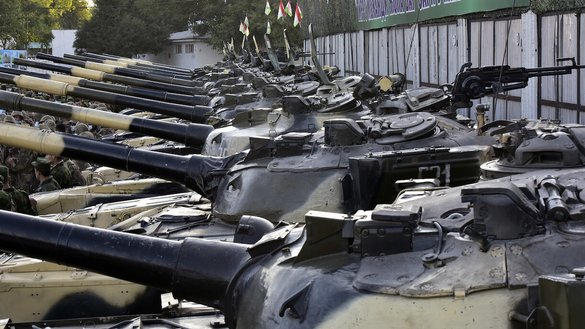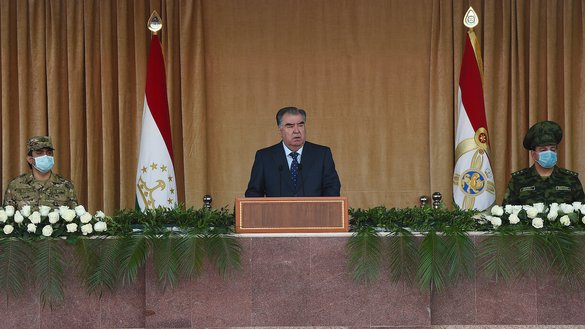 The military inspection was the first of its kind in the ex-Soviet country's 30-year history.
It involved testing of all weapons used by the Tajik army -- including ground, aviation and artillery forces.
The operation was broadcast on Tajik state television and ended with a military parade headed by Rahmon, who called on Tajiks to be "ready to defend peace and stability" in the region.
"The situation in our neighbouring country -- the Islamic Republic of Afghanistan -- especially in its northern regions that border our country remains extremely complex and uncertain," he said.
"It is getting more complicated day by day and even hour by hour."
He called on the armed forces and law enforcement agencies to "ensure the highest level of combat readiness to prevent potential threats" and to "ensure the protection of the border".
The Taliban's violent offensive has forced the displacement of tens of thousands of Afghans, some of whom have sought refuge across the border in Tajikistan.
As of July 5, more than 70% of the 1,344km-long Afghan-Tajik border was under Taliban control, according to the Tajik State National Security Committee (GKNB).
On July 7, Radio Free Europe/Radio Liberty (RFE/RL)'s Tajik service reported the repatriation of 2,300 Afghan troops who had fled to Tajikistan, citing the Afghan National Security Council.
Meanwhile, more than 1,000 Afghan civilians fled recently to Gorno-Badakhshan Autonomous Province (GBAO), Tajikistan, local officials told RFE/RL in an article published July 8. They did not say whether the Afghans would stay or return home.
Afghan forces regroup
After initially being caught off guard by the Taliban's offensive, launched as NATO forces began their final drawdown from the country, Afghan National Defence and Security Forces (ANDSF) are regaining their footing.
"Now, with the ... threat that the government will be overthrown, experienced and battle-hardened soldiers are once again leading military units," said Tajik journalist Ilkhom Nazriyev, who has visited Afghanistan several times.
"The Taliban are beginning to stall."
"Government forces defended the Badakhshan provincial capital Faizabad and began to liberate surrounding districts," he said.
"[The ANDSF] are gaining confidence. Soon, they will begin to clear Takhar province, first around Taloqan, its capital, and then God willing, further along the border with Tajikistan," Nazriyev said.
"In Kunduz, even though Sher Khan Bandar is controlled by the Taliban, the same [civilian] staff work there, and the road to Tajikistan is open," he said.
Tajik Transport Minister Azim Ibrohim confirmed July 14 that Sher Khan Bandar border crossing is still operating.
"All border crossings with Afghanistan are open," he told Caravanserai, adding that cross-border transportation was affected only briefly after US forces announced their final withdrawal.
With the militants putting pressure on around half of the country's provincial capitals, the ANDSF are "consolidating their forces" to protect Afghanistan's major urban centres, chairman of the US Joint Chiefs of Staff Gen. Mark Milley said Wednesday.
"They're taking an approach to protect the population, and most of the population lives in the provincial capitals and capital city of Kabul," he said.
Taliban's false promises
With the current security situation uncertain, Tajik authorities are taking a cautious approach and do not trust the Taliban's assurances to respect international borders and to ensure peace and security in Afghanistan.
Taliban political leaders have promised to uphold women's rights, to allow girls to continue to go to school, to protect diplomatic missions and to provide services to citizens.
But as the insurgents continue to overrun territory, residents are being forced to flee their homes, and those who stay are reporting that the Taliban order men to grow their beards and ban women from leaving the home without a male chaperone.
Tajikistan has never negotiated with the Taliban; during the Taliban's 1996-2001 rule over Afghanistan, the Tajik government sided with the anti-Taliban Northern Alliance.
"Collusion with the Taliban might be costly for many countries," said Akhmadshokh Komilzoda, a Tajik analyst of Afghan affairs.
Judging by Dushanbe's contacts with Afghan President Ashraf Ghani's government, Tajik authorities have no illusions about the Taliban, analysts say.
Taliban promises not to attack neighbouring states "are aimed at protecting themselves from external interference, taking power in Afghanistan and firmly establishing themselves", said Kasym Bekmukhammedov, a Tajik political scientist who has visited Afghanistan several times.
Worries over ethnic violence
"Legitimising the Taliban, who committed terrorist attacks almost daily all over Afghanistan by shedding the blood of innocents and destroying cities and villages, means legitimising terrorism," said Tajik journalist Zevarsho Mukhammad.
"Afghanistan is a multi-faith country; it is ethnically heterogeneous," he said. "Building peace there is hardly possible with an ethnic-chauvinist ideology."
Mukhammad recently visited relatives in Khorog, the capital of GBAO.
"Everything is calm here," he said. "But people are beginning to worry about the fate of the [ethnic] Tajiks on the left bank of the Panj, where the Taliban's white flags are already clearly visible."
"Many Ismailis live ... in Badakhshan province [of Afghanistan]," he said. "We're afraid they'll be persecuted."
Such fears have already led 77 ethnic Kyrgyz residents of Andemin village, Wakhan district, Badakhshan province, to flee into Tajikistan, Khovar news agency reported July 14.
Another group of 270 Kyrgyz-Afghans later joined them in Tajikistan.
They come from a tiny group of ethnic Kyrgyz nomads, numbering about 1,500, who have subsisted in the mountainous Wakhan Corridor since their ancestors fled the Tsarist suppression of an uprising in Russian Turkestan in 1916.
"Members of certain faiths and religious movements, and ethnic groups who do not strictly observe the precepts of Islam, are not considered Muslims by the Taliban," Mukhammad said.