ALMATY -- Stepped-up Russian military activity in Central Asia, purportedly aimed at countering any Taliban threat from Afghanistan, has left observers sceptical about the true motives of the Kremlin.
Recent weeks have seen a flurry of joint military drills in the region, as the Russian regime professes concern for the security of the former Soviet Central Asian republics.
Russian tanks stationed at the 201st Military Base in Tajikistan arrived at training grounds near the border with Afghanistan ahead of army drills next month, the Russian Defence Ministry said Tuesday (July 20).
The 201st is Russia's largest military base abroad.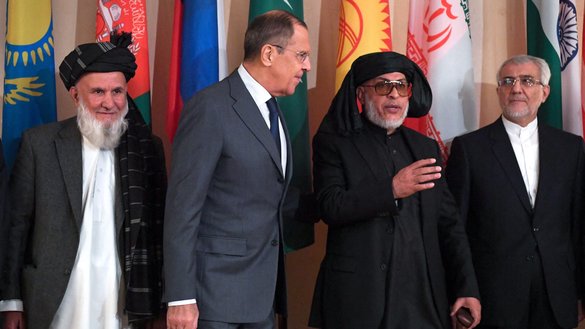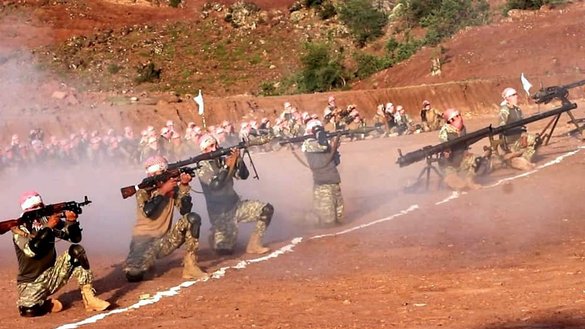 Russia, Tajikistan and Uzbekistan are scheduled to hold joint military manoeuvres near the Tajik-Afghan border between August 5 and 10, Radio Free Europe/Radio Liberty reported.
The drill will take place on Tajikistan's Harb-Maidon military training ground, according to the commander of Russia's Central Military District, Alexander Lapin.
The purpose of the exercise is to "sharpen joint military efforts against illegal armed units that invade an ally", Lapin said Monday.
Separately, about 1,500 troops from Russia and Uzbekistan will take part in a joint drill in Uzbekistan from July 30 to August 10, the Russian Defence Ministry announced.
About 1,000 Russian servicemen stationed at the 201st Military Base took part in exercises last week.
The purpose of the drill was to practice the "planning and comprehensive support of combat operations in a dynamically changing situation" -- a reference to increased Taliban activity in Afghanistan -- the Russian Central Military District press office said.
Two-faced Russia
The Taliban have in recent weeks seized control of parts of northern Afghanistan, including the Sher Khan Bandar border crossing in Kunduz province, across the Panj River from Tajikistan.
The Taliban also attacked the Balkh province districts of Kaldar and Shortepa, which border Uzbekistan and Tajikistan.
If necessary, the Kremlin is ready to provide additional "assistance to Tajikistan in ensuring security on the border with Afghanistan", Russian officials have said.
Russia is ready to ensure the security of its partners in the Collective Security Treaty Organisation (CSTO) -- which includes Kazakhstan, Kyrgyzstan and Tajikistan -- Russian Foreign Minister Sergey Lavrov said July 7.
"We will do everything, including using the capabilities of our military base on Tajikistan's border with Afghanistan, in order to prevent any aggressive claims against our allies," he said.
But Russian officials appear to be overstating the threat in order to push their own agenda in Central Asia, observers say.
For a country that has been filling the calendar with joint military exercises, Russia is strikingly unapologetic about hosting the Taliban for various talks -- and even arming them.
On July 8, Russian officials held talks in Moscow with the Taliban on Afghan matters, even though the group is banned in Russia as a terrorist organisation.
"The Taliban delegation reassured the Russian side that the Taliban would not violate the borders of the Central Asian counties and also provided guarantees of the safety of foreign countries' diplomatic and consular missions in Afghanistan," the Russian Foreign Ministry said in a statement.
'Undeclared war in Afghanistan'
Kasym Bekmukhammedov, a Tajik political scientist who has visited Afghanistan several times, pointed out the irony in Russia's close relations with the Taliban.
In 1995, when Zamir Kabulov, who is now Russia's presidential envoy to Afghanistan, conferred in Kandahar with Taliban founder Mullah Mohammad Omar, in an attempt to free a downed Russian airplane crew, there was a map of the future Taliban empire on the wall behind him, Bekmukhammedov recalled.
"Moscow and the Kremlin [were] listed as part of the Islamic Emirate," he said.
"It is unlikely that he could have failed to notice it then. Now Kabulov and Russia trust the Taliban's promises not to attack their neighbours."
Perhaps most damning, the Russian government has been equipping, arming and funding the Taliban for years.
Russian support has been flowing to the Taliban and Haqqani Network in western Afghanistan since at least 2015, security sources and officials in the region told Salaam Times in 2017.
Such support, including weapons and ammunition deliveries and training by Russian advisers, was previously reported in the north.
"Security forces in [western] battlefields have repeatedly found modern Russian weapons used by the Taliban, kinds that are available only to Russian forces," a security source in Afghanistan's western regions said on the condition of anonymity.
"By providing financial and arms support to terrorist groups such as the Taliban and Haqqani Network, Moscow is involved in an undeclared war with Afghanistan," said the source.
Meanwhile, the Russian regime was giving the Taliban about $2.5 million a month through fuel sales, the London Times reported in 2017, citing Taliban sources.
Kremlin scare tactics
Russia views the Taliban threat as nothing more than a convenient excuse for frightening the region and pulling it closer into its orbit, said Dosym Satpayev, director of the Almaty-based Risk Assessment Group consultancy.
With the withdrawal of US and NATO forces from Afghanistan, Moscow sees an opportunity to increase its influence in Central Asia, he said.
"Russia regularly reminds Central Asian countries of threats from Afghanistan in order to strengthen its position as the guarantor of security in the region," Satpayev said.
In the current situation, Moscow is using Afghanistan as a pretext to try to achieve a closer military and political partnership with Central Asian states under the CSTO.
But the Kremlin considers these states satellites, not allies, Satpayev said, pointing out that earlier this month Russian officials presumptuously made statements on behalf of all of Central Asia.
At a July 12 news conference, Lavrov announced that Central Asian countries were not interested in hosting US military bases, after media reports suggested the possibility of transferring US troops from Afghanistan to Central Asia.
"Questions of a foreign military presence in CSTO countries require consensus within the organisation," he stressed, adding that the emergence of new US military facilities was not in the interests of regional security.
Threatening Central Asia's sovereignty
Lavrov's words clearly prove that Russia's true interest lies in serving its own geopolitical objectives, not in protecting Central Asia, said Mars Abayev, a Bishkek-based correspondent for Orbita.kg.
"If there were American military bases in our countries, we would have greater protection, but Russia does not want 'rivals' here," he said.
Russia's military presence in Central Asia is likely to expand in the foreseeable future under the pretext of "ensuring stability", he said.
Rather than ensuring stability, however, a stronger Russian military presence would threaten the sovereignty of the region's countries and could serve as a decisive pressure lever in key political decisions, he said.
"The countries of Central Asia already depend on Russia -- both economically and in terms of defence," Abayev said.
"But what kind of sovereignty could we speak of if this power has even stronger forces and military equipment on our territory?" he said. "Our governments will become nothing more than puppets."
He pointed to Russia's annexation of Crimea in 2014 -- which was executed with a military unit that the Kremlin built up in advance for that purpose.
"Didn't the bitter Ukrainian experience teach us anything?" Abayev said.