ALMATY -- As one of the first countries in Central Asia to repatriate citizens who had gone to Syria and Iraq, Kazakhstan two and a half years later is taking stock of what it has accomplished so far.
Operation Jusan (Bitter Wormwood), a series of repatriation flights from Syria between 2019 and 2021, brought back more than 700 Kazakh nationals, including 188 women, from territories formerly held by the "Islamic State" (IS).
The women have attended social rehabilitation sessions and job trainings to help them reintegrate into society, while children are enrolled in school or placed in summer camps.
Operation Jusan has concluded, Kazakh National Security Committee (KNB) Deputy Chairman Nurgali Bilisbekov told parliament February 6.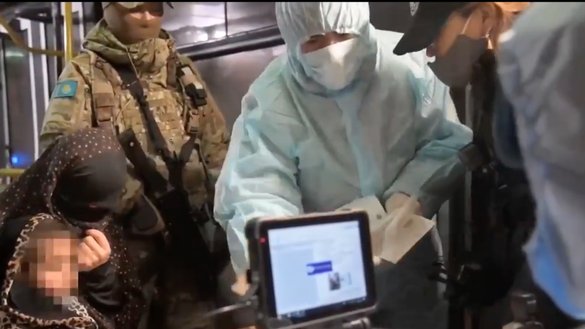 The final flight, Operation Jusan-5, repatriated 12 citizens including four men, one woman and seven children, two of whom were orphaned.
The KNB carried out the operation in collaboration with the Foreign Ministry, and with the support of the United States and other international partners.
In keeping with national law and international commitments, Kazakhstan will prosecute anyone who participated in terrorist activity, the ministry said.
The woman and the children joined rehabilitation and resocialisation programmes, while the orphans were placed in the care of their closest relatives and the government provided them with all the assistance they needed, according to the ministry.
Rehabilitating and raising awareness
About 95% of the repatriated women have abandoned their former extremist views, while 20 women have been prosecuted as militants, said Gulnaz Razdykova, director of the Centre for Analysis and Development of Interfaith Relations (TsARMO) in Pavlodar.
TsARMO is one of several non-governmental organisations working to rehabilitate former extremist women.
"When we were starting to work with [repatriated women] in 2019, we set a goal of conducting social rehabilitation and adaptation since they returned with certain radical views," said Razdykova.
The organisation is now doing work in three focus areas.
The first is the self-actualisation of these women, meaning that they go through psychological training designed to help them understand how they fell for recruiters' sales pitches, what they were seeking in radical philosophy, why their hopes were not fulfilled, and what behaviour scenario they will choose moving forward.
The end goal is to produce a new behaviour model and accountability for their actions, Razdykova said.
The second focus area is the study of traditional Islam, in particular the Hanafi school of jurisprudence that is widespread in Kazakhstan.
The third is social adaptation, career guidance and training in life skills.
"It is important that these women not live as parasites with the belief that the state is obligated to fully provide for them," Razdykova said. "They need to support themselves and their children. How can they do that? By getting a career and finding a job."
Creating job opportunities
To help the repatriated women find new careers, the government organises free short-term training courses in which the women receive a 17,000 KZT ($40) stipend per month.
The women most often become hairdressers, nail technicians, masseuses and paramedics, Razdykova said.
"Last year was the Year of Youth in Kazakhstan, and in honour of this occasion, residents up to the age of 29 were entitled to receive 500,000 KZT ($1,170) in government grants for their start-ups if they had a good business plan," she said.
"Under this initiative, one of the women repatriated from Syria opened a snack bar that now has three locations, another woman opened a bakery and a third opened a hair salon," Razdykova said.
The government also enrolls children in kindergartens and schools, places them in summer camps, and enlists businesspeople to "sponsor" them by buying their school clothing and school supplies.
In addition, Khariket, a local charity, secured housing for five Operation Jusan women with large families, Razdykova said.
The directorate of religious affairs in every province and the Spiritual Administration of Muslims in Kazakhstan (DUMK) are also working to help rehabilitate the women, she added.
Building confidence in the future
One of the first NGOs to work with women and children returning under the auspices of Operation Jusan is Chance, which provides legal and psychological assistance for at risk juveniles.
At first, the Kazakh government did not provide funding for the provincial Chance rehabilitation centres where repatriated women and children were sent after completing processing at the mass intake centre in Aktau, said Olga Ryl, director of the NGO.
"We need to give credit to the [DUMK], which during that time bought clothing for the women and children," she said. "Universities in Nur-Sultan also collected 5 million KZT ($11,740) in donations to support the women."
Chance took extreme measures to ensure the women received the help they need, said Ryl.
"We sold our office and invested the money in developing these centres -- it went to the psychologists' and teachers' salaries, renting spaces in the provinces, and payment for utilities and medical assistance," she said.
"In the second half of 2018 and 2019, the government paid for training courses for the women and funded the purchase of food packages and wardrobes for the children these women brought back with them from Syria and Iraq," Ryl said.
"At first it paid 15,000 KZT ($35) per child per month... and then the sum was increased to 22,000 KZT ($52)," she said.
"To change someone's worldview, he [or she] needs to be confident that he [or she] and their children will be able to eat, that the children will go to school and that they'll live a peaceful life," Ryl said.
Faced with the interruption of government funding, the Chance centres are looking for other donors.
"We have a small joint project with Kyrgyzstan that is focused on socialising women by helping them acquire an occupation and develop a micro-business," Ryl said.
"Financial support comes from the diplomatic missions of several countries, such as Israel and Germany," she added.
"We used the allocated funds to buy equipment and open a hair salon in Atyrau where our women can give haircuts without paying rent," she said. "We also started a pastry shop and delicatessen where women of pre-retirement age bake bread."