ISLAMABAD -- Recent agreements inked between Pakistan and Uzbekistan, including those covering the exchange of goods through Afghanistan, are a milestone for regional integration and stability, say officials.
Pakistani Prime Minister Imran Khan on July 15 headed a high-level delegation to Tashkent to sign several agreements to strengthen co-operation with Uzbekistan in various fields, including trade and investment.
"Pakistan attaches significant importance to close ties and deeper engagement with Central Asia and particularly Uzbekistan, one of the biggest economies in the region," Khan said during an event inaugurating the newly created Uzbekistan-Pakistan Business Forum.
Pakistan's connectivity with Uzbekistan is of vital importance, as improved trade will open new avenues for regional prosperity and development, he said.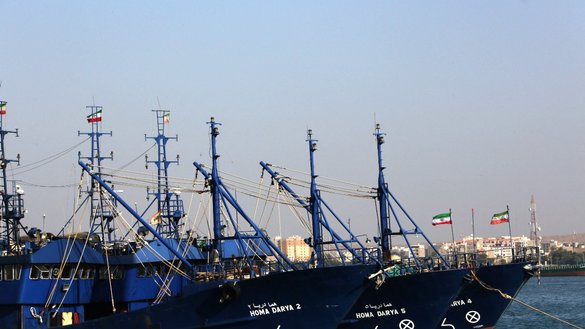 Khan's visit will usher in a new era of co-operation and joint ventures, said Uzbek Prime Minister Abdulla Aripov, highlighting the strong ties between the two countries.
A day before Khan's arrival, both sides agreed to form joint working groups in the agriculture, information technology, education and mineral sectors to boost co-operation ahead of an intergovernmental commission meeting, the Pakistani government said in a statement July 14.
Uzbek Deputy Prime Minister and Minister of Investments and Foreign Trade Sardor Umurzakov and Abdul Razak Dawood, Khan's adviser on trade and investment, co-chaired the meeting.
The trans-Afghan corridor that connects Uzbekistan and Pakistan will play an important role in enhancing trade between the two countries, they agreed.
Both countries agreed to deepen their partnership in industrial co-operation, including by organising joint ventures in the textile industry, the assembly of agricultural machinery, and the processing and packaging of fruit and vegetable products.
The two sides inked a total of $500 million worth of deals, the Tashkent Times reported.
Avenues of co-operation
Landlocked Uzbekistan and other Central Asian countries are often forced to rely on Iranian ports to conduct international trade. Pakistan is encouraging them to use its seaports instead.
Uzbekistan exports its goods via the Iranian port of Bandar Abbas, which requires a long overland route, according to Mujtaba Hussain, a Karachi businessman who deals in overseas trade.
"The route through Afghanistan to ... Karachi in Pakistan is about 2,800km shorter than the route to Bandar Abbas in Iran," he said.
Work is under way to develop the land route between Uzbekistan and Pakistan.
Under the Transports Internationaux Routiers (TIR) Convention, the two countries exchanged trucks on an experimental basis earlier this year to assess various routes in Afghanistan.
"The TIR procedure enables goods to move under customs control across international borders without the payment of the duties and taxes that would normally be due at importation (or exportation)," according to the European Union.
A truck full of medicine left Karachi on April 9 and reached Tashkent on May 4, passing through Afghanistan and Uzbekistan.
Similarly, an Uzbek truck carrying leather goods left Tashkent on May 9 and reached the Torkham border crossing between Afghanistan and Pakistan on May 11. The truckload reached Faisalabad May 13.
The US Agency for International Development (USAID) provided technical and financial support for the project. The initiative is intended to "boost regional trade integration and connectivity", said USAID.
"We have planned to transport goods under the TIR Convention because the first-ever truck from Uzbekistan reached Pakistan ... in 48 hours," Dawood, Khan's adviser on trade and investment, told Pakistani media July 4, according to the Express Tribune.
"The [Pakistani] government is contemplating offering loans to the transporters to update the country's dilapidated logistics network," he said.
Peace efforts in Afghanistan
Khan's meeting comes after regional efforts to build peace in Afghanistan amid the withdrawal of US and NATO forces.
Pakistan, Uzbekistan, Afghanistan and the United States in mid-July formed a new quadrilateral diplomatic platform to support peace and stability in Afghanistan and foster regional trade and business ties, the US State Department announced in a statement July 16.
"Recognising the historic opportunity to open flourishing interregional trade routes, the parties intend to co-operate to expand trade, build transit links and strengthen business-to-business ties," the statement said.
Khan and Afghan President Ashraf Ghani conferred in Tashkent on the sidelines of the conference, where the two leaders "agreed to further enhance Pakistan-Afghanistan bilateral relations", the Pakistani Foreign Ministry said July 16.
The two sides agreed "to undertake necessary measures through mutual consultations to evolve [a] bilateral mechanism to address each other's concerns in the security arena", it said.