BISHKEK -- The Kyrgyz government is facilitating local entrepreneurs' access to a US government programme designed to expand opportunities for businesses in developing countries to export their products to the United States.
Established in 1974, the Generalised System of Preferences (GSP) is the US government's oldest and largest trade preference programme.
It promotes sustainable economic development in beneficiary countries by eliminating duties on thousands of products, helping these countries to increase and diversify their trade with the United States.
President Sadyr Japarov last week instructed Prime Minister Ulugbek Maripov to use the GSP to strengthen relations between Kyrgyzstan and the United States and to support Kyrgyz entrepreneurs at the governmental level.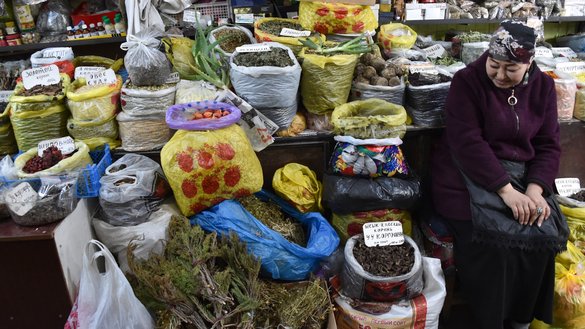 The GSP allows developing countries to export up to 5,000 product types to the United States duty free, including rare, high-quality agricultural products, the presidential press office said in a statement July 27.
In particular, Kyrgyzstan can export domestically produced goods such as mountain honey, sea buckthorn (seaberry), plums, peanuts, trout, and the meat of yaks and other animals, the statement said.
"Work is presently under way with the relevant government agencies to create at the governmental level all the conditions necessary for Kyrgyz entrepreneurs to take full advantage of this American programme," it said.
Momentum for growth
Kyrgyzstan and the United States have stepped up mutual trade in recent years, but there is still room for growth, data show.
In 2019, Kyrgyzstan's two-way trade with the United States was $26 million, according to the Office of the US Trade Representative.
Kyrgyz exports to the United States reached $5 million -- down 29% ($2 million) from 2018 and down 12% from 2009 -- while Kyrgyz imports from the United States reached $21 million -- up 22.1% ($4 million) from 2018 but down 63% from 2009.
As part of the balance of trade, Kyrgyz exports of agricultural goods have steadily increased since 2017, a trend local businesspeople are hoping will continue with the GSP programme.
Asyl Kumenov, CEO of OIMO Foods, a Bishkek-based organic food company, is confident that the GSP will open up new export prospects for Kyrgyz businesses.
"The United States is a very attractive and promising market for developing countries such as Kyrgyzstan," he said. "To get into there and gain a foothold would be a big success."
Some producers already have experience in exporting Kyrgyz honey and dried fruit to the United States, he said.
Additionally, before the COVID-19 pandemic, when the Kyrgyz government had not yet restricted the export of key foods in order to ensure food security, Kyrgyz rice was in high demand in specialty shops in New York City, he said.
"The GSP is an excellent opportunity," Kumenov said. "I hope our government will really support Kyrgyz entrepreneurs by promoting the creation of new supply chains."
OIMO Foods is a beneficiary of the US Agency for International Development (USAID).
With financial support from USAID, the company in 2017 launched a facility for processing and producing finished packages of nuts and dried fruit in Osh province.
Removing barriers to trade, travel
Taking full advantage of the GSP will open the door to new markets and enable Kyrgyzstan to position itself as an exporter of natural, environmentally friendly, high-quality products, analysts say.
"We have beautiful nature; clean, wholesome food; and natural vegetables and fruit, in contrast to Chinese products, which are stuffed with chemicals," said Bishkek-based economist Elmira Suranchiyeva.
If Kyrgyzstan can solve its logistical problems, exporters have every chance to gain their place in the American marketplace, she said.
Amazon, the American e-commerce giant, also recently greatly simplified Central Asian manufacturers' market access.
Since May 24, manufacturers in Kyrgyzstan, Kazakhstan, Uzbekistan, Tajikistan and Turkmenistan have been able to register directly on Amazon to sell their goods.
The United States has opened more than just its market to Kyrgyzstan this year.
In January, US President Joe Biden signed an executive order removing restrictions that had "suspended the entry of Kyrgyz immigrants".
Announcing the removal of the restrictions, the US embassy in Bishkek welcomed the "significant travel-related security improvements [the Kyrgyz government] made over the past 12 months".
"New Kyrgyz electronic passports and closer law enforcement co-operation will make us all safer, both here in the Kyrgyz Republic and around the world," the embassy said.
In May, Kyrgyz citizens began receiving new passports containing biometric identification chips.
Bishkek, in turn, expressed optimism regarding the development of Kyrgyz-US relations.
"Тhe Kyrgyz side is interested in implementing new projects in the economy, investments, health care and education, as well as in introducing the latest technologies in all parts of life," the Kyrgyz Foreign Ministry said in a statement released in January.
In another sign of improving relations, delegations from the C5+1 group of countries -- Kazakhstan, Kyrgyzstan, Tajikistan, Turkmenistan, Uzbekistan and the United States -- met in mid-July during an international conference in Tashkent to discuss a number of prospects for development.