AVAZA, Turkmenistan -- Leaders of five Central Asian countries sounded the alarm over the spiral of war in neighbouring Afghanistan at a regional summit Friday (August 6).
Negotiations in the Caspian Sea town of Avaza are under way as the Taliban challenge Afghan government forces in several large cities after weeks of gaining ground in the countryside, including in provinces next to the three former Soviet republics that border the country -- Tajikistan, Turkmenistan and Uzbekistan.
"A number of terrorist organisations are actively strengthening their positions in these areas," Tajik President Emomali Rahmon claimed in his address to the summit, referring to the Tajik-Afghan border zone.
Uzbek counterpart Shavkat Mirziyoyev called for a full ceasefire and "mutually acceptable negotiated compromises" at talks.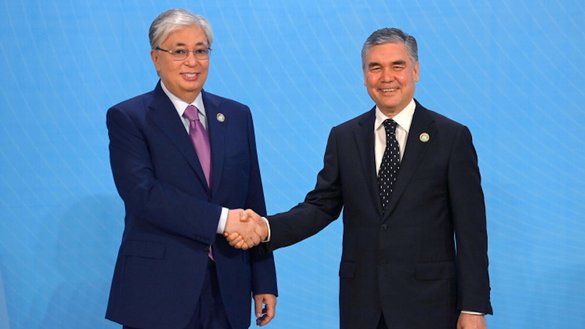 Turkmen President Gurbanguly Berdymukhamedov described Afghanistan as "the question that worries all of us" on Wednesday.
Meanwhile, Moscow has been participating in joint military drills close to Afghanistan's borders in both Tajikistan and Uzbekistan, yet many say Russia is using the Taliban threat as a pretext to persuade countries to allow deeper Russian military penetration.
Concerns over Taliban advances
Fighting in Afghanistan's long-running conflict started to intensify in May, when the US and other Western forces began a withdrawal process due to be completed by the end of this month.
In June, the Taliban captured Sher Khan Bandar, Afghanistan's main crossing with Tajikistan, while government troops have been forced to retreat into both Tajikistan and Uzbekistan in recent weeks amid heavy clashes with the group.
The Taliban have insisted they have no plans for Central Asia and have established official rapport with both Uzbekistan and Turkmenistan as they cast themselves as a government in waiting.
But analysts argue that an increasing security vacuum in Afghanistan and the loss of the region's growing economic co-operation with Kabul could pose a threat to Central Asia.
Taliban assurances to the Central Asian states look increasingly hollow as the extremist group wages war against civilians and an assassination campaign against government officials.
The Taliban assassinated Afghan government spokesman Dawa Khan Menapal Friday at a mosque in Kabul. That slaying comes three days after the insurgents tried but failed to kill Defence Minister Bismillah Mohammadi at his house.
The US embassy Monday condemned a recent Taliban massacre of dozens of civilians in Spin Boldak, Kandahar province. "These murders could constitute war crimes; they must be investigated & those Taliban fighters or commanders responsible held accountable," the embassy said in a tweet.