ALMATY -- Last week's regional summit of Central Asia's heads of state is the latest evidence of warming ties and growing co-operation among the five Central Asian countries.
This comes at a time when Russia is stepping up its military activity in the region, purportedly aimed at countering Taliban threats from Afghanistan, which has left observers sceptical about the true motives of the Kremlin.
The leaders of Turkmenistan, Uzbekistan, Kyrgyzstan, Kazakhstan and Tajikistan met on August 6 in Avaza, Turkmenistan, to discuss regional challenges, marking the latest step toward regional co-operation.
The consultative conference of the five presidents was the third such summit of its kind. The first was held in March 2018 in Nur-Sultan, and the second in November 2019 in Tashkent.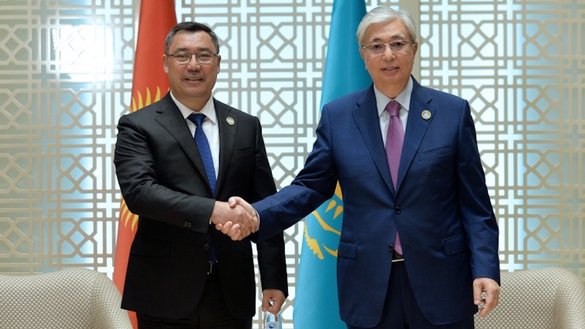 On the agenda was security co-operation in regards to Afghanistan, where the Taliban are taking over an increasing number of provinces.
The Taliban are challenging Afghan government forces in cities and countryside, including in provinces that border Tajikistan, Turkmenistan and Uzbekistan.
In Avaza, the Central Asian leaders said they would provide "all possible assistance to achieve civil peace and harmony in Afghan society as soon as possible", according to a joint statement.
They also declared support for "the efforts of all interested states and international organisations, which are aimed at ensuring security and stability in Afghanistan, restoring the country's socioeconomic infrastructure, and bringing the country into world economic ties", the statement said.
The stance mirrors an earlier framework chosen by the Central Asian countries at an international conference held in Tashkent on July 15-16 involving the C5+1 group, which includes all five Central Asian states and the United States.
Regional co-operation
The heads of state in Avaza discussed how to jointly develop and strengthen Central Asia through closer political and economic co-operation.
Priority areas include the following: security and stability, trade, the economy and investments, transport and transit, agriculture and food security, water and energy resources, environmental protection and gender equality.
The region in particular wants to become stronger economically by developing its financial system and attracting investment.
The leaders agreed on a number of initiatives.
The Central Asian countries resolved to use the Astana International Financial Centre (AIFC) in Kazakhstan as an economic platform to connect themselves with each other and with foreign investors.
The Central Asian states also planned to co-operate more closely in transport and transit, ensuring the unhindered transit cargo and creating new international routes and modernising existing ones.
They also discussed how to mitigate the effects of climate change, combat desertification, use water rationally, preserve glaciers and reclaim uranium tailings remaining from Soviet times.
The Central Asian states intend to co-operate with the UN in environmentally restoring Semey (formerly Semipalatinsk), Kazakhstan, which the Soviet regime used as a nuclear test site for 40 years, with no regard for public health or the environment.
Threat to Russian regional ambitions
The summit is a sign of growing co-operation among Central Asian countries, which had remained largely fragmented for more than two decades until Mirziyoyev came to power in Uzbekistan in 2016.
Since then, Mirziyoyev has put regional integration at the forefront of his foreign policy.
The Kremlin, which prefers Central Asia to be weak and dependent, is not keen on Central Asian efforts to come together, said Urazgali Selteyev, director of the Institute for Eurasian Integration in Nur-Sultan.
"The heads of state of Central Asia are actually finding a common language and compromises, demonstrating interest in close co-operation like never before," Selteyev told Caravanserai.
Russia, though, wants to pull the region closer into its orbit and views the Taliban threat as nothing more than a convenient excuse for achieving that goal.
"Russia regularly reminds Central Asian countries of threats from Afghanistan in order to strengthen its position as the guarantor of security in the region," Dosym Satpayev, director of the Almaty-based Risk Assessment Group consultancy, told Caravanserai earlier.
Moscow is using Afghanistan as a pretext to make Central Asian states quasi-satellites within the Russian-dominated Collective Security Treaty Organisation (CSTO).
Other challenges
Central Asian analysts are pointing to other crises and challenges.
The region's countries should focus on internal problems like drought and scarce water, rather than on Afghanistan, said Marat Shibutov of Almaty, a political scientist and member of the Kazakh National Council of Public Trust.
"These problems, if not resolved, may lead to acute regional conflicts," Shibutov told Caravanserai.
"In our countries, the understanding of the need for integration in key areas of development is becoming more and more solid," wrote Alisher Sabirov of Tashkent, a department chief at the International Institute of Central Asia, in an August 6 article.
He quoted the late Kyrgyz author Chingiz Aitmatov: "Historical solidarity, linguistic similarity and common traditions and customs give us innumerable opportunities to be together and jointly build a new world, a unified civilised community."