ASHGABAT -- Seeking to exploit Central Asian anxieties, the Russian regime is portraying the war in Afghanistan as a reason for the former Soviet Central Asian republics to cling to Moscow for protection.
Three former Soviet republics -- Tajikistan, Turkmenistan and Uzbekistan -- border Afghanistan. All have long experience with Afghanistan and keep a close eye on their shared frontiers with the war-torn country.
As the Taliban make gains in Afghanistan, Russian forces have held joint exercises with Tajikistan and Uzbekistan, while making clear to long-neutral Turkmenistan that Mother Russia is ready to protect it too.
Even while claiming to support those countries, the Kremlin has armed, equipped and funded the Taliban since at least 2015.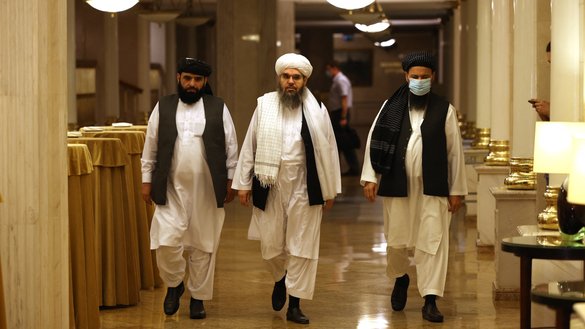 On July 8, the Kremlin again betrayed its insincerity regarding the Taliban by holding talks in Moscow with the militants, even though the group is banned in Russia as a terrorist organisation.
"The Taliban delegation reassured the Russian side that the Taliban would not violate the borders of the Central Asian counties and also provided guarantees of the safety of foreign countries' diplomatic and consular missions in Afghanistan," the Russian Foreign Ministry said in a statement.
Familiar Russian panic-mongering
Turkmenistan is accustomed to the Russian narrative that the Taliban covet Turkmenistan's natural gas and consider the country a "tasty morsel".
That narrative played out again in an August 5 EurAsiaDaily article by commentator Alan Pukhov, said Ashgabat journalist and political analyst Dovlet Muradov.
Afghan militants value Turkmenistan more than they value Tajikistan or Uzbekistan, claimed Pukhov, contending that the Taliban have their eyes on Galkynysh, the world's second largest natural gas field.
Commentaries like Pukhov's are meant to terrify Turkmens into seeking Russia's sheltering wing, said Muradov, noting that they always portray Turkmenistan as incapable of defending itself.
"The idea is that Turkmenistan is weak and defenceless in the face of a real threat because it is outside Russia's and the CSTO's sphere of influence," he added, referring to the Russian-dominated Collective Security Treaty Organisation (CSTO) military alliance.
Having been officially neutral since 1995, Turkmenistan joins no military blocs and hosts no foreign troops -- a quarter-century record that Russia is eager to end.
What Russia wants
The Kremlin would like nothing more than for Turkmenistan to emulate Tajikistan and Uzbekistan's recent example. In August, both held joint exercises with Russia.
Russia wrapped up the joint exercises Tuesday (August 10) at the Harb-Maidon training ground in Tajikistan, according to AFP.
At the training ground, helicopters and fighter jets soared overhead and tanks raced in combat formation as troops from Russia, Tajikistan and Uzbekistan engaged in a simulation targeting an incursion from the south by extremists.
The week-long exercises followed smaller Russian-Uzbek drills held near Uzbekistan's border with Afghanistan that concluded last week.
Turkmenistan, though, rejects offers of such training and protection from Russia.
Instead, it is stepping up deployments along the entire Turkmen-Afghan frontier, said Serdar D., a Turkmen diplomat who requested anonymity.
"Only Turkmenistan is not allowing itself to get drawn into Moscow's military and political ambitions, and it is staying aloof, but apparently someone in the Kremlin doesn't like that," he said.
On July 9, the independent outlet Turkmen.news was the first to report on the arrival of a train with heavy military equipment in Serhetabat (formerly Kushka), near the Afghan border.
The train carried tanks, armoured personnel carriers and artillery, according to Turkmen.news.
That hardware is meant for anyone who violates Turkmenistan's territorial integrity, said Muradov.
"The heavy military equipment should cool the head of anyone who is hatching plans to create an Islamic caliphate in our region," he added.