BISHKEK -- An effort to make Russian textbooks and instruction conform to the state's interests and to make them uniform, even in places and countries inhabited by non-Russian peoples, has Kyrgyz analysts expressing their concerns.
On July 30, Russian President Vladimir Putin created the Interagency Commission on Historical Education "with the aim of ensuring a systematic and proactive approach to defending the Russian Federation's national interests when it comes to preserving the historical memory and developing educational activity in history".
The commission will analyse the "activity of foreign entities" that harm Russia's interests and will plan "counter-propaganda campaigns".
Its members include officials from Putin's staff, security agencies and various ministries.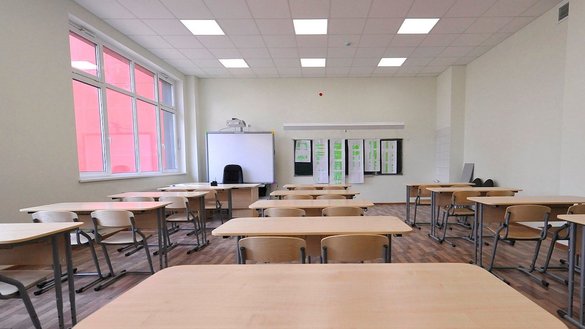 The chairman of the commission is Putin aide Vladimir Medinsky, who has faced scrutiny in the past.
A doctoral dissertation in history submitted by Medinsky in 2011 had substantial errors, inaccuracies and blatant plagiarism, according to analysts from Dissernet, a volunteer group that combats plagiarism in Russian academia.
However, in 2017, the then-Education and Science Ministry refused to take away Medinsky's degree.
In March, Medinsky also became embroiled in an international scandal after he suggested that the Federation Council, Russia's upper chamber of parliament, investigate how "Great Russian lands ended up in Ukraine, Kazakhstan and even Belarus".
Fears in Russia, Kyrgyzstan
The distortion of historical tragedies in the Soviet Union, including in the Central Asian states, has long been a hallmark of Putin's regime.
The Kremlin's new policy on history education will portray the past in such a way as to make the present seem magnificent, Russian historian and TV host Nikolai Svanidze said in August on Radio Free Europe/Radio Liberty (RFE/RL)'s Russian service.
"It was more than magnificent under [Tsar] Nicholas I, it was more than magnificent under Stalin, it is magnificent today -- this is what the commission is going to espouse," Svanidze said. "If anyone strays from that line, the commission will beat them across the hands, head and other body parts."
Having security agencies on the commission marks a shift from education to intelligence work, TV host Mikhail Sokolov said on the same episode of RFE/RL's "Facing Events".
"Enacting measures, carrying out certain actions, counter-propaganda. What's the next step? Is it a Ministry for Truth or a Ministry of Propaganda?" Sokolov said.
Kremlin efforts to politicise history could have negative ramifications for Kyrgyzstan as well, say Kyrgyz observers.
The former Soviet republic was itself a victim of mass executions and other terror under Soviet dictator Joseph Stalin.
The Russian regime is continuing to "tighten the screws", said Bishkek political analyst Askat Dukenbayev.
"They've now also gotten hold of history to promote interpretations of past events that benefit the regime," Dukenbayev told Caravanserai. "It's commonly known that 'whoever controls the past controls the future; whoever controls the present controls the past.'"
"But in terms of the activities of Putin's historians, we could add, 'Whoever controls the past controls the present.'"
Kyrgyz news and social media are still connected to Russia and still bear the heavy influence of the Kremlin, said Dukenbayev.
The "Medinsky commission" aims to idealise the history of the Russian empire, which Putin wants to restore, he said.
"We see this, for example, on the pages of the pro-Kremlin media in Kyrgyzstan, which year in and year out glorify the Soviet past, with obvious or not obvious hints about the hardships of post-Soviet Kyrgyzstan's independence," Dukenbayev said.
"Unfortunately, the negative influence of the Russian trend on our information space is intensifying because there is no independent, professional historical school of thought in Kyrgyzstan," he added.
"That's probably why some of our prominent historians continue to blindly articulate the antiquated narratives of their Russian colleagues."
Russian efforts under way
Russia already has teachers on the ground in Kyrgyzstan, as well as other ways of influencing Kyrgyz schoolchildren.
In 2019, the "Russian Teacher Abroad" programme began operating in Kyrgyzstan. Every year, teachers from Russia go to Kyrgyz cities to teach Russia curricula.
Rossotrudnichestvo, a Russian agency that implements humanitarian projects in the Commonwealth of Independent States (CIS) -- which includes Kyrgyzstan -- and is known as an instrument of Russian "soft power", distributes textbooks on Russian language, literature and history, as well as Russian grammar books, to Kyrgyz schools.
In addition, it provides children's literature, study aids for children's speech development and visual aids in Russian to local kindergartens.
Kyrgyz children should have a Kyrgyz curriculum rather than learn history delivered by foreign ideologues, said Anara Ismailova, a history teacher at School No. 2 in Jalal-Abad.
"Why do our children need to study history that corresponds to Russia's interests?" Ismailova told Caravanserai. "They're our future, and they need to know about real historical facts, especially about how the relations of our people with the Russian Empire developed."
The Kyrgyz government needs to monitor and limit Russia's aggressive educational influence on Kyrgyz schools, said Ismailova.