US President Joe Biden Thursday (August 26) pledged to hunt down the perpetrators of the deadly Kabul airport suicide bombings claimed by the Khorasan branch of the "Islamic State" (IS-K).
Two explosions went off as crowds gathered outside Kabul's Hamid Karzai International Airport on Thursday in the final days of an evacuation effort from Taliban-controlled Afghanistan, killing at least 85 people including 13 US troops.
Ten of those killed and several wounded were US Marines, Marine Corps spokesman Major Jim Stenger said in a statement.
With people searching for missing relatives in hospitals on Friday, there were fears the death toll would climb.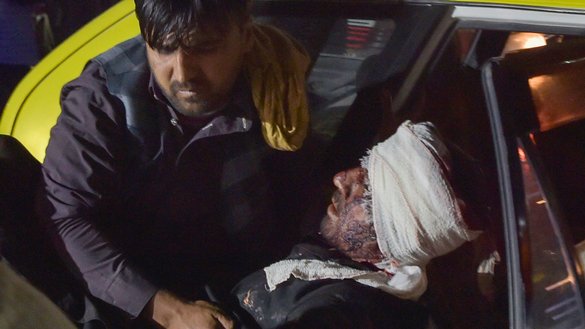 "To those who carried out this attack as well as anyone who wishes America harm, know this: We will not forgive. We will not forget. We will hunt you down and make you pay," Biden said.
He said the United States would not be deterred from its mission to evacuate thousands of civilians from Afghanistan, and would stick to its deadline of withdrawing all troops from Afghanistan by August 31.
Flights had resumed on Friday. More than 100,000 people have been flown out of the country since the Taliban swept into power on August 15.
The bombings, claimed by IS-K on Amaq, its media outlet, struck near the main gate of Kabul airport Thursday as the sun started to set.
The twin bombings, which Pentagon spokesman John Kirby described as a "complex attack", came just hours after Western officials said they had intelligence that suicide bombings were planned against the airport.
One bomb went off at Abbey Gate, the main entrance to the airport, "and at least one other explosion occurred at or near the Baron Hotel", about 200m away, Kirby said.
The Baron Hotel had been used by some nations as a staging point for evacuations since the airlift began on August 14.
The US government and its allies had raised the alarm earlier in the day with a series of advisories warning their citizens to avoid the airport.
US and allied officials Thursday said they had intelligence that suicide bombers tied to IS-K were threatening to attack the airport ahead of the August 31 evacuation deadline. Biden cited an "acute" terrorist threat from IS-K.
Belgian Prime Minister Alexander De Croo referred to a threat from suicide bombers, while the United Kingdom also issued a warning to its citizens.
Despite the warnings of a looming terror threat, huge crowds desperate to flee the Taliban continued to throng the airport.
Carnage at airport perimeter
The explosions tore through a crowd at the perimeter of the airport, leaving some victims face-down in a shallow, fetid canal.
"Bodies, flesh and people were thrown into a canal nearby," Milad, who was at the scene of the first blast and was identified only by his first name, told AFP.
Rescuers ferried wounded victims in blood-soaked clothes away in wheelbarrows, as stunned survivors shouted for help searching for loved ones in the carnage.
One man held a semi-conscious victim by the elbow, trying to stop his head from slipping beneath the surface of the murky water.
"When people heard the explosion, there was total panic. The Taliban then started firing in the air to disperse the crowd at the gate," a witness told AFP on condition of anonymity.
"I saw a man rushing with an injured baby in his hands."
Thick smoke billowed into the sky as men, women and children fled the scene.
The Italian NGO Emergency said the hospital it operates in Kabul had been overwhelmed by more than 60 casualties, 16 of whom were pronounced dead on arrival.
The injured "could not speak, many were terrified, their eyes totally lost in emptiness, their gaze blank", the hospital's medical co-ordinator, Alberto Zanin, said in a post on the group's Twitter account.
The casualties brought to the hospital "were all civilians: women, children", said Emergency President Rossella Miccio.
In a statement, the US State Department expressed grief for those who perished, including "Afghans gathered near the airport hoping for a chance to start a new life elsewhere", and offered "heartfelt condolences" to their loved ones.
IS-K's deadly track record
The Taliban have allowed US-led forces to conduct the airlift, while planning to finalise their own government as soon as US troops left.
But IS-K, bloody rivals of the Taliban with their own track record of barbaric attacks, were intent on capitalising on the chaos in Kabul.
"Last night's attacks have shown once again that no one group can claim monopoly over violence in Afghanistan or claim to secure it," said Abdul Basit, a research Fellow at S. Rajaratnam School of International Studies in Singapore.
"These are people that are even more extreme than the Taliban and are basically at war with the Taliban. So it is a horribly complex situation," Australian Defence Minister Peter Dutton said, referring to IS-K.
In recent years, IS-K has massacred civilians at mosques, shrines, public squares and even hospitals. The group has especially targeted Muslims from sects it considers heretical, including Shia.
Months after IS declared a caliphate in Iraq and Syria in 2014, breakaway fighters from the Pakistani Taliban joined militants in Afghanistan to form a regional chapter, pledging allegiance to IS leader Abu Bakr al-Baghdadi.
IS-K was formally acknowledged by the central IS leadership the next year as it sunk roots in northeastern Afghanistan, particularly Kunar, Nangarhar and Nuristan provinces.
It also set up sleeper cells in other parts of Pakistan and Afghanistan, including Kabul, according to United Nations monitors.
"Khorasan" is a historical name for the region, taking in parts of what is today Pakistan, Iran, Afghanistan and Central Asia.
Last year, IS-K was blamed for an attack that shocked the world -- gunmen went on a bloody rampage at a maternity ward in a predominantly Shia neighbourhood of Kabul, killing 16 mothers and mothers-to-be.