ALMATY -- Central Asian states should follow Ukraine's lead and block Kremlin-backed propaganda outlets, say experts and residents.
Ukrainian President Volodymyr Zelenskyy on August 21 slapped sanctions on 12 Russian companies, including TV channels, news agencies and news publications, blocking their websites and freezing their local bank accounts.
Among them are Business News Media, which publishes Russian-language business newspaper Vedomosti; the Moskovsky Komsomolets newspaper; the Strana.ua news portal and Russian state-owned internet provider Rostelecom.
Also designated are resources linked to Denis Pushilin, leader of the breakaway Donetsk People's Republic (DPR).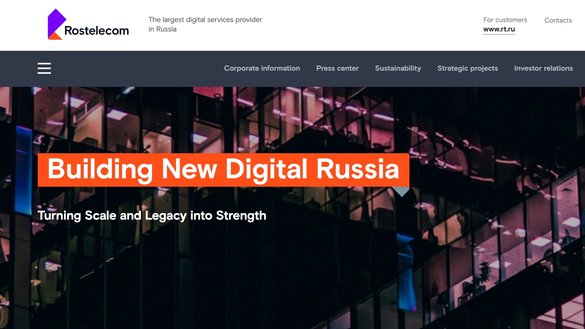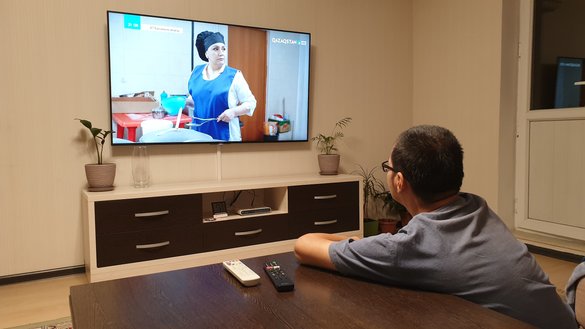 The designated media organisations have been waging a "propaganda-filled information war against Ukraine" and have been "active participants in hybrid warfare", the Security Service of Ukraine (SBU) said in an August 20 statement.
The sanctions are focused on protecting Ukrainian citizens and countering Russia's aggression and hybrid warfare, SBU director Ivan Bakanov said.
"The Security Service is clearly making a distinction between freedom of speech and an encroachment on Ukraine's statehood and sovereignty," he said. "Our duty is to protect state security in every sense."
Individuals targeted by the sanctions include pro-Russian propagandists and employees of Russia's intelligence agencies who "spread Russia's narratives and promote the occupying authority on temporarily occupied territory", he said.
Zelenskyy in June extended pre-existing sanctions against Russian TV channels Russia 24, RTR-Planeta, NTV and Channel One Russia Worldwide for three years, also with the aim of combating the Kremlin's propaganda.
Russian presidential spokesman Dmitry Peskov on August 23 criticised the latest sanctions.
"It's another step on the path to what will, we believe, essentially amount to stifling freedom of speech in Ukraine and ridding the country's media of unwelcome and uncomfortable news sources," he claimed.
'Why can't we be like Ukraine?'
The Ukrainian efforts stand in contrast to Central Asia, where Russian media outlets continue to promote the Kremlin's agenda, though some observers say even here Russia's influence may be waning.
Saikal Adenova, a 29-year-old resident of Osh, Kyrgyzstan, said she does not watch Russian TV channels or read Russian newspapers.
"On the whole the information is one sided," she said. "I once saw something where they portrayed Kyrgyz migrants in a terrible light and that made me furious."
"Why can't we be like Ukraine?" Adenova wondered.
Erlan Satybekov, a Bishkek-based media analyst and editor-in-chief of the news site Orbita.kg, said the majority of local readers and viewers are not interested in the content of Russian media outlets.
He cited as an example the Russian TV channel RTR-Planeta -- one of the channels targeted by the Ukrainian sanctions.
The channel is an international venture of VGTRK (All-Russia State Television and Radio Broadcasting Co.), a media holding company funded by the Russian government.
"Based on my personal observations, only a small portion of Russian-speaking viewers in Kyrgyzstan watch RTR-Planeta -- and they're mainly older -- while most viewers are annoyed by the overtly aggressive propagandistic content and the bias of the TV presenters," Satybekov told Caravanserai.
This also applies to other media organisations, such as RIA Novosti, Rossiya Segodnya and Sputnik, which receive instructions from the Kremlin, he said.
The Kremlin-backed media outlets often produce content that conflicts with the opinions of the Kyrgyz people, according to Satybekov.
"Take the events of March 2005 and April 2010, when there was mass unrest and protests in Kyrgyzstan that led to a change of government," Satybekov said.
"The majority of our population welcomed these changes, but a lot of Russian media outlets interpreted them as a 'chain reaction of colour revolutions'."
Russian media outlets pose a "threat to the country's information sovereignty", he said, as Russia regularly plants stories in Kyrgyzstan's media -- particularly when its actions in strategic areas do not align with Moscow's interests.
Russian ambition
Kazakhstan is facing a similar threat from Russian propaganda.
"The ambition of Russia's current leadership is to prevent the former Soviet republics, including Kazakhstan, from gaining complete sovereignty from the former metropole, Russia," according to Centre for Applied Political Science and International Studies director Aidar Amrebayev, of Almaty.
Amrebayev made his remarks in an August 6 article for the Kyiv-based Centre for Army, Conversion and Disarmament Studies.
"Russia's information propaganda campaign is characterised by direct criticism or deliberate dissemination in news and analytical reports and social networks of false stories and stereotypes about various foreign policy and foreign economic ventures by Kazakhstan that compete with Russia, and, conversely, active propaganda in favour of Eurasian integration under Russia's aegis," he wrote.
He noted that the Kazakh government's decision to transition the Kazakh alphabet from Russian Cyrillic to Latin script had sparked widespread response in Russian media outlets.
"A propaganda attack was waged on Kazakhstan, alleging it was 'betray[ing] an ally' and rejecting a shared cultural and media space, and the attack continues to this day," Amrebayev said.
"The decision was broadly criticised on a range of TV and talk shows."
At the same time, he added, Russian media conveniently ignore the efforts of Kazakhstan's leadership to preserve Russian as the language of inter-ethnic communication, and other initiatives that support linguistic and cultural diversity.