ALMATY -- Kazakh authorities marked the 30th anniversary of the Semipalatinsk (now Semey) test site closure and International Day against Nuclear Tests Sunday (August 29) with a variety of events -- even as the Kremlin maintains a narrative that belittles the catastrophic effects of Soviet-era nuclear testing.
Last Friday in Ypres, Belgium, Kazakh Ambassador to Belgium Margulan Baimukhan, Belgium-Kazakhstan Interparliamentary Group chairman Tim Vandenput, Deputy Ypres Burgomaster (Mayor) Philip Bolle and representatives of academia and non-governmental organisations honoured the victims of nuclear tests.
On August 23, in Bern, Switzerland, the Kazakh embassy held an event marking the anniversary of the closure of Semipalatinsk, which the USSR built on the steppe in north-eastern Kazakhstan.
In welcoming remarks, Kazakh Ambassador to Switzerland Alibek Bakayev said the main purpose of the event was to make the Swiss aware of the consequences of nuclear tests and to step up joint efforts to achieve total renunciation of nuclear weapons.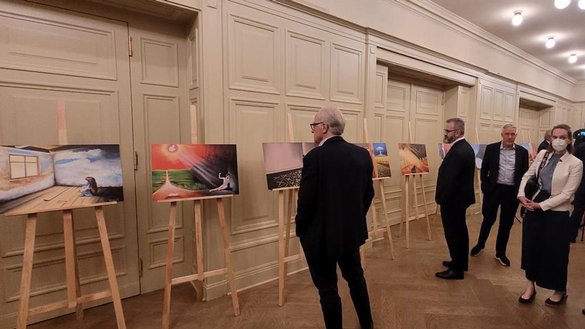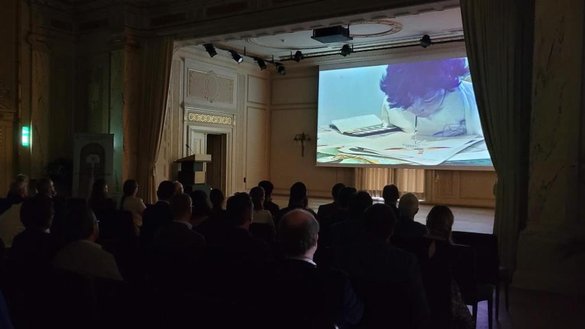 The United Nations (UN) building in Vienna is also hosting an exhibition on nuclear tests, where visitors can view unique photographs and copies of historical documents.
These include then-Kazakh President Nursultan Nazarbayev's decree to close the test site, as well as children's drawings about disarmament.
The exhibition also includes a video presentation of rare photos and videos related to the test site's activities and closure.
Semipalatinsk's closure in 1991 was Kazakhstan's first step toward complete renunciation of nuclear weapons and ending the harm to local residents' lives and health.
At Kazakhstan's initiative, in December 2009, the UN General Assembly established International Day against Nuclear Tests to raise awareness about the consequences of nuclear testing.
From 1949 to 1989, Soviet authorities conducted 456 nuclear weapons tests at Semipalatinsk, harming local residents.
Many of them died from or still suffer from serious diseases. Radioactive residue has poisoned the earth for many years.
Russian propaganda
The Semipalatinsk site was the world's only inhabited nuclear test site, Dmitry Kalmykov, director of development at the Karaganda Ecological Museum, told Caravanserai.
"Basically, the USSR cynically tested nuclear weapons on its own citizens," he said.
During the regular nuclear explosions, Soviet authorities did not even relocate local residents to safe districts, according to Kalmykov, who added that several thousand residents still live at the site.
Meanwhile, Russia is using propaganda and "experts" to minimise the legacy of the Semipalatinsk nuclear tests.
Vladimir Evseev, a Russian strategic weapons analyst and veteran of the Russian Strategic Missile Forces, in a July 2020 interview with RIA Novosti accused Kazakh environmentalists who closed down Semipalatinsk of being "extremely emotional" because they claimed that the test site irreparably damaged Kazakhstan.
Kazakhstan itself is to blame for the medical and environmental harm that it is finding, he claimed.
"The problems began later -- when the test site was closed. Local authorities did not properly monitor this territory,'' Evseev said. "People searched for non-ferrous and precious metals at the test site, resulting in serious health consequences."
For the residents of Semipalatinsk, these statements stir outrage.
Cancer and birth defects are common in the region, said Nazira Ormanbayeva, who moved to Almaty from Semey 16 years ago.
"All this is because the USSR did not care about its people, and today Russia is behaving in the same way, trying to hide its shortcomings," she told Caravanserai.
Repeating Soviet policy
Russia is also continuing Soviet policies that place nuclear power above its citizens' health and lives.
Russia's main nuclear test site on Novaya Zemlya Island between the Barents Sea and the Kara Sea, where 132 nuclear tests took place between 1954 and 1990, today hosts non-nuclear tests to confirm the reliability of existing nuclear warheads.
However, the military is always ready to resume nuclear testing there if it has an urgent technical need to test new warheads, according to analysts.
Workers are building new housing and infrastructure for troops and their families on the island.
"This year alone we will commission two apartment buildings plus dormitories for families of contract soldiers -- with 236 units, and a preschool," Andrei Sinitsyn, director of the Russian test site, told Zvezda, a TV channel owned by the Russian armed forces, in June.
Such "infrastructural development" is further evidence that Russia's current leaders place nuclear ambitions above public health, said Ormanbayeva.
"The USSR collapsed long ago, but the political regime in Russia remains the same," she said.