Iran-aligned factions and politicians in Iraq have been pushing to give China, a strategic ally of the Iranian regime, priority in the Iraqi construction market.
But their ambitions continue to face opposition in Iraq from those who believe closer ties with China would merely serve the Iranian regime, which seeks to boost its own interests at the expense of the Iraqi economy, analysts said.
Iran-aligned militias such as Kataib Hizbullah and Asaib Ahl al-Haq have been calling on affiliated media outlets for the activation of the Iraqi-Chinese agreement that was forged on September 23, 2019.
The 20-year agreement has not been implemented because of the objections it raised at the time and intense ongoing debate on the details of its provisions.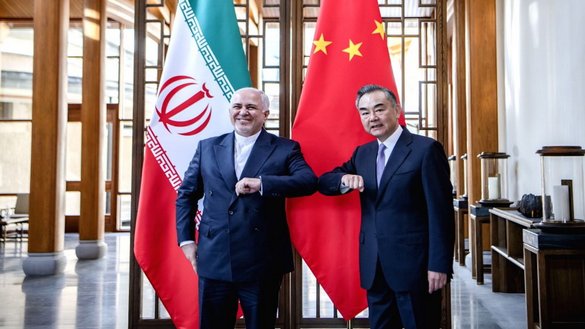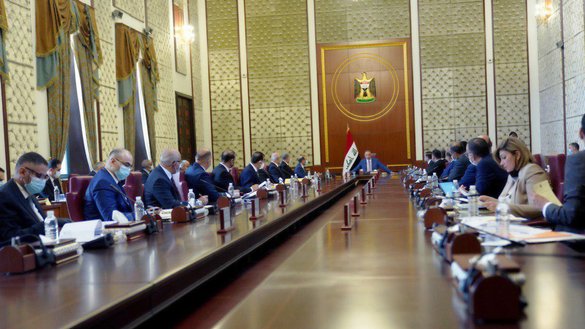 It is based on the idea that China would provide a $10 billion loan that would be repaid incrementally from the revenue obtained from selling Iraqi oil to China. The loan would be used to finance major infrastructure projects in Iraq.
Those who object to the agreement say it would mortgage off Iraqi oil to China for a long period of time and would leave Iraq in China's debt.
They also voice concern that Iran-aligned militias will try to use their influence to grant Iranian companies secondary operating contracts in the Chinese projects.
Chinese investments in Iraq total $20 billion, mainly in the energy sector, Chinese ambassador to Baghdad Zhang Tao said in July 2019.
Iraq's interests paramount
The concerns extend to all future projects or contracts with China, which many feel will "only serve the interests of Iran and its allies", said Iraqi Centre for Strategic Studies director Ghazi Faisal Hussein.
At the beginning of this year, he said, Iraq froze a deal that would have granted it about $2 billion from China in exchange for supplying it (from July 2021 through June 2022) with about 48 million barrels of crude oil.
Iraq's failure to award the al-Faw port project in Basra to China also served as a setback to China's efforts and to those of Iran-aligned factions, Hussein said.
In April 2021, Iraq selected the South Korean company Daewoo to implement the massive port project after excluding the Chinese competitor.
"The exigencies of the national interest are the ultimate criterion," Hussein said. "This is what the government is focusing on today, not forging partnerships for the benefit of China, Iran or any other country."
"The attitudes towards Chinese investments should not be interpreted as hostility," he added. "Iraq wants relations and agreements, but they should not lead to turning it into an Iranian colony and mortgaging Iraqis' wealth off to China or others."
Iran-China deal
The Iranian regime "sold the people's oil wealth to China" as part of a 2019 deal worth $400 billion that enables China to develop and implement projects in several sectors, he said, and it wants to do the same in Iraq through its proxies.
The irony in Iran's alliance with China is that Tehran ignores the fact that China has a "a long record of violent violations of Muslims' rights", he said.
The Chinese government's brutal treatment of the Uighurs -- a Muslim ethnic minority based in Xinjiang region -- is well documented, and it has destroyed dozens of Muslim holy sites, including Imam Asim shrine.
Yet the Islamic Republic government has chosen to look the other way, signing a 25-year deal to effectively give away Iran's oil.
According to political analyst Ghanem al-Abed, Iran is cozying up to China as it wants to save its economy from the brunt of international sanctions.
It wants to strengthen its alliances with China and Russia, as well as with North Korea, forming a "global camp" through which to counter Western pressures.
Meanwhile, Beijing is looking to expand in all regions, with the help of its allies, al-Abed said.
China's overall objective may be bigger than just imposing its "economic hegemony" over the world, he added, noting that it may be looking to establish "military influence" under the pretext of protecting its investments.
Iraq seeks balanced relationships
Al-Abed said Iran's proxies in Iraq are pushing to give China priority in massive investments in their country, but their ambitions are constantly frustrated and they are left disappointed.
The truth is that such investments will be merely a "lifeline" for the Iranian economy and the Iranian regime -- which is on the verge of collapse -- at the expense of Iraq's wealth and the future of its people, he said.
The militias want Iraq to open up only to the Iran-China-Russia axis, he said.
He noted that the Iraqi government is successfully going against the will of these militias by establishing balanced collaborative relationships with all countries based on common interests.
He also praised Iraq's recent move to involve regional countries such as Jordan, Egypt and Saudi Arabia in the efforts to rebuild its infrastructure, via a wide array of investments.
On Saturday (August 28), Iraq hosted a regional leaders' summit that sought to give Baghdad a "unifying role" to tackle the crises shaking the region.
The summit brought together leaders from Jordan, Egypt, Qatar, the United Arab Emirates, Kuwait, Turkey, Iraq, Iran, Saudi Arabia and France.