ALMATY -- Despite repeated assurances by Taliban leaders that the group does not pose a threat to Afghanistan's neighbours, governments in Central Asia continue to prepare for a range of possible scenarios.
When security in Afghanistan began to deteriorate as the United States was withdrawing its troops, Uzbekistan took immediate action to reinforce its border with Afghanistan.
Uzbekistan has set up an emergency response centre in Termez, its southernmost city, Lt. Col. Abror Berdiyev, who serves in the Uzbek Border Service in Surxondaryo province, told the TV channel Uzbekistan 24 in August.
High-ranking security officials, plus officials from other government agencies, are working at the response centre, he said.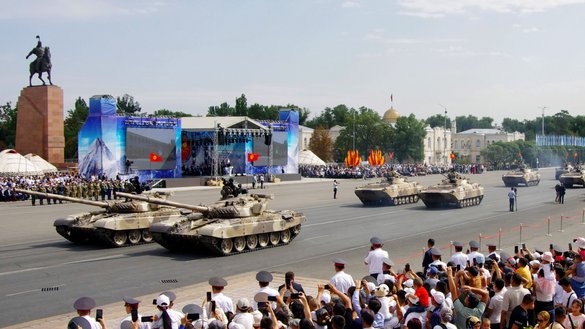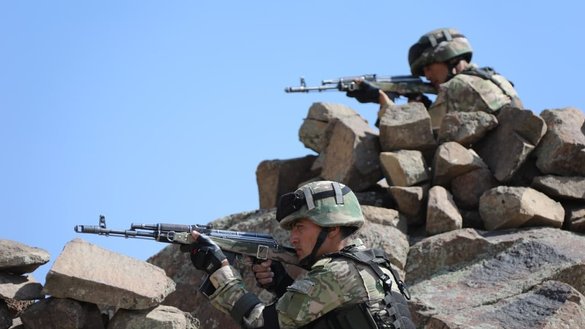 Uzbekistan put a number of border troops on high alert, while President Shavkat Mirziyoyev transferred units from the elite National Guard and the Defence and Interior ministries to combat duty at the border, said Berdiyev.
"The armed forces are equipped with the most up-to-date weapons to guard the border more reliably," Berdiyev said. "Our border guards are keeping watch day and night."
On August 30, the Uzbek Foreign Ministry announced that the Uzbek-Afghan border is now completely closed, there is no overland crossing and there are no plans to reinstate it in the near future.
"Any attempts to cross the border, regardless of cause, will be stopped," said the ministry.
The ministry's announcement was in response to media reports about "Uzbekistan's willingness to open its border to people fleeing the Taliban regime in Afghanistan".
Russia bolsters military presence in Tajikistan
Tajikistan has taken similar measures.
"Protection and defence of the border are taking place under high alert," anonymous sources in Tajik security agencies told the Dushanbe news site Asia-Plus in August.
"Three lines of defence have been created along the entire border with Afghanistan. They include certain forces and assets of the border troops, Defence Ministry, State National Security Committee [GKNB], Interior Ministry [MVD] and other Tajik security agencies, as well as army reservists," the official said.
Dushanbe may have reason to worry -- not so much about a threat from Afghanistan as about the buildup at the 201st Military Base, Russia's largest abroad.
In August, Russia deployed a number of new weapons at the base, including Kornet antitank missile systems and Verba man-portable air defence systems, according to Deutsche Welle.
Russia is raising the issue of regional security and saying that if necessary it is prepared to provide additional "assistance to Tajikistan to secure the border with Afghanistan".
However, Moscow is pursuing its own geopolitical aims, say analysts.
Russia views the Taliban threat exclusively as a convenient pretext to frighten the region and place it more firmly under its thumb, said Dosym Satpayev of Almaty, director of the consultancy Risk Assessment Group.
With the withdrawal of US and NATO troops from Afghanistan, Moscow sees an opportunity to strengthen its influence in Central Asia and its position as the guarantor of security in the region, he said.
Russia will exploit the opportunity to urge Uzbekistan to join the Collective Security Treaty Organisation (CSTO), which Russia leads and which Uzbekistan refuses to join.
Farhad Tolipov, director of the Caravan of Knowledge think-tank in Tashkent, explained Tashkent's refusal: it has the military capacity to face security threats, including those from Afghanistan, without help from the CSTO.
The CSTO is more about self-interested Russian posturing and geopolitical intrigues than about actually protecting its members from external threats, said Tolipov.
Kazakhstan, Kyrgyzstan boost military readiness
Central Asian states that do not border Afghanistan feel the need to brace for trouble too.
In mid-August Kazakhstan took steps to "increase vigilance": it put military units on high alert; planned special military exercises; and placed its airspace, military facilities, arms depots and arsenals under a higher level of protection.
On August 22, Kazakh President Kassym-Jomart Tokayev attended the Qaisar-2021 military exercises in Almaty province. If the Afghan situation flares up, Kazakhstan's defence and security agencies will need to be fully mobilised, he said.
"The events in Afghanistan do not threaten Kazakhstan directly, but they undoubtedly pose certain risks. We must therefore keep a close eye on how the situation evolves and be ready to respond appropriately to any challenges," Tokayev said, according to his press office.
In a message to the nation on September 1, Tokayev said that because of the situation in Afghanistan, and as global tensions are heating up, Kazakhstan needs to "reset its defence industry and military doctrine" with an eye toward bolstering defence capabilities and reacting more promptly to threats.
Although Kyrgyzstan does not border Afghanistan either, its authorities decided to be extra-cautious and set up additional outposts on the frontier with Uzbekistan and Tajikistan.
In addition, Kyrgyz law enforcement periodically conducts reconnaissance and search missions on the border. Kyrgyzstan's Border Service announced that it is sharing intelligence with its colleagues in neighbouring countries, Kabar.kg reported in August.
"Kyrgyzstan's government agencies, including security forces, have developed a joint plan of action, and they have worked out a mechanism for co-operation in case the situation on the border erupts," said Kabar.kg.
In an August 30 meeting with diplomats and officials from international organisations, Kyrgyz President Sadyr Japarov said that Bishkek plans first and foremost to fortify the border districts, enhance border security and give the Kyrgyz military additional weapons and equipment.
Range of scenarios
Central Asian states need to prepare for a range of scenarios, say analysts.
Although the Taliban by themselves do not present a military or terrorist threat to the Central Asian countries, they could make Afghanistan fertile ground for radical movements that could radicalise the region, Erica Marat, professor at the US National Defence University in Washington, DC, told Caravanserai.
Extremist recruiters generally ensnare those in dire economic straits, she said.
"In the fight against extremism, the governments of the Central Asian countries need to focus on solving socioeconomic problems," Marat said.
Tashkent-based political analyst Ravshan Nazarov disagreed with the view that the Taliban are not interested in what is happening outside Afghanistan, noting that their ideology transcends borders.
"Central Asian states, especially Uzbekistan, Tajikistan and Turkmenistan, since they directly border Afghanistan, need to put their armed forces on high alert, to strengthen the system of collective regional security," he told Eurasianet in August.