Pro-Russian trolls have been hijacking news websites in the West to spread propaganda and disinformation supporting the Kremlin, according to research published Monday (September 6) by a British university.
The Crime and Research Security Institute (CRSI) at Cardiff University said it had unearthed evidence from 32 major news outlets in 16 countries that have been targeted via manipulation of their readers' comment sections.
They include the Daily Mail, Daily Express and The Times in Britain, Fox News and the Washington Post in the United States, France's Le Figaro; Germany's Der Spiegel and Die Welt, and La Stampa in Italy.
Researchers said they found 242 stories where "provocative pro-Russian or anti-Western statements" were posted in reaction to stories related to Russia.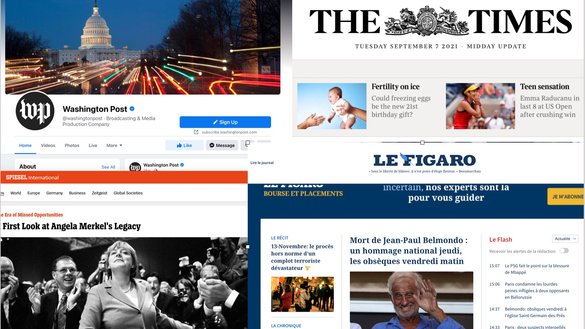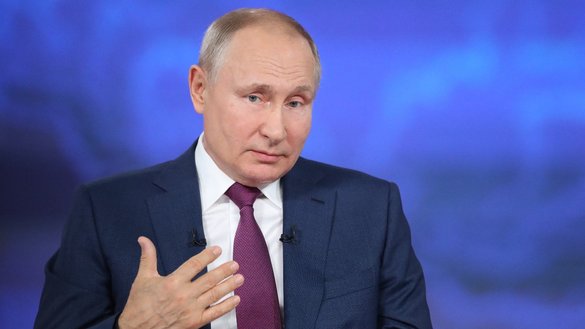 Russian-language outlets then used them to suggest wider support among the Western public for Russian policies and President Vladimir Putin, under headlines such as "Daily Mail readers say ... "
This methodology "hijacks the Western media brands' reputations to present them as credible messengers for the sentiments and positions that are being communicated as mainstream public opinion", the report said.
These Russian-language stories also spread to audiences in Central and Eastern Europe, most prominently in Bulgaria.
Limited evidence of a "feedback loop" effect also has been found, researchers said, with stories also targeting Western audiences, using fringe media and websites specialising in propaganda and disinformation.
Russian escalation
The research into online activity took place during tensions between Russia and Ukraine earlier this year.
But the CRSI said the Russian tactics have been escalating since 2018, amid heightening tensions with the West.
"There is a history of Russian trolls targeting Western media outlets, but there are several indicators that this activity may have been 'stepped up' from 2018-19 onwards," the report said.
"It is the international scale of a single operation, using the same defined methodology, that marks the ongoing 'live' campaign as especially significant," it added.
The report noted that "significant amplification" of the comments posted on Western media sites is achieved through a 'full-spectrum' media approach".
The strategy involves Russian state-owned media outlets, such as RIA Novosti, it said, and multiple non-state Kremlin aligned propaganda and disinformation media outlets associated with the Patriot Media Group, owned by Yevgeny Prigozhin.
It also includes disinformation fringe media websites, including Federal Security Service [FSB]-linked News Front; and social media accounts and pages across all the principal platforms.
The web media aggregator service inoSMI.ru, which systematically distorts and misrepresents Western public opinion around media narratives of interest, also plays a central role.
It does this by compiling "reader comments stories" that use the comments pro-Russian trolls post on the websites of Western media outlets as their basis.
Trolling follows a 'playbook'
Targeted at Russian language audiences, these "reader comments stories" over-claim dissent in Western public opinion by selectively highlighting comments.
The selected comments are used misleadingly to suggest wider support for Russia or Putin or to infer there is public disagreement inside Western countries with the positions of their governments.
The CRSI report suggests that this trolling activity is not organic but rather adheres to a playbook.
"Subsequent investigation has revealed this is a recurring pattern across a large number of Western media outlets, in a number of countries," it said.
The methodology used goes like this:
"When a high profile story is published in media outlets that is contrary to the Russian state's geopolitical interests and positions, it will attract comments purporting to be from 'readers' of the publication," it said.
These so-called "readers" denounce the story's basis, attack the story's basis, seek to denigrate Western institutions or shill for Putin and Russian state institutions.
Russian operators then pick up the comments and use them as the basis for Russian-language stories published by Russian state-owned media outlets.
These stories typically seek to convey that public opinion does not necessarily support a Western government's official position, or that public opinion is fractured.
Tackling online disinformation
CRSI director Martin Innes said the Russian trolling operation was "significant" given its sophistication, scope and scale.
"By hijacking the comments sections of Western media brands, it has been able to present its propaganda as indicative of mainstream opinion," he said.
Foreign Secretary Dominic Raab said Britain and its allies were working to combat "Kremlin trolls peddling lies".
"This report highlights the threat to our democracy of Russian state-backed misinformation on the internet," he added.
The report pointed to evidence of co-ordination among Russian state-owned media, those with a history of spreading misinformation and outlets identified by Western intelligence as having links to Russian security services.
"As mainstream social media platforms have become more alert to the risks of foreign state influence operations, so disinformation actors and propagandists have been seeking new vulnerabilities in the media ecosystem to exploit," Innes said.
Given the potential to influence public opinion, Innes said, it is "vital that media companies running participatory websites are more transparent about how they are tackling disinformation and more proactive in preventing it".
An example of Russian trolling
This website, Caravanserai, which features news from across Central Asia and a range of analysis, interviews and commentary, enables readers to comment on its stories.
Though it has not been part of a formal study, Caravanserai administrators have noticed for years hundreds of "trolling" comments attempting to push Russian propaganda narratives on stories published on the site and on social media.
In most cases, other readers roundly reject these comments and the sentiments they express.
One feature from April 2020, Putin provokes backlash in Central Asia with comments on reviving Soviet Union, shone a spotlight on the battle between trolls and legitimate readers.
One pro-Kremlin troll posted, "Yeah, it's good they [Americans] gave you some money so that you wouldn't kick the bucket starving to death and write what's needed in the comments, right? But they didn't give anything to a neighbour and an old woman nearby."
Such trolls, though, received a barrage of hostile retorts, including, "Get out and go back to Russia; who's holding you back?" and "Vatnik [Russian jingoist] alcoholics were carried away by dreams about the Soviet Union."