TASHKENT -- The United States said Tuesday (September 14) it had evacuated nearly 500 military and civilian Afghans from Uzbekistan.
In the days leading up to the Taliban takeover of Afghanistan, Afghan service members fled across borders in military aircraft to Uzbekistan and Tajikistan.
Tashkent had mostly withheld comment on the number and status of the refugees, but a US embassy spokesman Tuesday told AFP that the United States had evacuated 494 "military and civilian" Afghans out of the airport in Termez, Uzbekistan, with the Uzbek government's help.
"The evacuation was completed September 12-13 [Sunday-Monday]," the spokesman told AFP by telephone, making no comment on the final destination of the refugees.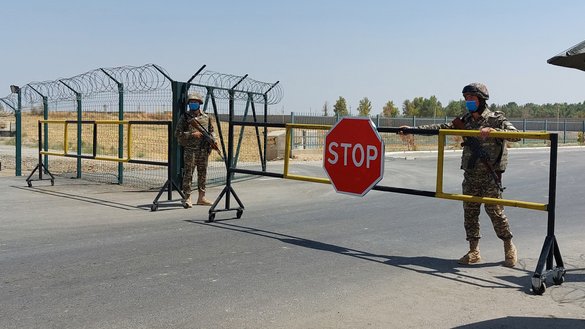 The fate of the Afghan aircraft remains unreported.
The Afghan pilots and their families are being transferred to a US military base in the United Arab Emirates, a US congressman told the New York Times.
Uzbek Foreign Ministry spokesman Yusup Kabulzhanov on Monday confirmed the evacuation to the Kun.uz news site.
"All Afghan refugees have left Uzbekistan," he said, without giving figures.
A staffer at Afghanistan's embassy told AFP last month that up to 1,500 Afghans might have crossed into Uzbekistan.
In a rare statement on the refugees in August, Uzbekistan said it had returned 150 people to Afghanistan at their own request and following talks with the Taliban to guarantee their safety.
Meanwhile, Tajikistan, which has eschewed official contacts with the Taliban, has been similarly secretive about the number of refugees it has taken in.
The European Union (EU)'s delegation in the country Tuesday said that it was providing €160,000 ($189,000) in humanitarian aid funding "to benefit up to 5,000 displaced Afghans" in two Tajik provinces bordering Afghanistan.
The EU statement cited the United Nations Refugee Agency (UNHCR) as saying that "up to 50,000 refugees could be registered in Tajikistan after the total withdrawal of American and NATO troops by the end of 2021".
Promises of aid
The transfer from Uzbekistan follows the largest non-combatant evacuation operation ever conducted by the US military.
Operations at Kabul airport began on August 14 and ended August 30.
In total, US military aircraft evacuated more than 79,000 civilians from Kabul airport, including about 5,500 Americans and more than 73,500 third country nationals and Afghan civilians.
"US and coalition aircraft combined to evacuate more than 123,000 civilians, which were all enabled by US military service members who were securing and operating the airfield," US Central Command commander Gen. Kenneth "Frank" McKenzie said August 30, according to a US Defence Department transcript.
"On average we have evacuated more than 7,500 civilians per day over the 18 days of the mission, which includes 16 full days of evacuations, and more than 19,000 on a single day."
The United States on Monday pledged $64 million in new humanitarian assistance to Afghanistan and Afghan refugees in the region, while France separately pledged to contribute €100 million ($118 million) for emergency humanitarian work in the country following a UN flash appeal.
The assistance brings total US humanitarian aid in Afghanistan and for Afghan refugees in the region to almost $4 billion since 2002.
The UN is increasing stocks of essential goods in warehouses in Pakistan, Tajikistan and Uzbekistan to provide food aid to Afghanistan, the UN said in a statement Wednesday.
It established a logistics centre in Termez, Uzbekistan.
Meanwhile, a donor conference in Geneva on Monday ended with pledges of $1.2 billion in aid for Afghanistan.
The UN is now asking donors to provide the promised funds as soon as possible to purchase food, medical supplies and other essential goods for Afghans.
Earlier, Uzbekistan sent 1,300 tonnes of humanitarian aid to Balkh province, Afghanistan, including food, medicine and clothing, AsiaPlus reported Wednesday.